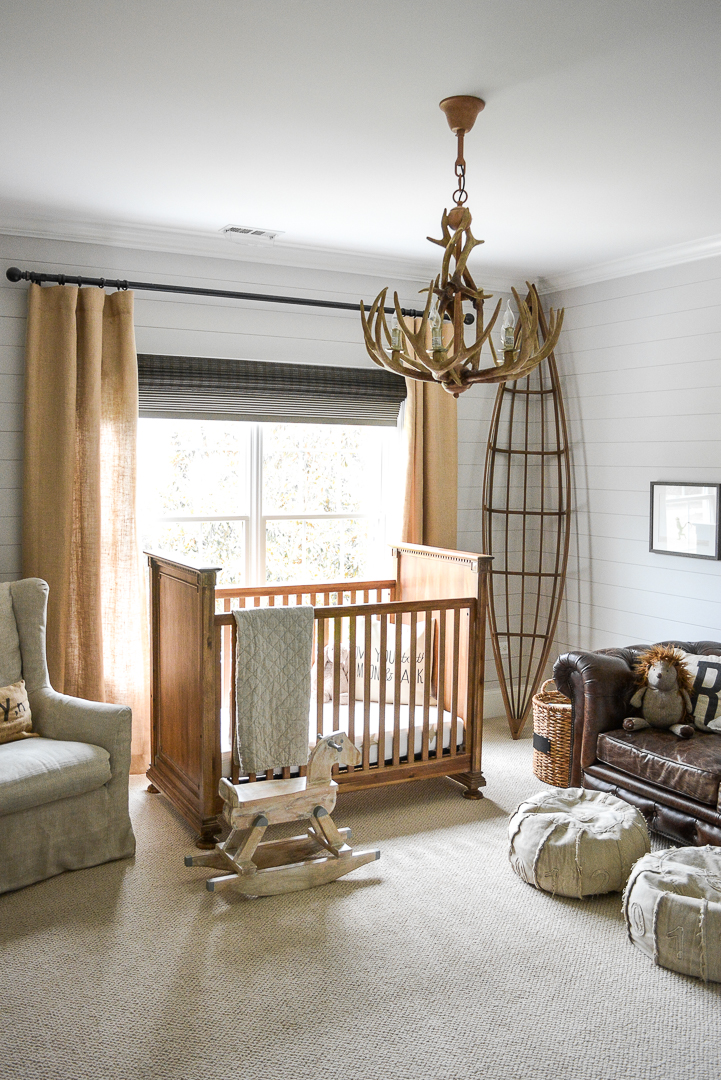 Okay, so it has taken me years, but today I am finally sharing pictures of Ryan's nursery.  I have no clue whether or not it should even still be called a nursery once the child becomes a toddler but he was still sleeping in his crib when I took these pictures.  Nothing in the room has changed much since before he was born, with the exception of the fact that we converted his crib into a toddler bed just hours after I photographed this special space one final time before it was no longer a nursery.  Yes, I absolutely shed a few tears.  It was such a symbolic moment.
I hope you'll understand why it has taken me so long to write this post.  For us, a lot of heavy emotion is tied to Ryan's nursery and so I kept putting off writing this particular post.  Ultimately, I realized that the story was one that I wanted…perhaps needed to share.
Visions of nurseries had danced in my head long before we learned that we were pregnant with Ryan.  In fact, there may even be a Pinterest board floating around that I created years before we were even ready to expand our family.  Truthfully, I began compiling ideas before we were pregnant with our identical twin boys.  Once we learned that we were pregnant with them in the spring of 2013, I started to actually "plan".  However, my instincts never allowed me to move furniture out of the guest room that we were converting into the nursery.  I had nursery furniture and crib bedding sitting in an online shopping cart for almost two months.  It would disappear and then I would add it again…but never actually purchased anything.  It is nearly impossible to explain but I just had a feeling.  Sadly, just shy of halfway through the pregnancy, I went into very premature labor (caused by Twin to Twin Transfusion Syndrome) and our sweet little boys never made it home with us.  (I shared a bit more of this part of our journey here.)
As you can imagine, we were shattered.  Utterly and completely devastated.  The hospital made memory boxes for us to have and, instead of becoming a home to our precious babies, the future nursery became my place to mourn and grieve.  It was the place where I was able to feel closest to my boys.  I would take the boxes into the room, sit (or lay in a heap) on the floor, talk to our sons and weep.  Day after day after day…
The following year, we found out that we were expecting Ryan.  While I allowed myself to toy with ideas for the nursery in my head, I was paralyzed when it came to actually DOING anything.  The future nursery was just that…a future nursery.  Months of my pregnancy passed by and I had purchased nothing and refused to allow David to move any of the guest room furniture out of the room.  It was so difficult to believe that we were actually going to bring a healthy baby home from the hospital.  I was hoping for the best but kept preparing for the worst.  I was forever scarred.
Not only was I scared that something would happen during this second pregnancy, but I struggled with overwhelming feelings of guilt.  That room, that nursery, was not only supposed to be the twins' room but it had become my special place where I connected with the boys.  How was I supposed to dismiss all of that and start designing for a new baby?  It felt as if I was moving on…and I was far from ready.  Trust me, we will never move on.  Our sweet boys are in our thoughts countless times each day.
Ultimately, I realized that the room would forever continue to hold special meaning.  The twins would be so happy for us and would always be around, watching over their little brother.  I feel their presence in that room and hopefully, one day, Ryan will too.  Because of that, I made a conscious decision to design Ryan's nursery similar to how I envisioned the boys' nursery but to also make some changes.  (I want to note that we often see beautiful balls of white light fly across the monitor.  I have done research and while it is possible to view dust particles, these don't travel in that manner.  Interestingly, it happens often when I worry about Ryan as he sleeps, for example, when he is sick.  It's as if they appear to let me know that they are with him.  This may sound unbelievable to some of you but it instantly provides me a with sense of peace.)
Once I was ready to begin the design of the nursery, it came together fairly easily as I had been planning it in my head for years.  For me, the important thing with regards to aesthetics, was that the room feel like the rest of our house.  Our home is fairly monochromatic and I wanted to keep consistent with that when working on the nursery.  I knew that a gray and white palette with wood tones added for warmth was what I wanted…it was just a matter of making it come to fruition.
The second thing that I wanted to keep in mind was that we would possibly be having another child in the future.  Because that was a possibility, I wanted the nursery to be fairly gender neutral.  Enough so that if we ended up having a girl one day, it would be easy to add a few pillows and more feminine touches to the room without spending much money.  (Truthfully, I never imagined that we would have a girl and not only that but that Ryan would still be using his crib when she was born!)
The very first piece we found for Ryan's room was a framed Roald Dahl quote.  A little back story here…when we found out we were expecting our twins, we had visited one of our favorite lunch spots in Durham, Parker & Otis.   The eatery also has a children's boutique in the front area.  We spotted the same piece of wall art but it was a quote from the Velveteen Rabbit.  We both knew that would be the first piece for the boys' nursery.  For some strange reason, we decided to come back and buy it later.  For obvious reasons, that never happened.  When we found out we were expecting again and went to Parker & Otis for lunch, we walked over to the children's area.  David and I went there with every intention of purchasing the Velveteen Rabbit piece for Ryan's nursery but it just didn't feel right.  I had such a strong feeling that we should purchase the Roald Dahl piece instead so that the Velveteen Rabbit one would always be the twins' special quote.  It is difficult to explain but I didn't want to feel like I was taking something away from them for our new baby.  I have recently had thoughts about buying the Velveteen Rabbit one we left behind so that we can eventually hang both together.  In fact, typing that out just made me decide that I am going to buy it so we represent all three of our boys.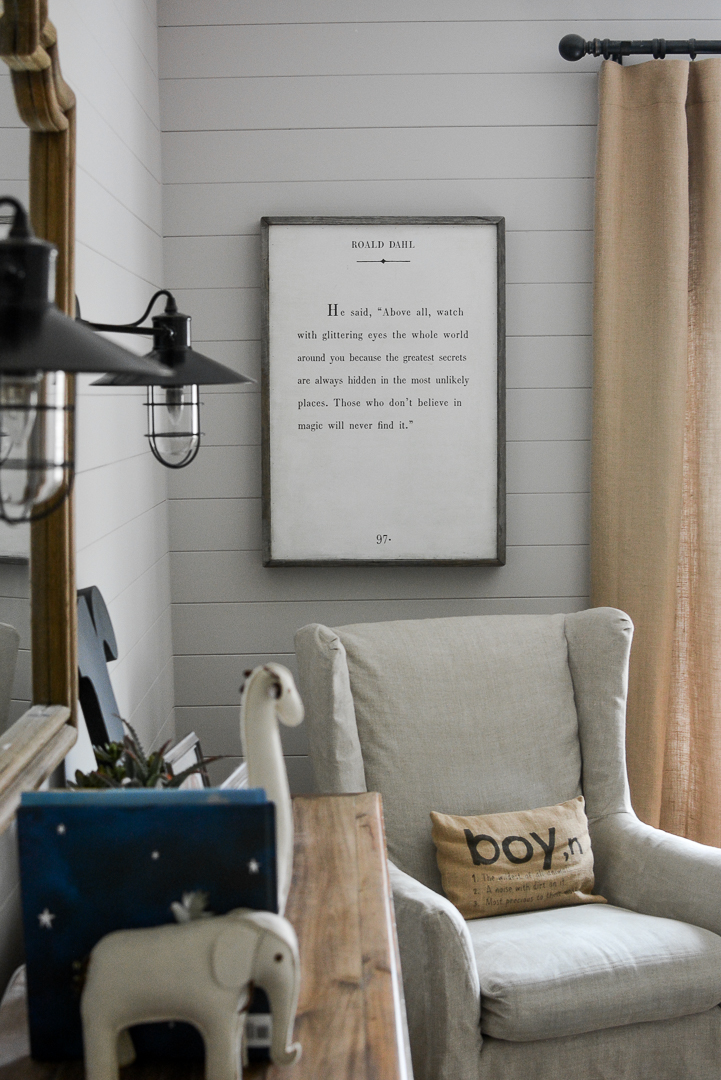 There were two key pieces that I knew I wanted to purchase next…the crib and the animal pictures for the wall.
The Jameson crib from Restoration Hardware Baby & Child practically made me weak in the knees.  David and I have had the adult version (the St. James) for several years so I thought it was so cute that our baby would have a teeny tiny version of our bed.  Because the ends were both closed, my dear friend (the ever-so-talented interior designer, Blair Sutton Craig) suggested putting the crib in front of the window so you would see the open sides and not walk into the room viewing a closed end.  Such a genius idea!  Ultimately, it really helped to open up the room.
Because the crib was in front of the window, we eventually purchased blackout shades once Ryan was sleeping in his crib all the time.  The window coverings came from local company, Sew Fine II.  My family has known owner, Paula Fullerton, for many years and she is the only person we trust when it comes to window treatments.  Her showroom is located in Durham, near Southpoint Mall.  Paula is amazing and her knowledge is vast.  I have come to realize just how much of an impact window treatments can make in a room.  To add an additional layer, I then added burlap panels on each aside.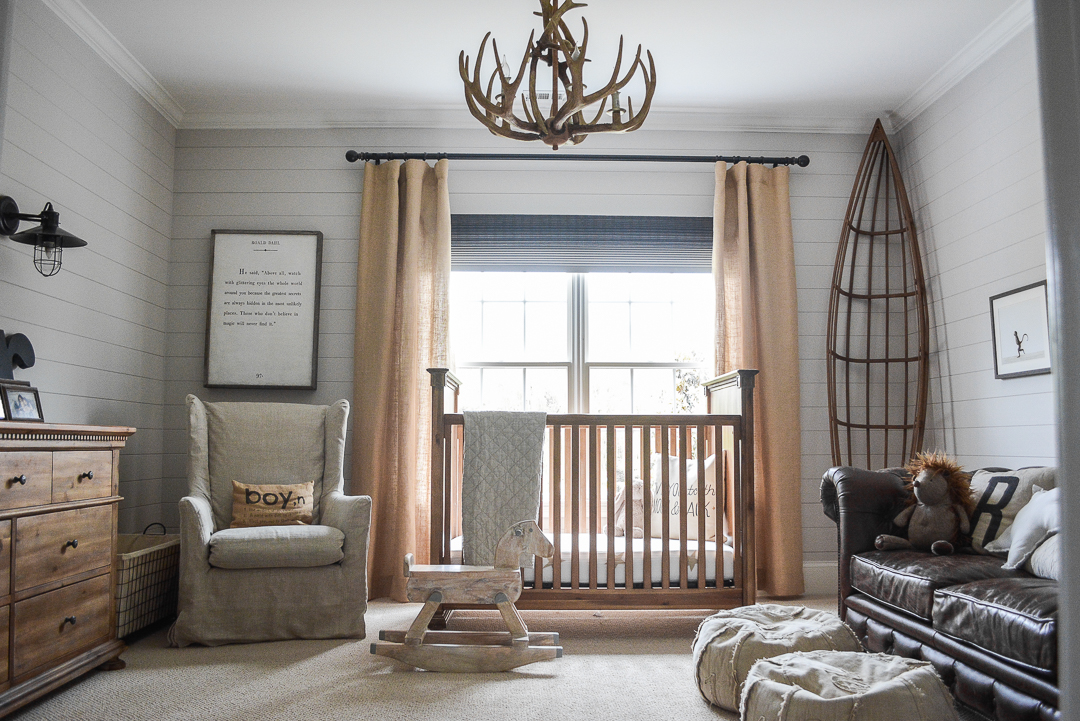 The bedding was easy because I wanted a neutral material.  Obviously, his crib was only made up like this when he was not sleeping in it while he was a baby but I LOVE how it looks when it is done.  Originally, the fitted sheet was a simple white muslin but was ultimately switched to this adorable star print by Aiden and Anais when I found it online.  It was such a simple way to add a bit of pattern within the simple room.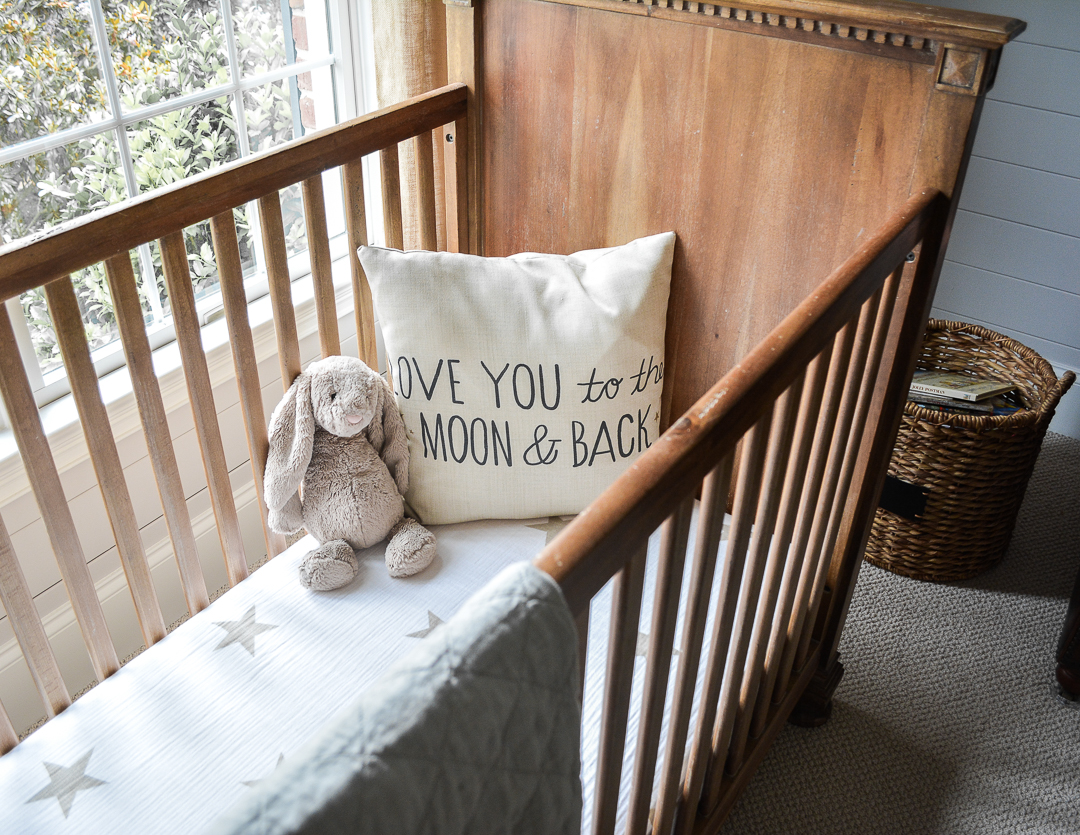 Next up, these amazing prints by Sharon Montrose.  They won my heart the very first moment I saw them.  That mischievous and arrogant little monkey, especially…I fell hard for him.  There were so many options so making a decision about which ones to include in the gallery wall was difficult.  Blair ended up offering to make me a rendering of the gallery wall and she determined which sizes would work best.  This helped make the decision much easier as there are only certain size options available for each animal.  She and David spent an entire night hanging these beauties a month before Ryan arrived.  I remember that time as if it was yesterday.  I joked that the two of them made it through without so much as one moment of frustration.  Let's just say that David and I doing it together would have lead to some not-so-happy moments.
This will probably sound crazy but my hope was to be able to fit small sofa in the nursery.  Long story short, I broke my back in a car accident many moons ago and have chronic back pain and suffer from back issues.  In the event that my baby was sick, I knew that I wouldn't be able to sleep on the floor next to the crib so my thought was that I could sleep on the sofa.  Luckily, there was a perfect long wall.  We ended up with the Kensington sofa from Restoration Hardware.  We have had the same one in our main living area for several years now and it is virtually indestructible.  In fact, it actually looks better and better as it wears.  We rationalized the purchase by knowing that it is such a classic piece that we could always use it somewhere else in the house if it no longer fits once Ryan transitioned to a bed.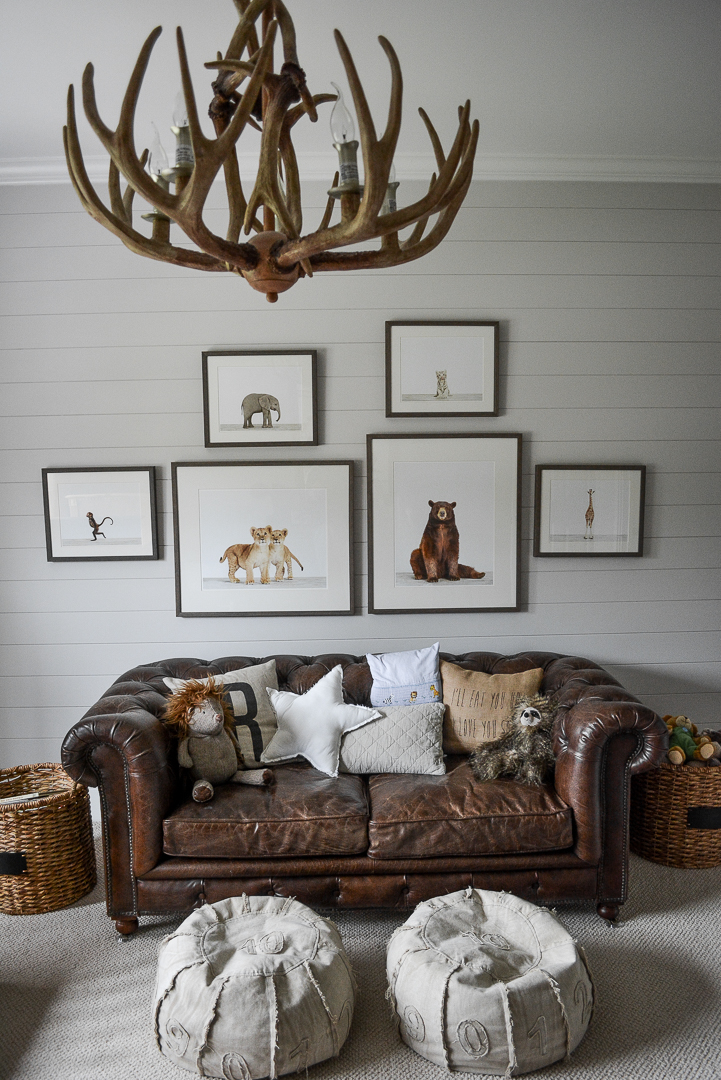 In order to make the couch appear softer and more appropriate for a nursery, I knew that I wanted to add pillows and stuffed animals.  The "I'll eat you up" pillow came from a store on Etsy called The Sunny Hunny Bee.  In fact, it was that very pillow which began my Etsy pillow addiction.  My talented mother-in-law made the sweet little light blue smocked pillow, which added a special touch.  I just recently added his initial pillow.  I thought that bringing a bit more black into the room will help when we ultimately make the official transition into a "big boy" room.  The stuffed animals are one of my favorite parts about Ryan's room.  While I ordered the hedgehog from RH Baby & Child, Ryan actually picked out the sloth.  We were out and about when Ryan was around six months old.  I was strolling him around the mall and we popped into Anthropologie.  They had a large bin full of stuffed animals and before I knew it, Ryan had reached out his little arm and swiped the sloth and was cuddling with it in his stroller.  Needless to say, the sloth came home with us as it was Ry's very first stuffed animal that he himself picked out.   (This moment also began my personal infatuation with Jellycat toys.  I mean, any company which produces a sloth stuffed animal has to be pretty awesome, right?)  Next came the little bunny.  It reminded me of The Velveteen Rabbit so it seemed like a perfect way to represent Ryan's brothers in his room.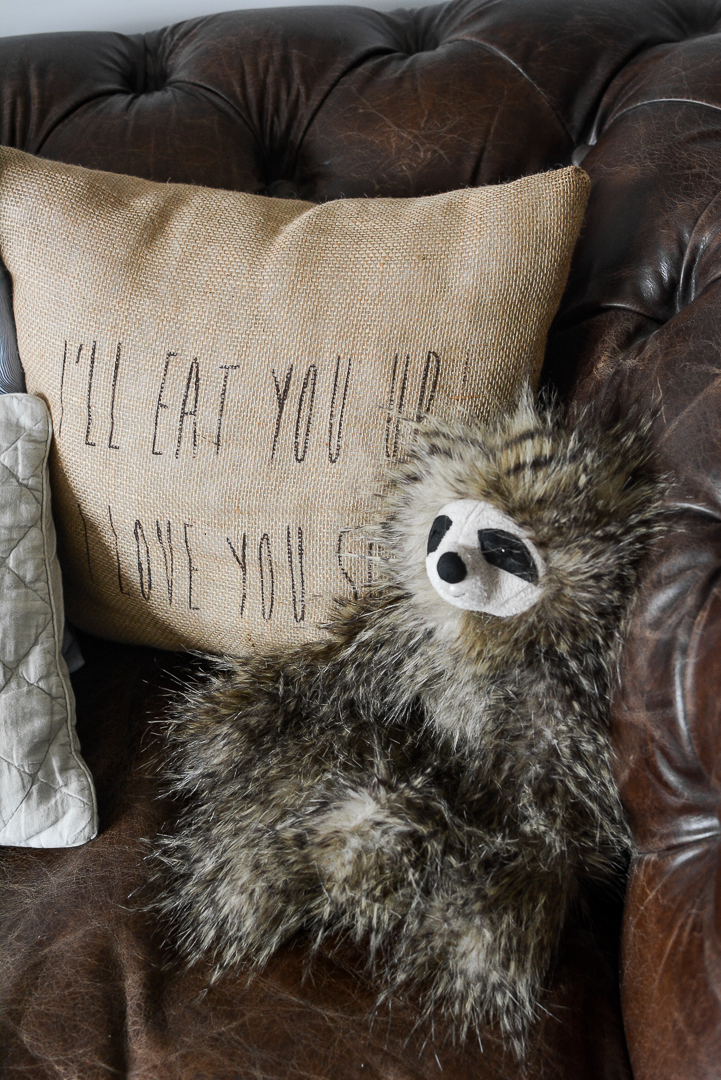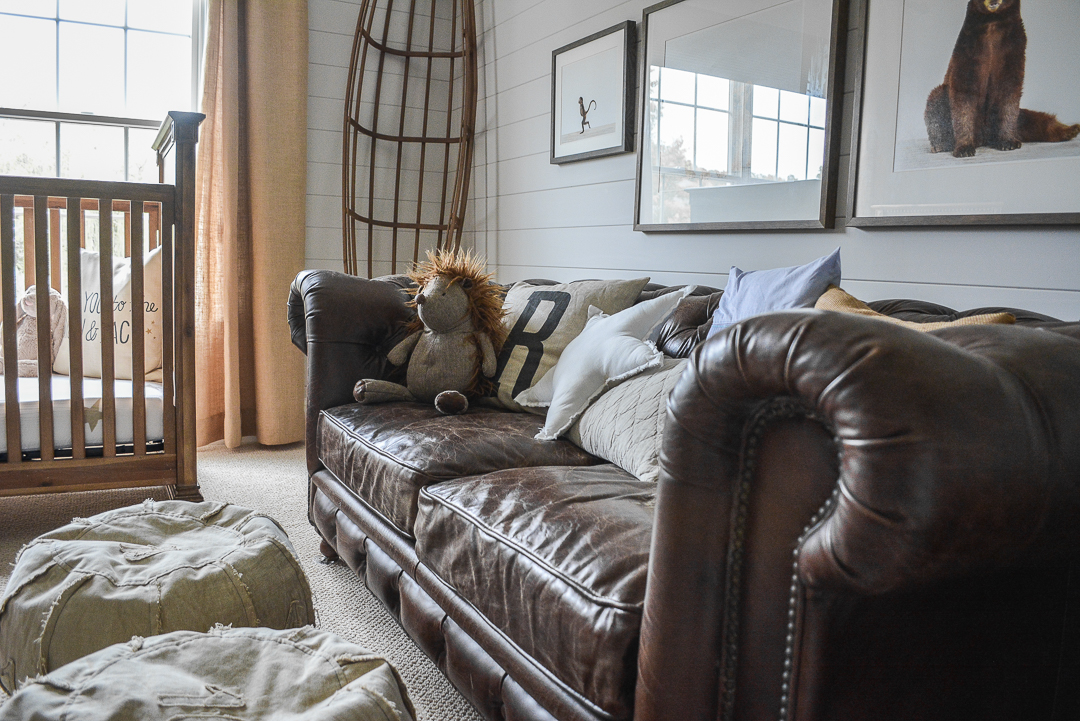 Oh, sweet little rocking horse…you hold such a powerful memory.  I had wanted this rocking horse while I was expecting our twins.  At my baby shower for Ryan, my aunt gifted the rocking horse to me and I was immediately overcome with emotion.  So much so that I had to excuse myself and run to the bathroom.  For me, this darling rocking horse represented the fact that I was going to be bringing my baby home.  I was going to become a parent…while I became a mom the day we found out we were pregnant with our twins, I never received the opportunity to parent them.  You see, I was a mom but had yet to become a parent.  This rocking horse is one of my favorite parts of Ryan's nursery.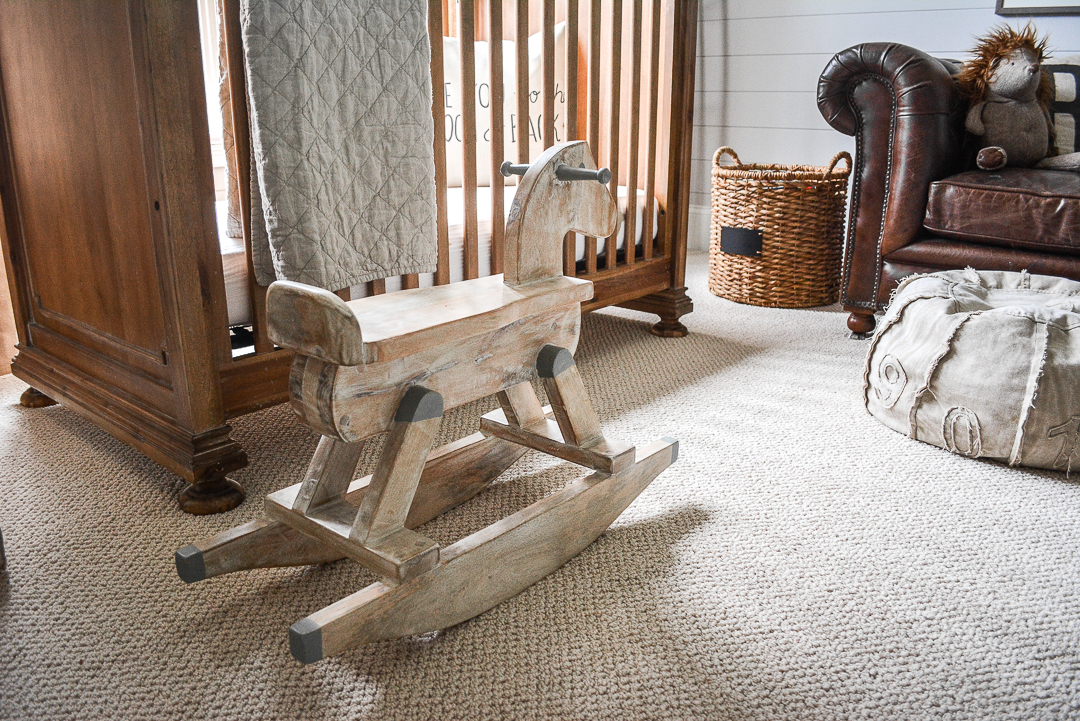 The dresser and mirror were the next purchases.  Blair guided me to select the two lights flanking the mirror and I couldn't love it more.  Something so simple as adding two lights added such a great extra layer to the design that wall.  The changing topper that rested on top of the dresser is long gone.  Actually, I only used it four or five times.  Diaper changes were always easier on the floor or downstairs on the changing pad we had down there.  Maybe it's because I am a lefty, but I found my hand and arms always hit the the wall and it was simply awkward.
Because the topper took up the majority of the space on top of the dresser, I didn't have much in the way of decor on there until after it was removed.  Figuring out what to put on there has been my only design challenge with this room.  I fiddled with several items and ultimately kept it simple with a couple of picture frames, some books flanked by stuffed bookends and an oversized "R".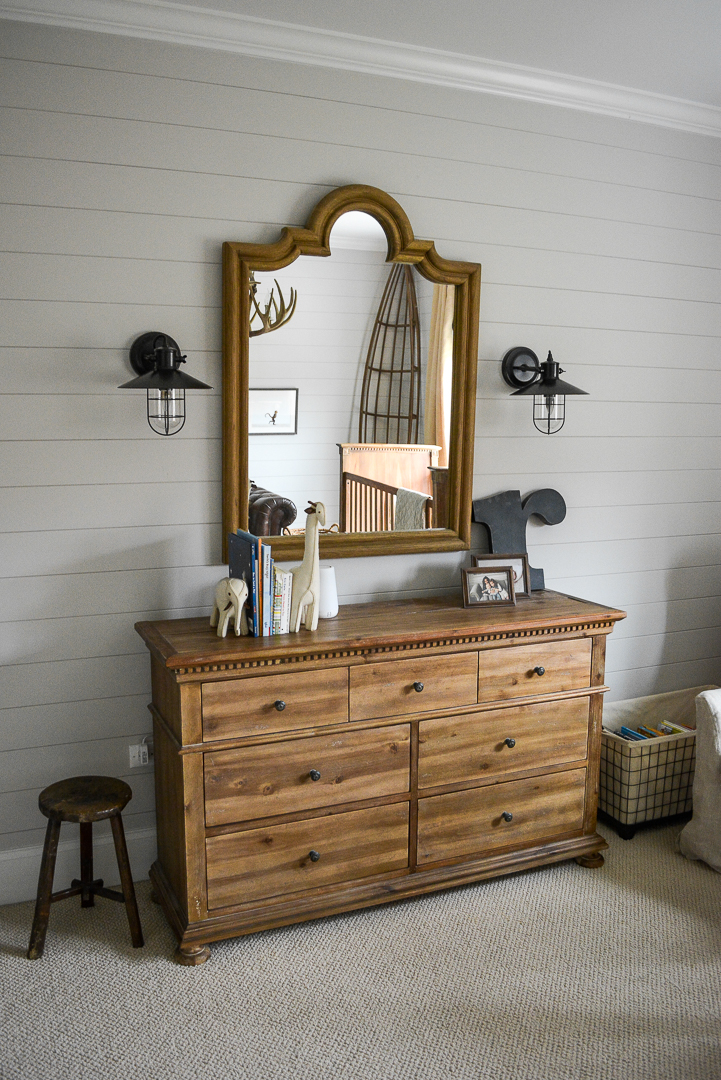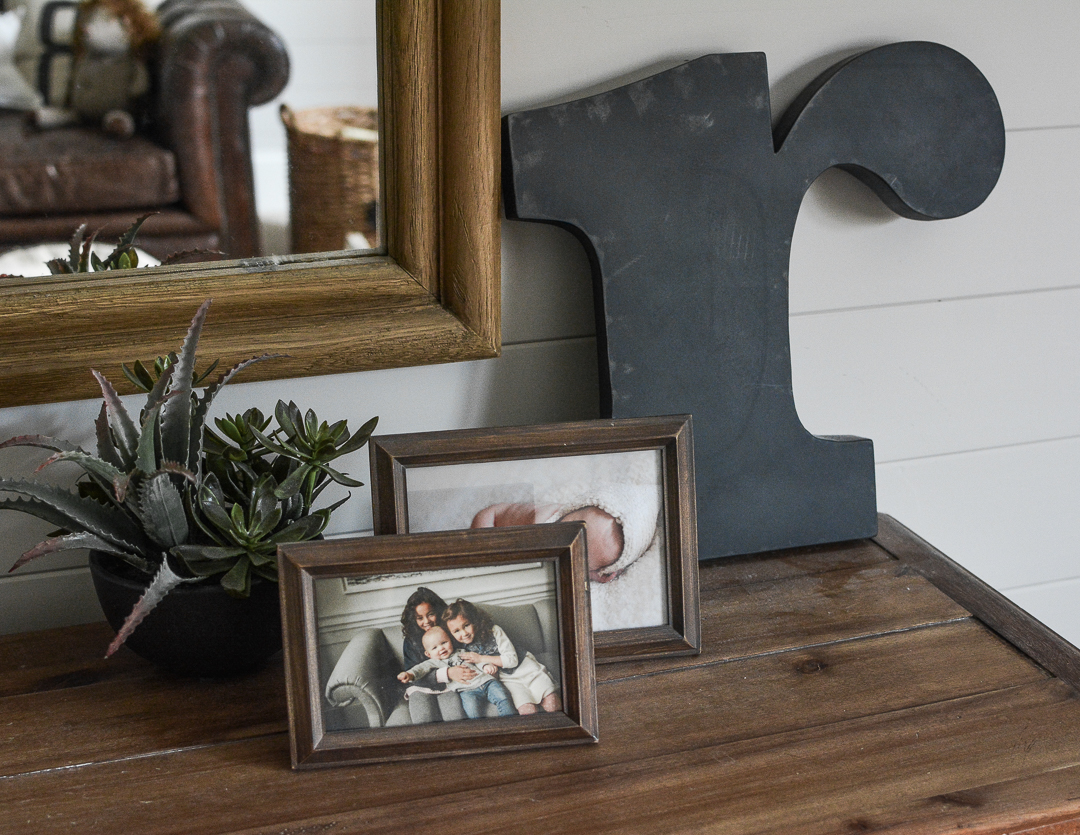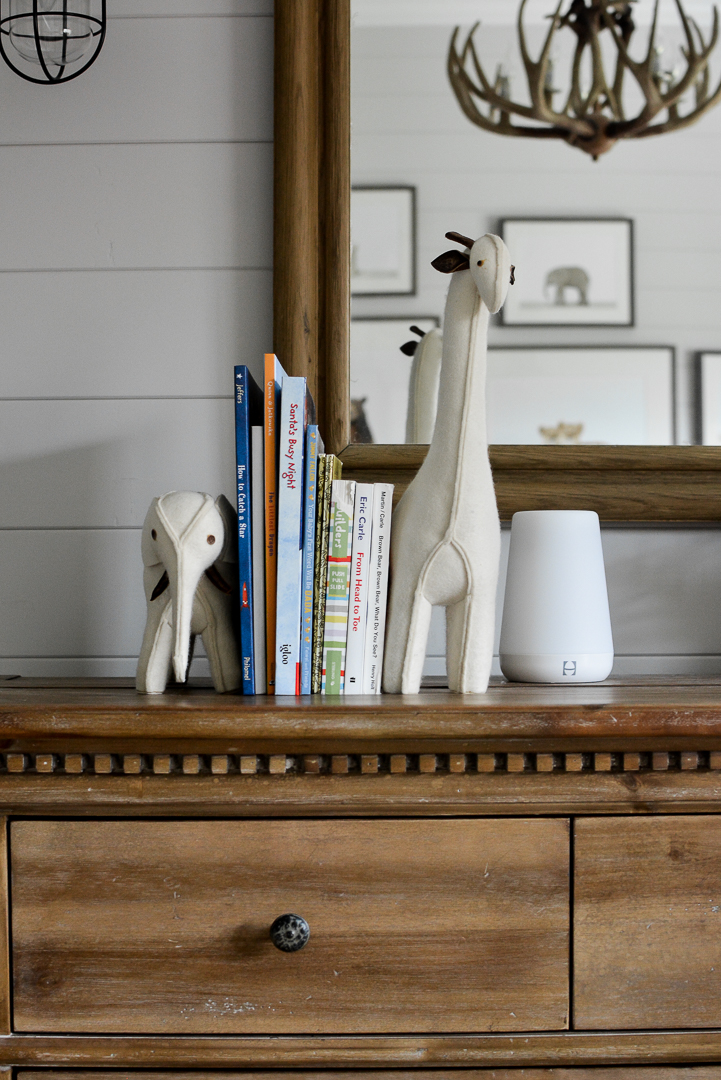 These adorable number poufs are no longer available but I will link (at the end of this post) to a couple of equally great options.  Originally, the poufs served the purpose of filling the floor space and giving us a place to stretch out during bedtime reading but now they have become toys for Ryan because…it was bound to happen.
One of my favorite parts of the room?  The canoe propped up in the corner.  That area begged for height and it took me the longest time to find something that worked.  I looked and looked and when I randomly stumbled across this canoe on the RH page, I could immediately envision it in the room.  It makes such a dramatic impact.  Also, the antler chandelier made all of my lighting dreams come true.  I can say that I never anticipated having anything "antler" in my home but I am glad that it worked out that way.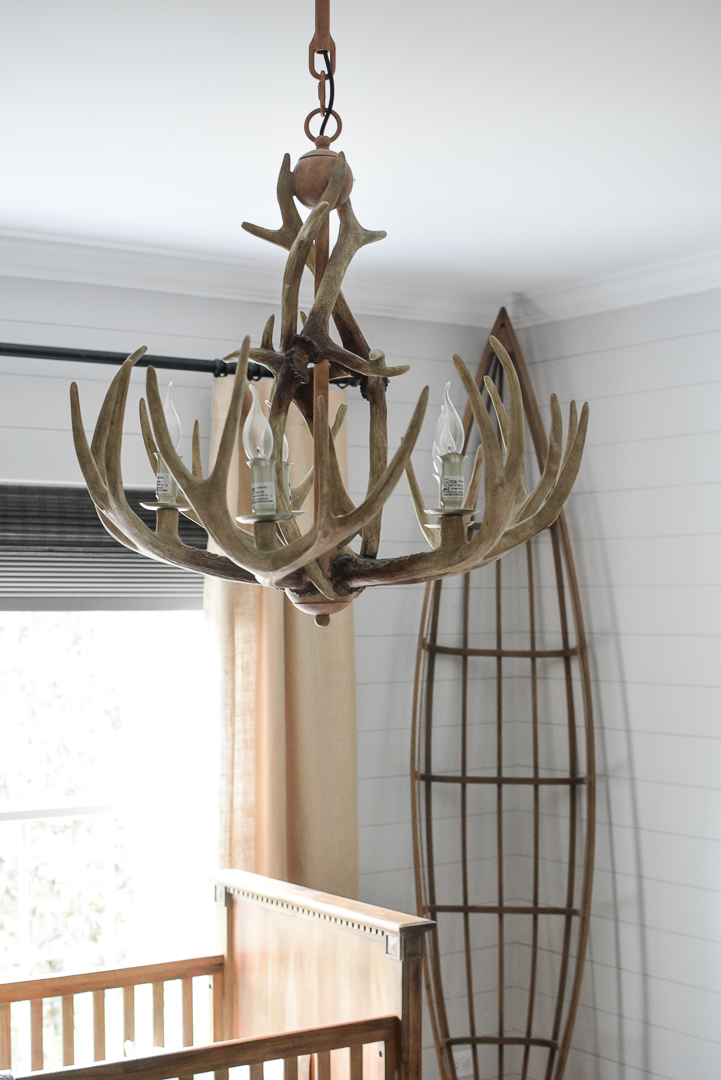 We recently transitioned Ryan's crib into a toddler bed.  I had originally planned to move him into a full-size bed but, truthfully,  it would require a complete redo of the layout of his room and I love it to much to change it until absolutely necessary.  The big obstacle in the way is the placement of the animal pictures.  That wall begs for a bed but I could never put him under all of those glass frames.  Oh well, we will figure it out some day.  For now, this special space will continue to to be my favorite.
Here are some additional pictures, including a few of Ryan in his crib for the very last time…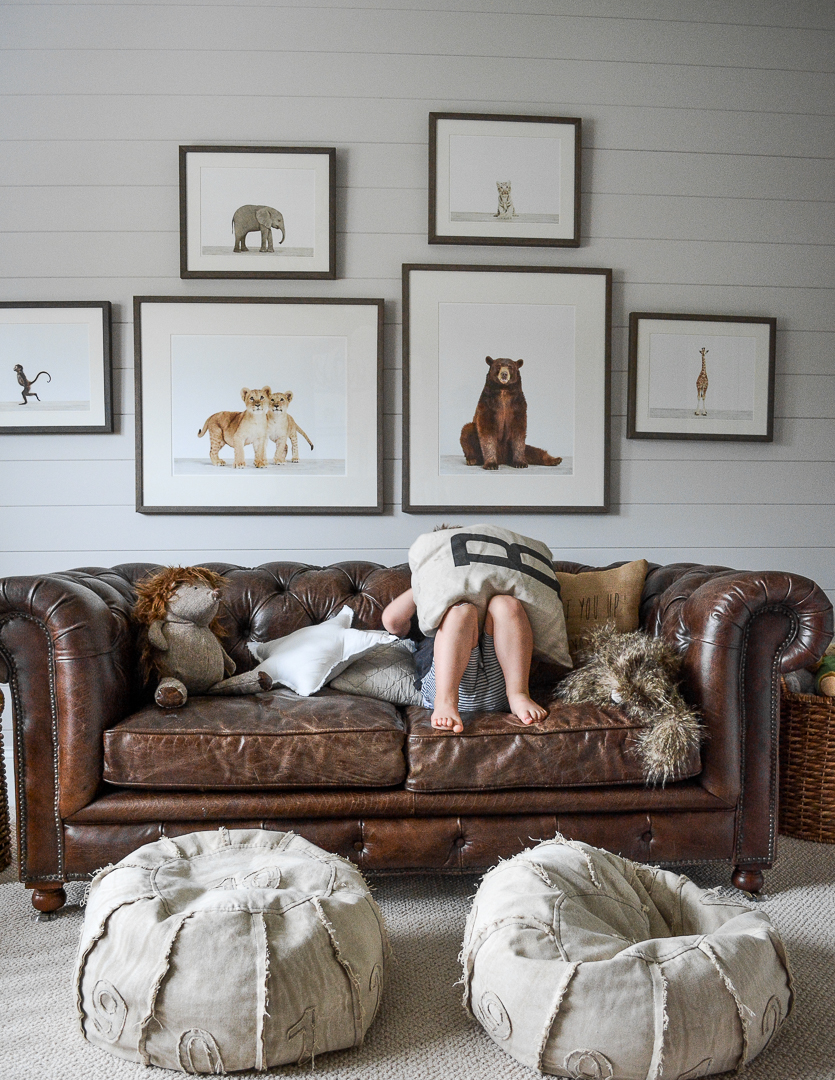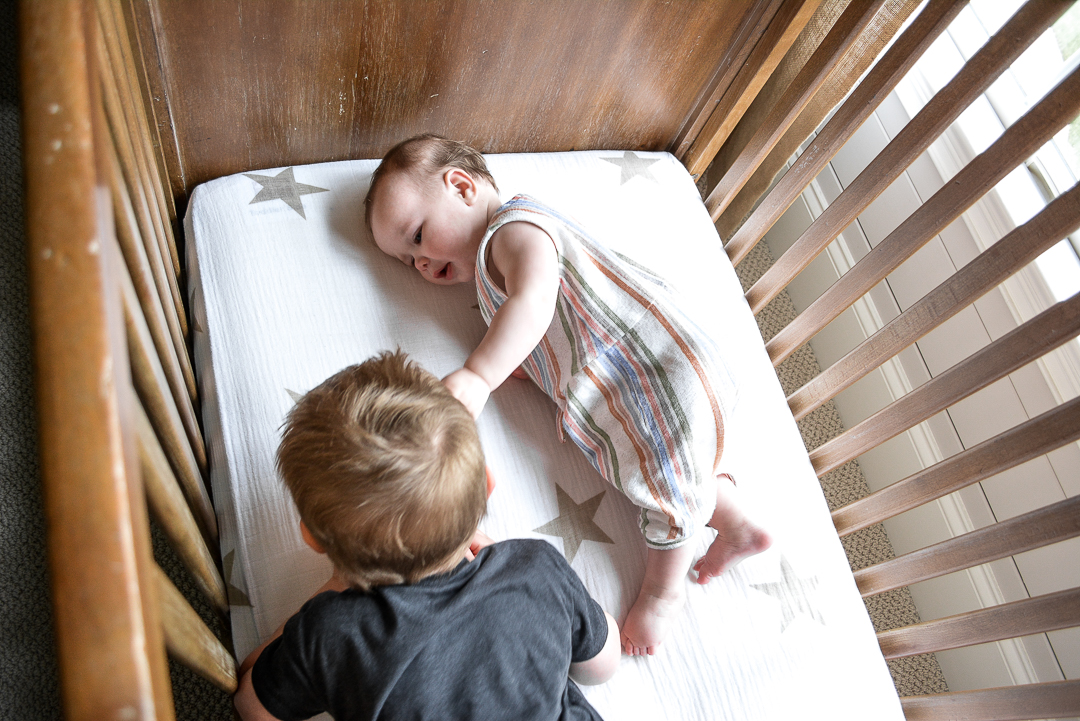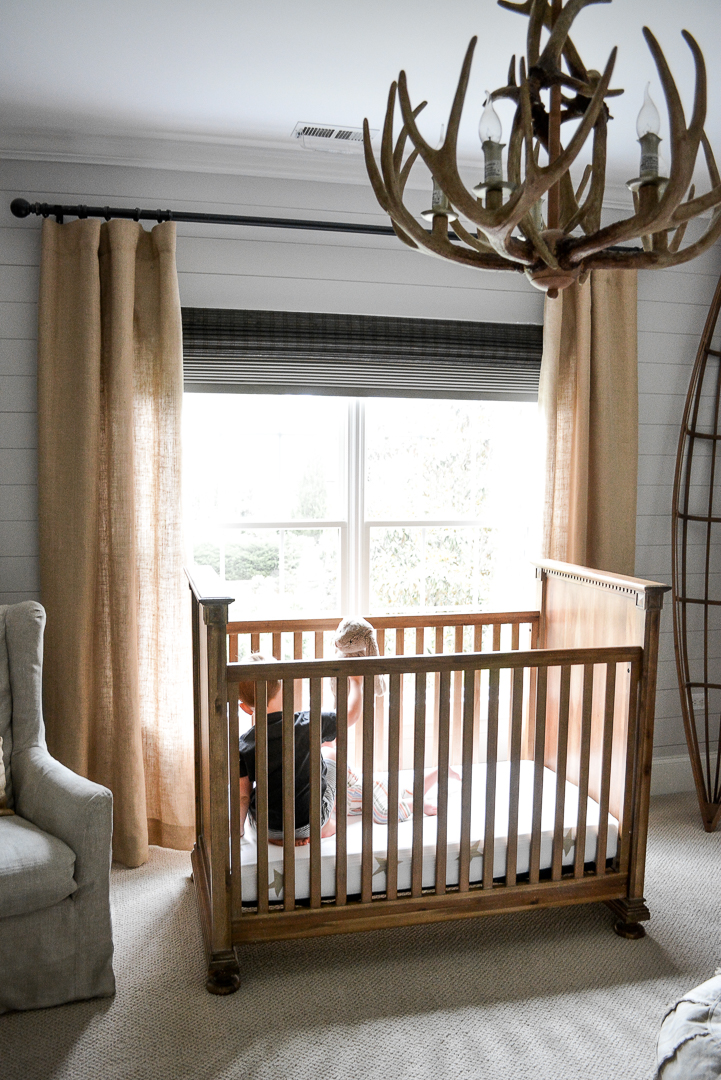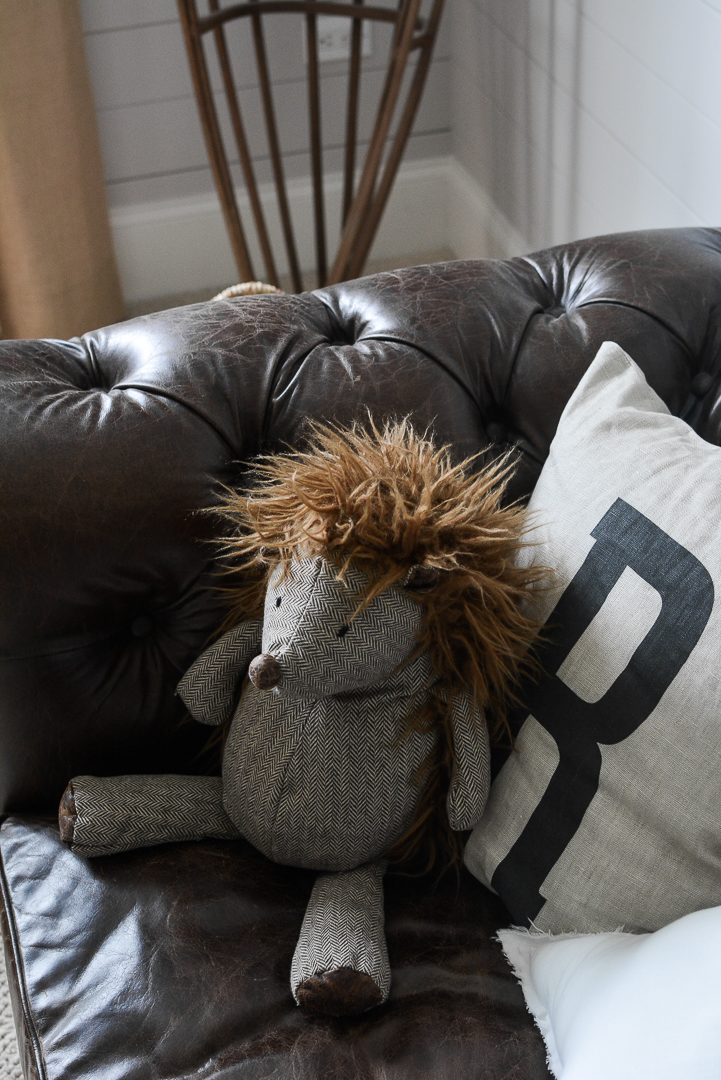 Thank you so much for allowing me to share the story behind this special nursery with you all.
YOU CAN SHOP EXACT ITEMS & SIMILAR ITEMS FROM RYAN'S NURSERY BELOW!
| WALL ART |

| STUFFED ANIMALS & TOYS |

| PILLOWS & POUFS |

| REMAINING DECORATIVE ELEMENTS |

xoxo
Lindsey
SaveSave