Good morning, friends!
Hope you all are having a fantastic week so far.  This week has been pretty mellow around our household.  Ryan came down with a cold over the weekend so we have been taking it easy.  We have been spending time with family now that he's on the mend.  Our nieces go back to school in two weeks so we are trying to soak up as much time with them as possible.  We are heading to lunch with them today and then I foresee several pool days in the near future, once Ryan is 100%.
David and I need to figure out a sleepover night for the girls over the next week or two.  When we moved into our house five years ago, we set up one of the guest rooms as a sleepover room for them.  Well, that room will soon be turned into the baby's nursery so we have to have them sleep in there one last time before we move the twin beds out and move the crib in.  It is definitely bittersweet.  While we are elated for this baby, it seems like the end of a beautiful era with our nieces, who are so important to us.  They are older now and have school, homework, projects, activities, and what seems like 1,284 birthday parties too attend.  Their free time to sleep at our house is more limited these days.  Don't get me wrong, we see them at least a couple of times a week but overnights have become less consistent.  I'll have to plan something special for this last night in their room.  We'll have to figure out where they'll sleep in the future!  (Cough, cough, I turned our other guest bedroom into a craft room a few years back and I'm not putting them in the one in the basement.)
Tiffany and I met up on Sunday and I wrote this incredibly pretty (and comfortable) embroidered dress.  It is the perfect piece to throw on when you want to feel put together but don't want to worry about your figure.  No Spanx necessary, no sucking in, no worrying about how much food you consume that night…just pure comfort.  Initially, the gorgeous sleeves drew me in.  I also loved the contrast of the bright colors against the dark black fabric.  It's a perfect piece to transition into the fall as well as it looks great when paired with booties.  It definitely fits oversized so I HIGHLY recommend ordering down a size…if not two.  (For reference, I am 5'10 and typically wear a Large but always size down in Free People.  I ordered a Medium and even that will have to be taken in after this pregnancy.)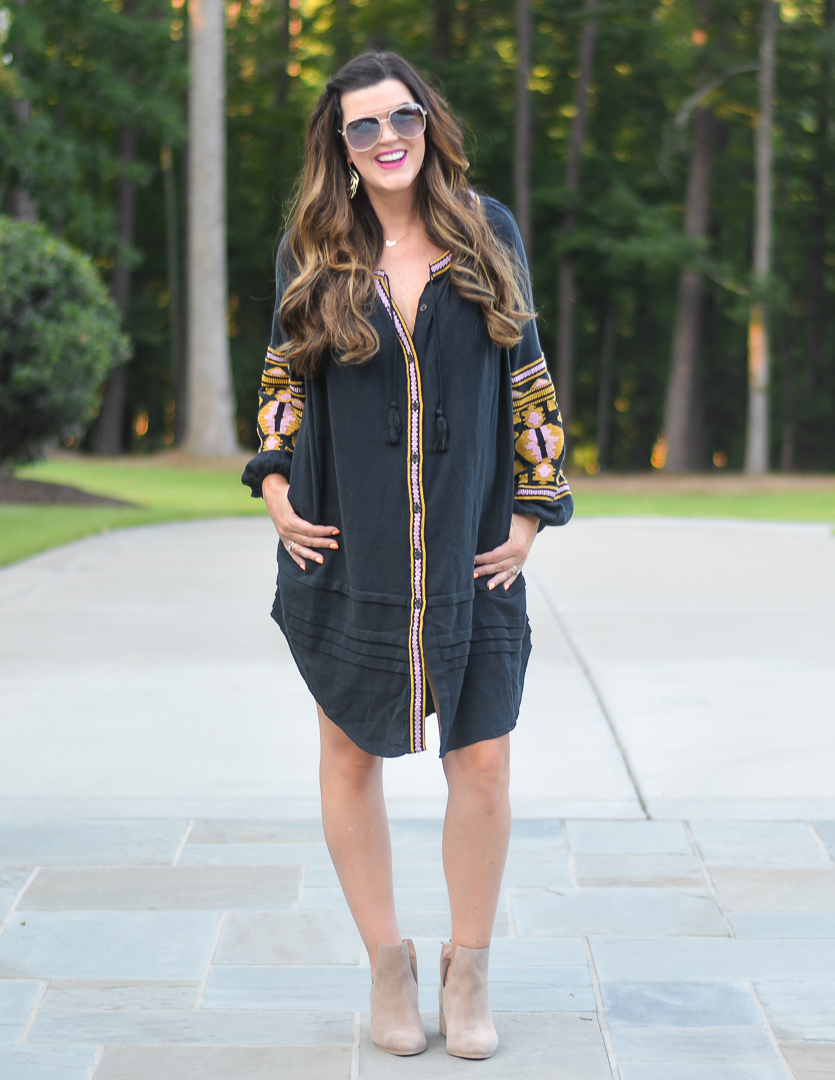 Have a wonderful day!
xoxo
Lindsey
SaveSave
SaveSaveSaveSave
SaveSave
SaveSave