This is our first post of 2017!  What?!  Still cannot believe that we have entered a new year.
While a lot of people were excited to bid adieu to 2016, I felt the exact opposite way.  After several emotionally tumultuous years during which David and I were faced with unimaginable loss and a cancer diagnosis, last year was pretty close to perfect.  Watching Ryan transition from a baby to a toddler was incredible.  (Not to say that there haven't been moments of sheer frustration or fatigue, but those times comes with the territory.)  Watching him learn and watching his sweet personality emerge more and more was so cool.  Throughout the year, he transformed into a little boy right before our eyes.
2016 was filled with some pretty great memories and moments.
We were able to sleep through the night…yes, Ryan didn't begin sleep through the night until he was eleven months old and didn't do so until we hired a sleep consultant.  The consultant, Irene Gouge, will forever be referred to as our lifesaver!  Because he became such a great sleeper, it allowed us to go on more adventures and to be better parents overall.  No more total and complete exhaustion!  As a family, we traveled to Los Angeles, visited David's parents in Virginia and spent an amazing family vacation at the beach.  David and I also went on our first solo vacation since having Ryan.  We headed to Charleston for our fifth anniversary and I fell head over heels with the city.  It was a trip that I was scared to make as I was incredibly emotional about leaving my baby but it was so needed.  It provided the perfect (and much-needed) opportunity to David and me to spend quality time together.  Fingers crossed that we will be be able to sneak away to Charleston again this year!
Besides travel, we were able to spend a ton of time with our families.  With my family living locally and David's family just two hours away, Ryan was able to create countless memories with everyone.  Our families are hugely important to us so watching Ryan with our loved ones was easily the best part of 2016.
Tiffany and I exchange Christmas gifts each year.  As you can imagine, she knows me pretty darn well so her gifts are always amazing.  This year, she gave me a stunning green vegan leather jacket!  I told you that she knows me well.  In fact, I had repeatedly walked by the very same jacket at Nordstrom but kept telling myself that I was there to shop for other people…not for myself!
Colored moto jackets are huge right now so there are a multitude of available options.  Over the weekend, I paired my green one with a simple black tunic, faded black denim, my Vans Mocs (another favorite Christmas gift) and a little neck scarf.  If I am wearing a colorful statement piece, I tend to wear gray, black and/or white with it so as not to overshadow the main item.  It can be easy to take a colored moto jacket and make it look like you're trying too hard to embrace trends if you pair it anything else too trendy.  For example, wearing it with a simple black and white striped shirt, a plain white tee or a simple monochromatic dress are great options.  These pairings create a fun but sophisticated look.
Not to say that you can't pair it with a patterned top or dress and create a cool bohemian look.  That's totally a possibility but you just need to work harder to keep from looking like you have too much going on.  I was watching Project Runway over the weekend and Tim Gunn mentioned the rule of taking one thing off before you leave the house.  I have a love affair with crystal statement necklaces so I follow this rule often.  In fact, before leaving the house in this look, I threw on a massive statement necklace but it just looked overdone so off it came.  Trust your instincts when you look in the mirror one last time!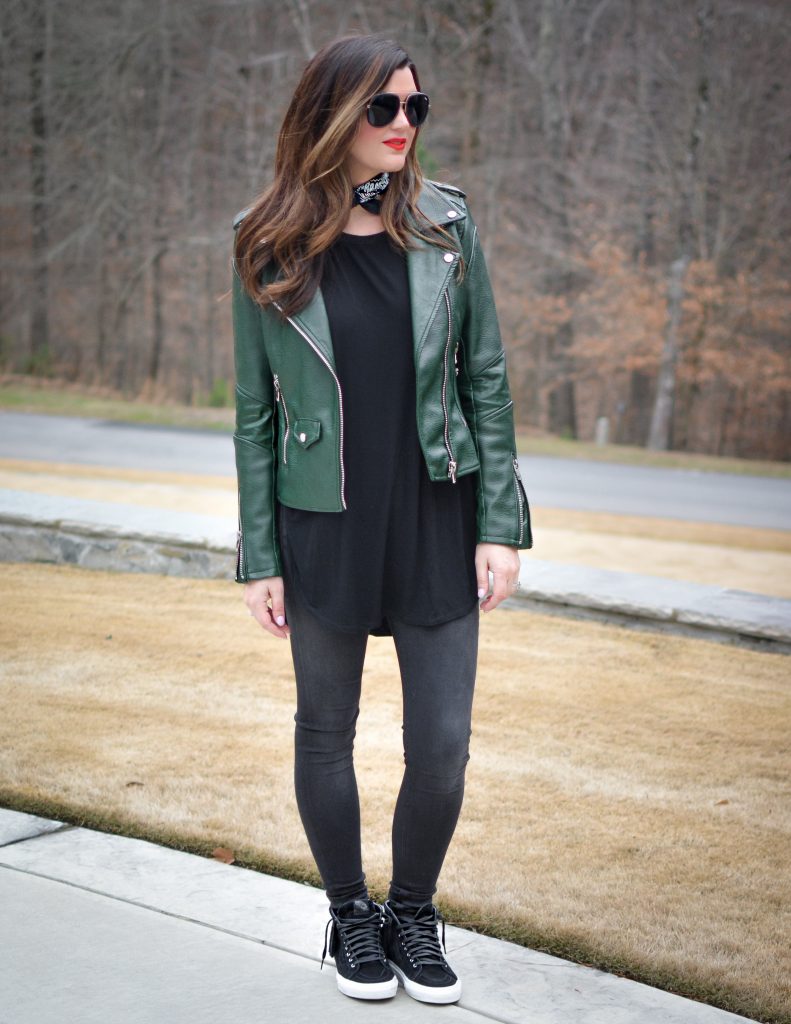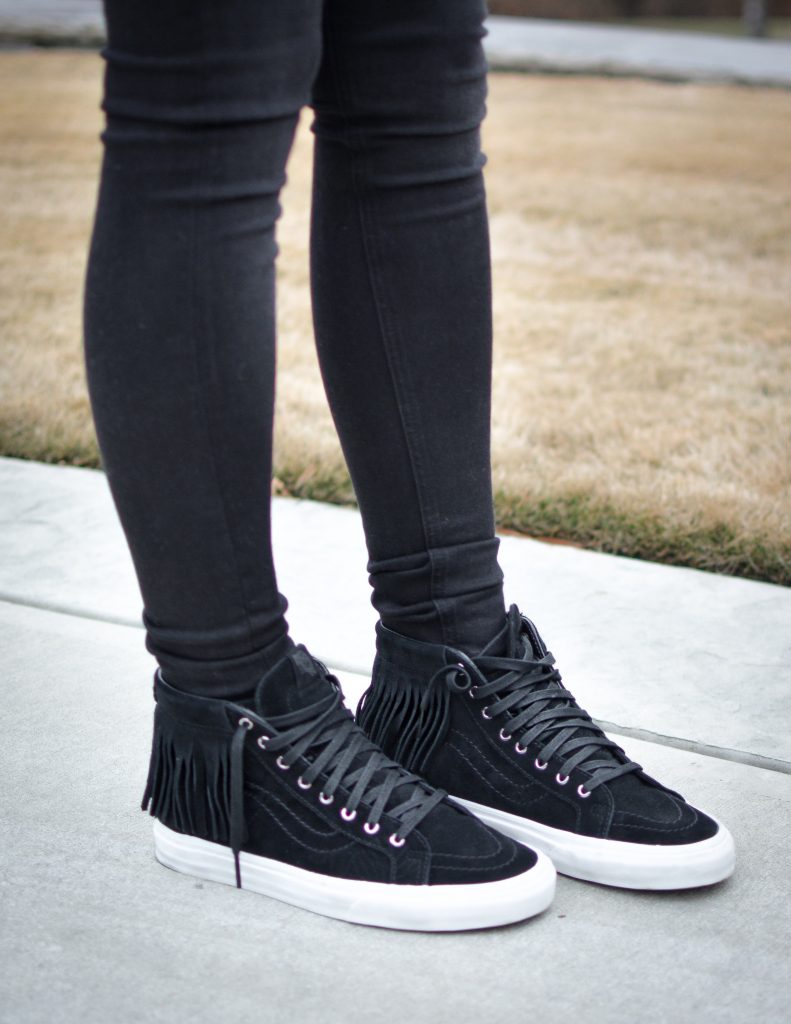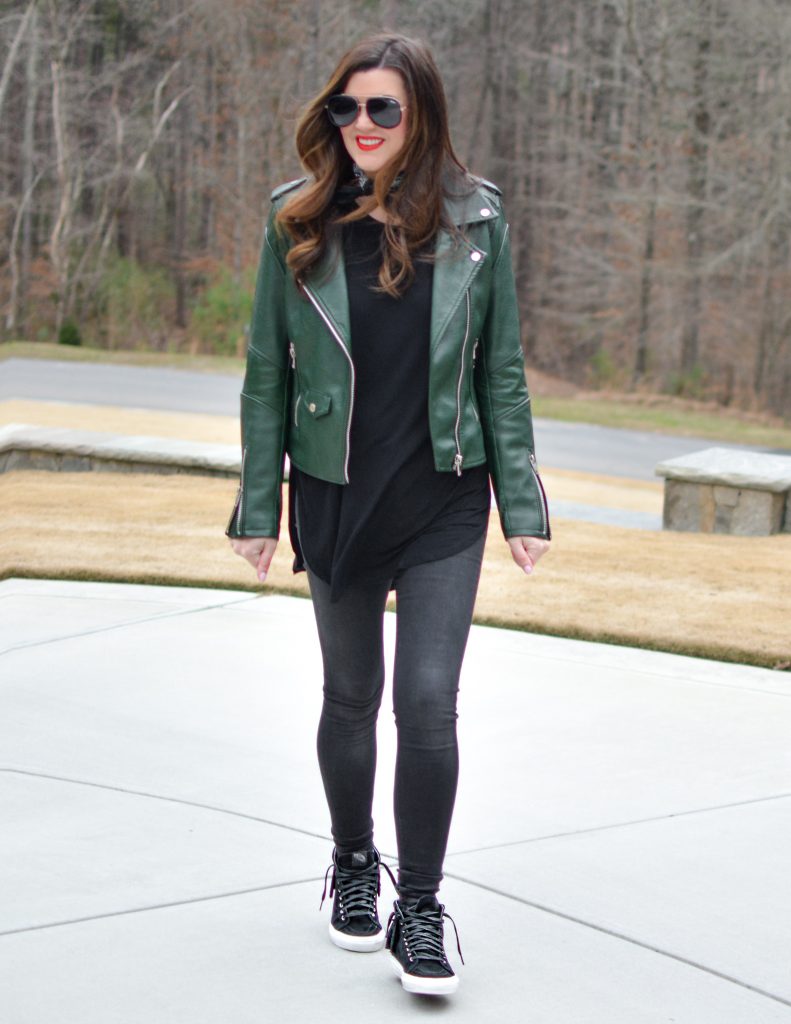 | SHOP MY FAVORITE COLORED MOTO JACKETS BELOW BY CLICKING ON IMAGES |
xoxo
Lindsey