Hope that you all had a great weekend!  We both took it easy and pretty much stayed indoors the entire time.  The ground was covered in snow but beneath that snow was a nasty layer of ice.   We figured it was better to be safe and be low-key.  It might sound crazy to those of you who live in cooler climates but because out city doesn't typically experience snow, the roads can be rough and the drivers who have little to no experience driver in snow can be scary, to say the least.  It was a perfect weekend to spend time with our families and relax.
Seeing as it finally feels like winter here, we thought it was time to put together a winter wishlist of all the things we are currently craving!
1. Muk Luks Jenna Slipper Bootie | 2. Baublebar Sphynx Bib | 3. Deborah Lippman Polish in Single Ladies | 4. Charlotte Tilbury Makeup Bag | 5. Imm Living Door Knob Jewelry Holder | 6. Sole Society Fedora | 7. Pom Pom Keychain | 8. MAC "Mineralize" Skinfinish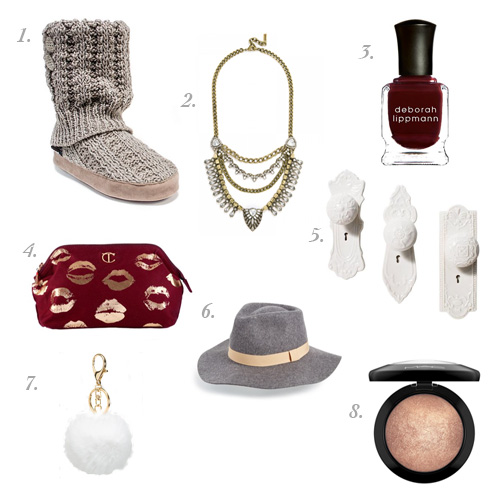 We would love to hear what you are currently craving!  Let us know!
xoxo
Tiffany & Lindsey