With the foliage changing it's hues and with Thanksgiving quickly approaching, we have been thinking about celebrating with our families.  We love to decorate our homes for the fall and winter holidays in order to create a warm, family-focused ambiance.  For Thanksgiving, this meant coming up with various ways to personalize our dining room tables.  We set up several place setting options and wanted to share them with you.  We would love your feedback on your favorite ones!
Place Setting Option 1:
We created this sweet little setting by simply tying twine around the silverware and adding a tag that we had appropriately stamped.  The stamp and the tag are both from Michael's and provided us with a simple yet impactful design touch.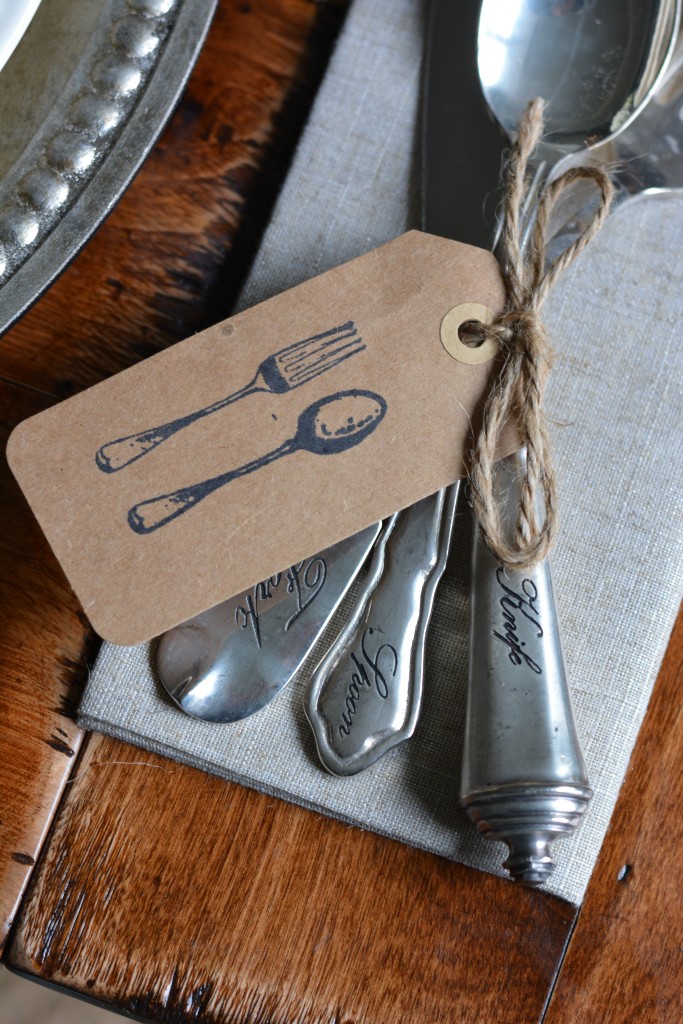 Place Setting Option 2: 
This adorable silverware pouch was ridiculously easy to make.  All we did was take this burlap garland , cut a piece approximately 10 inches long (will depend on your silverware), folded it in half, sliced two horizontal slits approximately 3/4" from the sides, and tied ribbon through.  No sewing or gluing necessary!
Place Setting Option 3: 
This sweet little setting ended up being our absolutely favorite.  We took a tiny pear and added a craft paper flag (purchased from Michael's) with a hand-drawn acorn.   It took less than a minute to complete but looks ridiculously cute!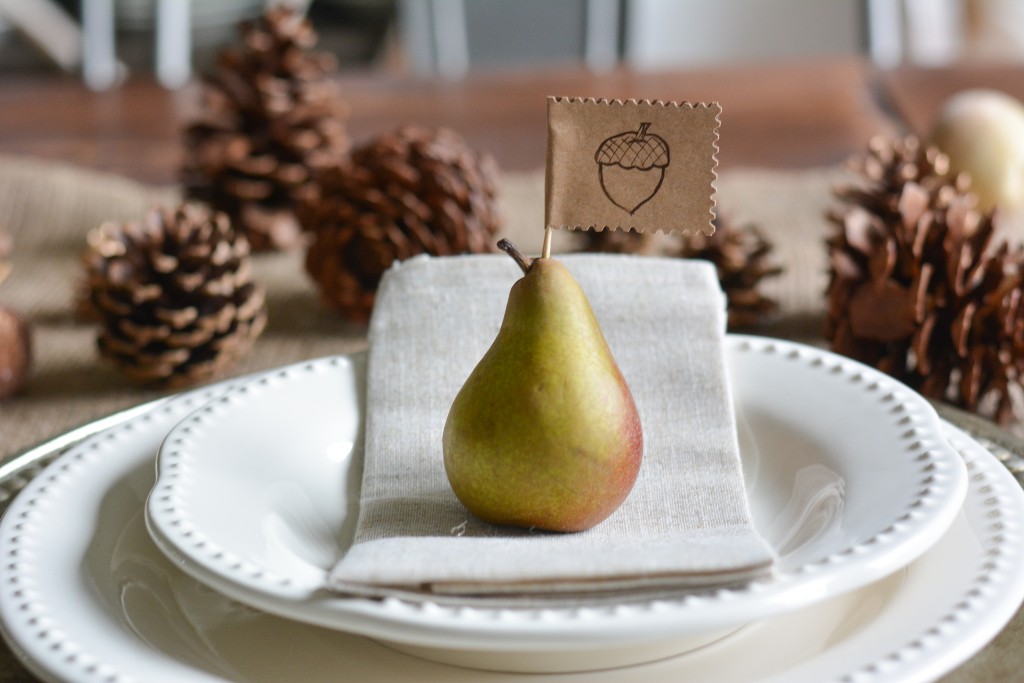 Place Setting Option 4: 
We purchased these glittery leaves from Michael's and used our trusty craft paper tags to create this pretty place setting.  After writing the guest's name on the tag, we looped string through the hole and tied both around the napkin.  We then tucked the sparkly leaves behind the tag.
Place Setting Option 5:
For this personalized setting, you need an apple, a tag, an autumnal embellishment, and either a stamp or marker.  We opted to use one of the letter stamps that we already had purchased in the past.  Simply attach the embellishment to the tag, add the guest's initial or full name and wrap the string of the tag around the stem of the apple.  (Make sure that you find apples that have a nice stem!)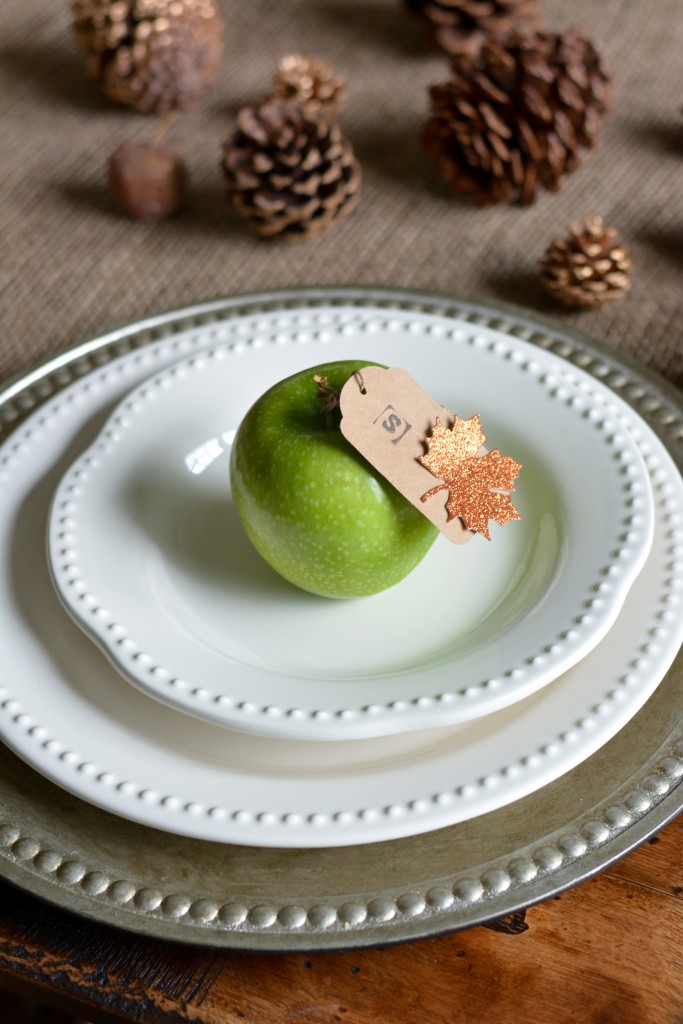 Place Setting Option 6:
For our final place setting, we used a grouping of "pinecones" that we purchased at Michael's.  We tied ribbon around a tag that we had stamped and then tucked the pinecones behind the tag.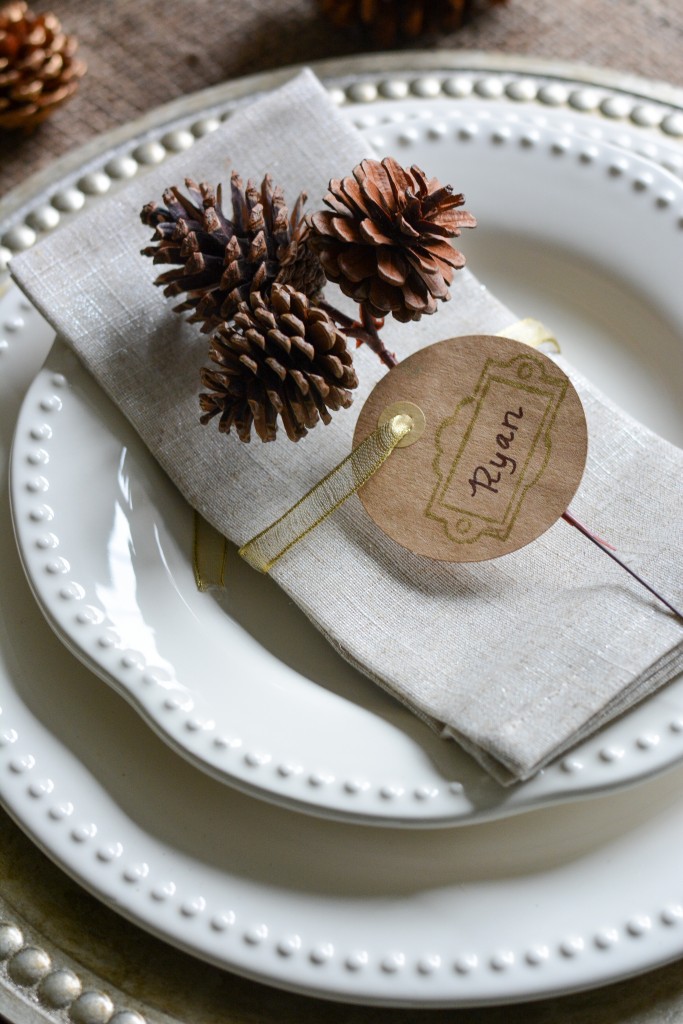 All of these options were super easy to make.  Hopefully, we have inspired you for your family Thanksgiving gathering.  Please share your ideas by tagging us in your images on Instagram!
Happy Thanksgiving week to you and your families!
xoxo,
Tiffany & Lindsey