While cooler temps made an appearance this weekend, we are now back in the 80s.  It's October and I am over the warm weather!  I did, however, take advantage of the cooler temps and wore a comfy fall outfit this past Saturday.
I'm all about being comfortable and cute.  When I can be both at the same time, I am one happy girl.  The outfit I wore Saturday, jeans and tee paired with a blazer and wedges, was just that.
This necklace from Mindy Mae's Market is a go-to for me.  I probably wear it once a week.
I am OBSESSED with my new bag.  While I was at the beach with my family a few weeks ago, we ventured out to the outlet stores.  I've been there several times but they had just added a Kate Spade outlet.  I was in bag heaven.  I went into the store thinking I would get a new 'work' bag.  After 40 minutes of browsing and carrying around several purses, I ran into this beauty.   It was love at first sight.  I believe they call this color Oyster and although you can't tell in the picture, the sides are suede.  Again, I'm OBSESSED!!
I previously wrote about my new TOMS in our Boot Love post, but just had the chance to wear them.  They are as comfy as I expected.  If you are looking for a wedge that you are able to walk in all day, you must give these a try.
And here is one more of the entire outfit.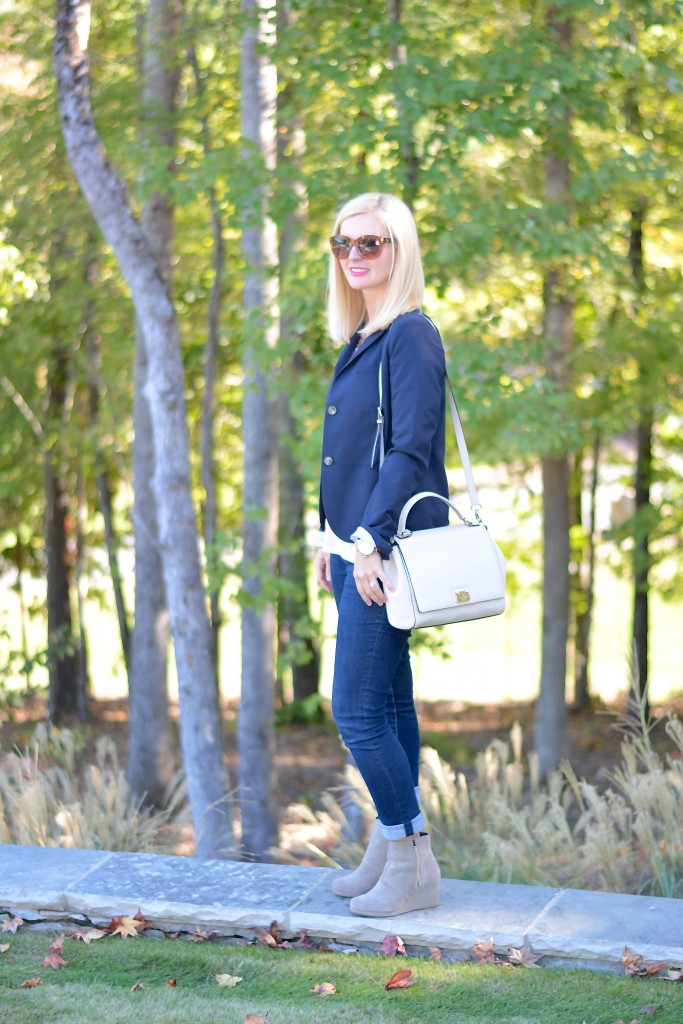 Happy Hump Day everyone!!!
xoxo
Tiffany