Happy Tuesday, everyone!
I have been wanting to write this post for awhile and now that we have made it through the "baby stage" with our two kiddos, it seemed like a perfect time.  When you first start thinking about purchasing items while you're expecting, the category of baby gear can prove pretty overwhelming.  It's not like it used to be when you could walk into a store, see the three high chairs available, and simply pick one.  The baby product market is INSANE.  So many choices, so little time.
While I want to share products that worked wonderfully for our family, I am not naive to think that would be the case for everyone.  The needs of each family are different, personal taste varies and prioritizing which items are essential or not leads to differing conclusions.  I simply wanted to share some of my personal favorites, in the hopes that it might help you navigate the crazy world of baby product mania.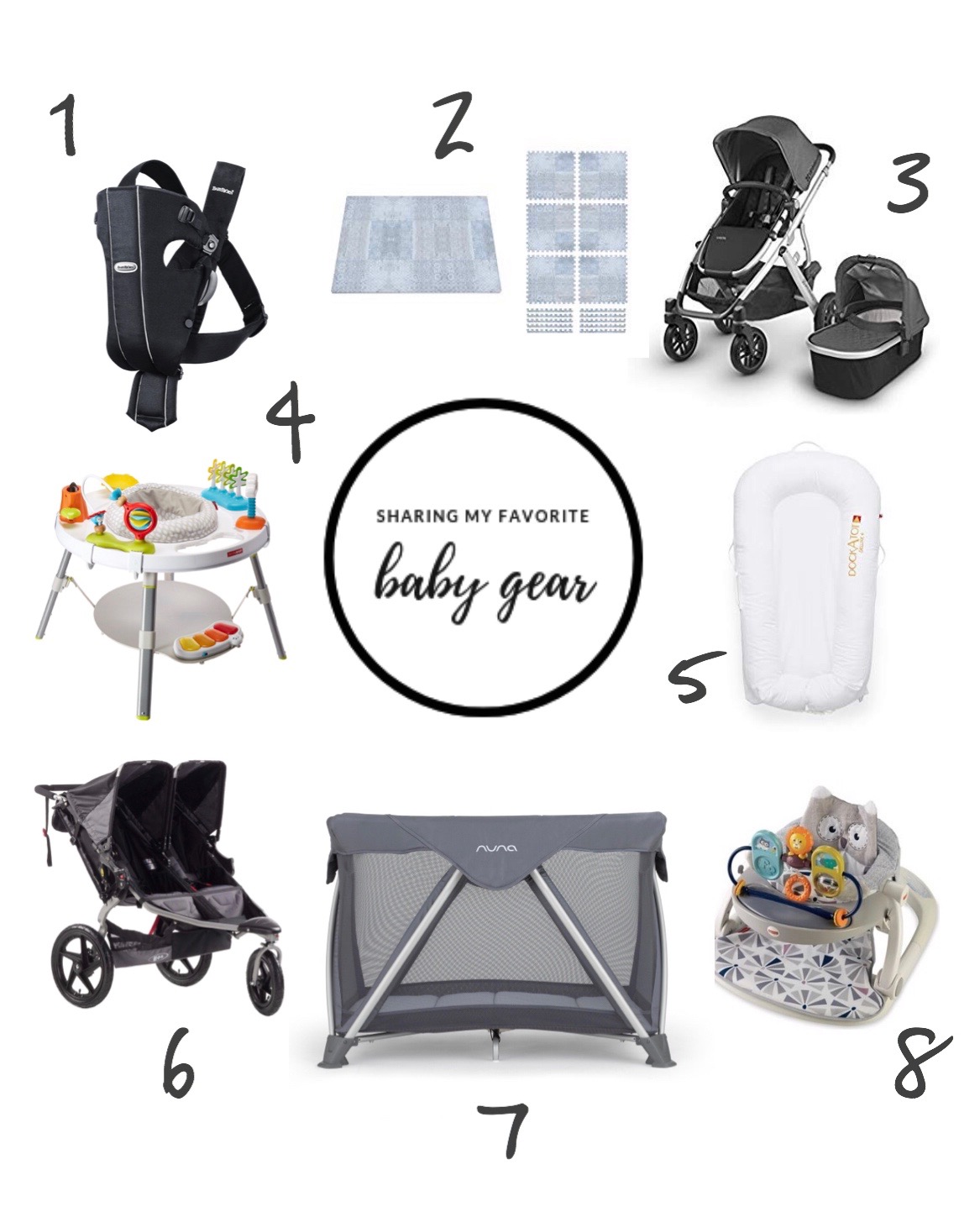 BabyBjorn Original Carrier– I am only half-joking when I say we tried out dozens of baby carriers.  We own the Stokke carrier but it proved to be annoyingly complicated.  I tried wrap after wrap and almost always became so frustrated with them that they ended up collecting dust in the closet.  One may or may not have been chucked across the kitchen at one point in a fit of rage.  Our biggest success?  The good ol' Baby Bjorn.  We purchased it for Emerson and only wished that we had it with Ryan.  It's so easy to put on and seems so comfortable for babies.  You may remember the countless Instastories of David and Emerson dancing together around town while he word the Bjorn.  We had the classic model and it worked perfectly for us.
     2.  Little Nomad Play Mat–  Hands down, without a doubt one of my favorite baby items!  True, I may be slightly biased because the creator of these amazing mats is a childhood friend but I would sing its' praises regardless.  When Ryan was a newborn, I hunted for a neutral play mat.  Ultimately, I found one that was brown and tan with animals on it and while it wasn't terrible, it wasn't exactly attractive either.  Our playroom is our old living room and it's the room you see immediately upon entering our home.  I wanted a mat that would blend in with our fairly monochromatic home decor.  Well, Little Nomad offers the perfect solution.  These play mats are not only functional but also beautiful.  Yep, a beautiful playmat.  You can check out the website to see all of the gorgeous designs and color options!
3. Uppa Baby Cruz Stroller–  The baby gear question that I have been asked the most often is, "Do you love your Uppa Baby stroller?"  That's an easy answer…YES.  We had the Vista with Ryan and loved the way it handled but we ended up purchasing the Cruz later on because the narrower wheel base was helpful when navigating crowded areas.  The Cruz has been our saving grace while out and about.  Personally, I love that I can fit a massive diaper bag, high chair cover and a package or two underneath.  There is definitely ample storage room.  Now that Ryan is older, we have used the PiggyBack attachment so Ry can get a ride during long outings.  (This also helps to keep us moving at a nice pace when necessary.)   Another thing to mention, we used the heck out of the bassinet.  We had debated spending the money on the bassinet attachment but a friend of mine highly recommended it so we went ahead and splurged.  It was completely worth it in the end.  Ryan and Emerson both spent countless hours happily sleeping in that thing whether it was on a family walk or while we were cruising around the mall running errands.  The Mesa carseat was also a winner.  We used it for both kiddos!
4.  Skip Hop Explore & More Activity Center– This Skip Hop play gym was a total lifesaver.  From a very young age, Emerson always  liked to be moving.  (Lord knows that she still does.  Sigh.)  This particular activity centered offered her plenty of stimulation.  We kept it in the kitchen and it was the perfect place to put her when I just needed ten or fifteen minutes to get dinner going, to empty the dishwater, etc.
5.  DockATot Deluxe–  A little backstory is essential here.  I ordered the DockATot while pregnant with Emerson.  The idea was to use it downstairs while she napped so that I didn't have to put her down upstairs and be far away.  There was zero intention of using it for any type of co-sleeping.  Ryan never slept with us as an infant it were hadn't planned on Emerson doing so either.  (I want to note that there was no judgment against those who chose to co-sleep!  It just wasn't anything that David and I were interested in trying.)  Well, cut to Emerson having such terrible reflux that she choked on her spit-up so badly the second day of her life that she stopped breathing.  She turned blue and was rushed to the NICU.  Her reflux remained an issue and at five weeks of age we had a nighttime ambulance ride because she choked and the pain was so bad that her body shut down.  She even would spit-up in her sleep.  Needless to say, keeping her closely at all times was a priority.  If she choked in her sleep, we literally needed to scoop her up and hold her upright.  It was terrifying.  The DockATot allowed for her to sleep in between David and myself until she outgrew her issues.  The fact that it had "walls" made me feel more comfortable about having her next to us.  (She also wore an Owlet sock so, God forbid, something happen, we would know.  In fact, that's how I noticed that we needed to go to the hospital.  The Owlet alarm went off and when I checked Emerson, she was non-responsive.  Now I'm wondering why I didn't put the Owlet on this list?!)  Listen, I am not promoting co-sleeping.  It's a personal choice and I'm not naive to the dangers.  However, for us, in our specific situation, it was the best option.)  Plus, we were able to move it around the house for naps and would even take it to my parents' house.  Loved this product!
6.  The BOB Revolution Double Stroller–  We were incredibly lucky because my brother and sister-in-law handed their BOB double stroller down to us just before Emerson was born.  It is a pricey stroller but it's been pretty awesome for us.  We love to go on family walks and it glides along so beautifully.  The kids love being right next to each other as well.  While I (admittedly) don't take it any faster than a brisk walk, I do know that my sister-in-law would take it on runs often.  The fact that it was handed down to us after all that time and all that use and still rides so well is a testament to how well these strollers are made.
7. Nuna Sena Aire Travel Crib – This little travel crib (that's really a pack n' play) has been with us since Ryan was born.  It has migrated all over our house and it pretty easy to take down and put back up.  It's such a nice size.  Large enough for babies to sleep comfortably even into toddlerhood, but not so large that it feels cumbersome.  In fact, it started out with both kids in our kitchen and then ended up in our master bathroom.  Yep, we have this thing in our bathroom.  There is a perfect spot for it and it allows us to bring Emerson in with us if we need to shower or get ready while she's awake.
8. Fisher Price Sit Me Up –  This little seat ended up on our must-haves list due to a trip to CA.  We were heading out to Los Angeles for my high school reunion when Emerson was five or six months old.  We were going to be staying at my parents' home there and so I ordered a few things off Amazon to be delivered before we arrived.  I searched some sort of generic wording for baby seats and this little guy popped up.  I figured that we might as well give it a try.  We ended up loving it so much that my mom created room in one of her suitcases on the way back to trek it home for us.  It was so comfortable for Emerson and seemed far safer than some of the other less stable options.  Plus, the built-in toys are GENIUS.  No more stopping what you're trying to get accomplished because the baby accidentally (or intentionally) pushed the toys off the tray!
Hope that this list might be helpful to those of you who feel like you are drowning in baby gear decisions!
Okay, now it's your turn!  What are you absolutely favorite baby gear items?  Would love if you would share in the comments!
xoxo
Lindsey