Let's talk honestly for a minute.  When it comes to purchasing baby swings and seats, it is a complete gamble.  There is no way to predict which one your baby will prefer.  Certain babies like back and forth motion, others prefer side-to-side movement while some prefer vibrations.  Not to mention the fact that often times, babies will demonstrate a preference towards one specific swing early on but towards another just a month or two later.  Bottom line, babies are highly unpredictable little beings.
 You know what else is highly unpredictable?  Life.  In our case, it was a health issue that prompted us to use the Nuna Leaf Curv over other baby swings.  We owned the Mamaroo and used it often with Ryan but with Emerson experiencing spit-up and reflux issues as soon she entered the world, that particular swing remained in storage.  I just didn't think she would benefit from that type of movement.  She had lost a lot of weight before we even left the hospital due to the massive amounts of spit-up, at one point dropping to just the 6th percentile for weight.  There was no way that I was going to have her experience any kind of swinging motion until her reflux subsided.
Eventually, she began to gain weight, the pain from reflux subsided and she wasn't spitting up all the time.  (Let's be clear here, she still spits up a decent amount but it has improved significantly.)  She loved being supported in an upright position so I knew that it was time to try the Nuna Leaf with the lock setting disabled.  You see, there is a tiny switch that easily allows you to decide whether or not you want your baby to experience motion.  While she loved sitting in it while stationary, the gentle swaying motion eventually proved to be her preferred setting.
The Leaf was the only new baby seat/swing we had purchased it prior to Emerson's birth.  Honestly, I just loved how it blended in with our home decor.  So much so that you can barely notice it in our family room.  I completely understand that my reasoning behind buying the Leaf seems nutty to some people but I'm simply being honest.  The interior of our home is important to me and I never wanted to "give up" David's and my adult spaces.  Before Ryan was born, we decided that the family room and kitchen would remain as free of toys and baby gear as possible.  This meant converting our formal living room into a playroom.  Not that we had ever even used that room to begin with so it just made sense.  It allowed our family room to remain our space.  The logic behind that way of thinking?  That's the room where David and I spent the most time together.  At the end of the day, while Ryan slept, we were able to unwind without feeling like we were surrounded by toys or sitting in a playroom.  I have to note how much baby gear changed over the past few years because when Ryan was born, neutral baby items were far more difficult to find.  While pregnant with Emerson, I find several monochromatic options but the Leaf lounger blended in too well to pass it up.  We could have it in our family room without it being an eye sore.
While the Leaf was a perfect fit for us, you can read below to see why I loved it but also a few issues that I found…
Pros
1. The Leaf does not requite batteries or a plug. Additionally, there are NO CORDS.  Huge bonus in my book.
2. The movement it provides is gentle and soothing.  The movement definitely does not overstimulate babies.
  3. As I mentioned previously, I adore the overall style.  We purchased the camel color but there is also a gorgeous gray on gray version that is insanely cool.
4. It is easy to clean…and clean thoroughly.  There aren't various nooks and crannies to worry about.  This is a plus seeing as Emerson spits up often.  The entire cushion that the baby sits on can easily be taken out and tossed in to the washing machine. Putting it back on is also a simple process…unlike many other seats and swings which feel similar to assembling an Ikea shelving unit.
5.  The Leaf is obviously comfortable for Emerson.  She is content while sitting in it and it allows her to be upright enough that she doesn't protest (because baby girl suffers from FOMO).
6.  This seat grows with your child.  The weight limit is 130lbs!  Once your baby turns into a toddler (and is coordinated enough to climb in and out of the Leaf unassisted), you can simply stop using the buckle.  The Leaf becomes a great lounger for older kids.  Ryan LOVES hopping into it and I have a feeling that he'll take to using it as a cozy place to read in the future.
Cons
1. The weight…this particular seat is anything but lightweight.  If you are looking for a swing that can be easily moved from room to room, you may want to keep looking.  It weighs 12 lbs, and the large footprint of the base definitely makes it awkward to move.
2.  The Nuna Leaf is pricey.  At $229, this seat is one of the most expensive on the market.  However, if you can foresee using it as your child grows, it is far easer to rationalize.  It can easily replace the ever popular Anywhere Chair or a beanbag in a playroom.  (I used my Nordstrom card to purchase ours so that I would receive Nordstrom Notes back.  Made the purchase a touch easier.)
3. If you want constant movement, you have to remain nearby.  With one push, the seat will sway for just over a couple of minutes.  While I am putting this on my list of cons, I actually also consider it a positive.  I liked that it didn't make Emerson dependent on constant motion.  Sometimes it would sway but let's say that I needed to empty the dishwasher, she needed to be fine with the motion stopping for a bit.
Do any of you have the Leaf?  If so, please feel free to share your thoughts in the comments below!  As I mentioned earlier in the post, these purchases can be difficult to make so providing other parents with as much feedback as possible can be so helpful.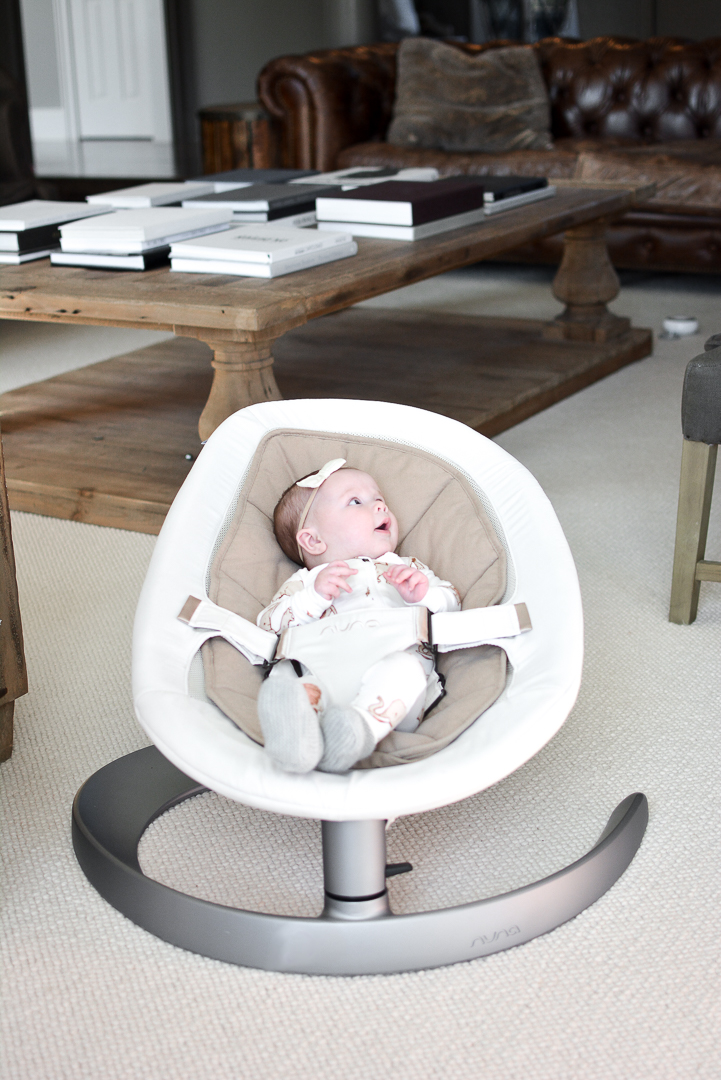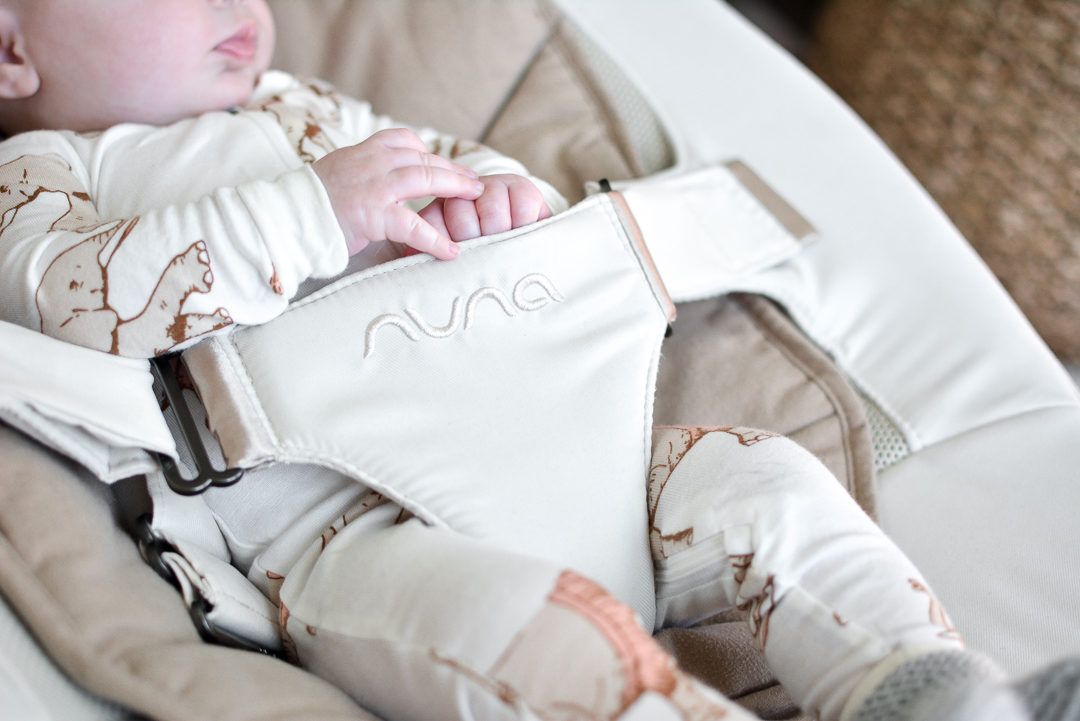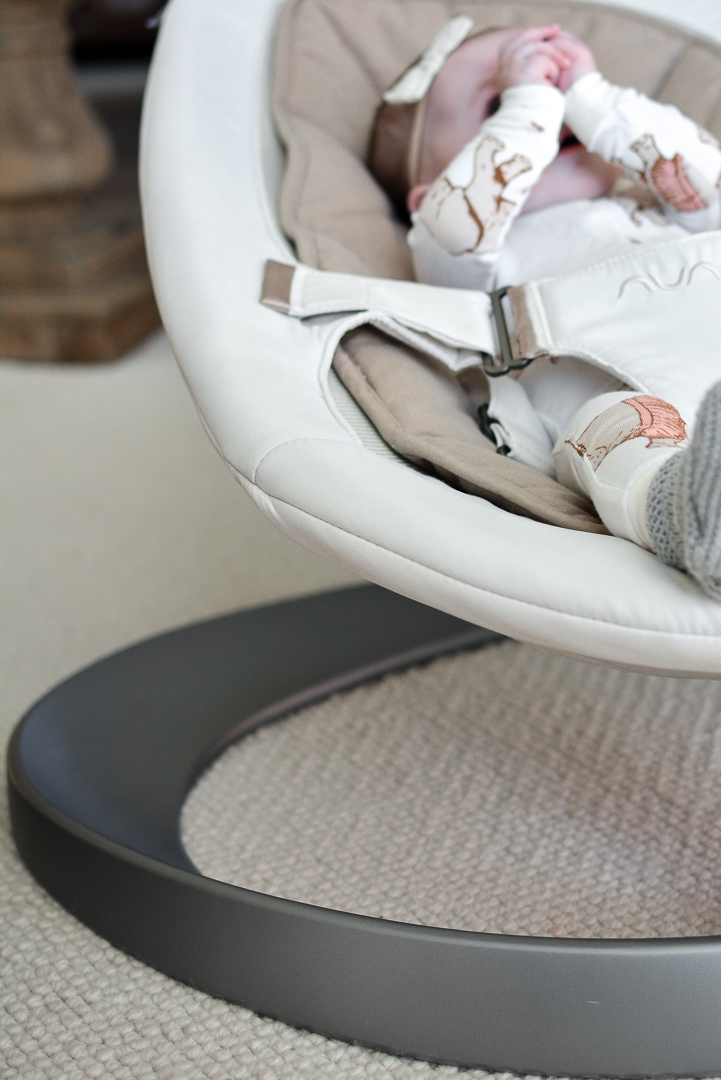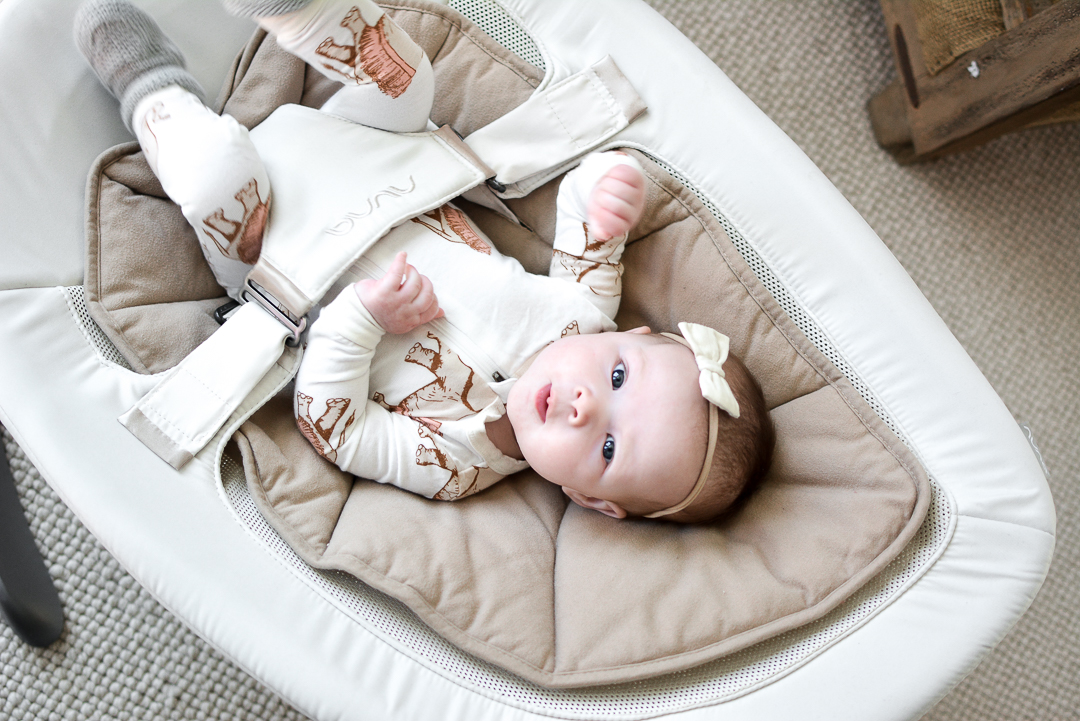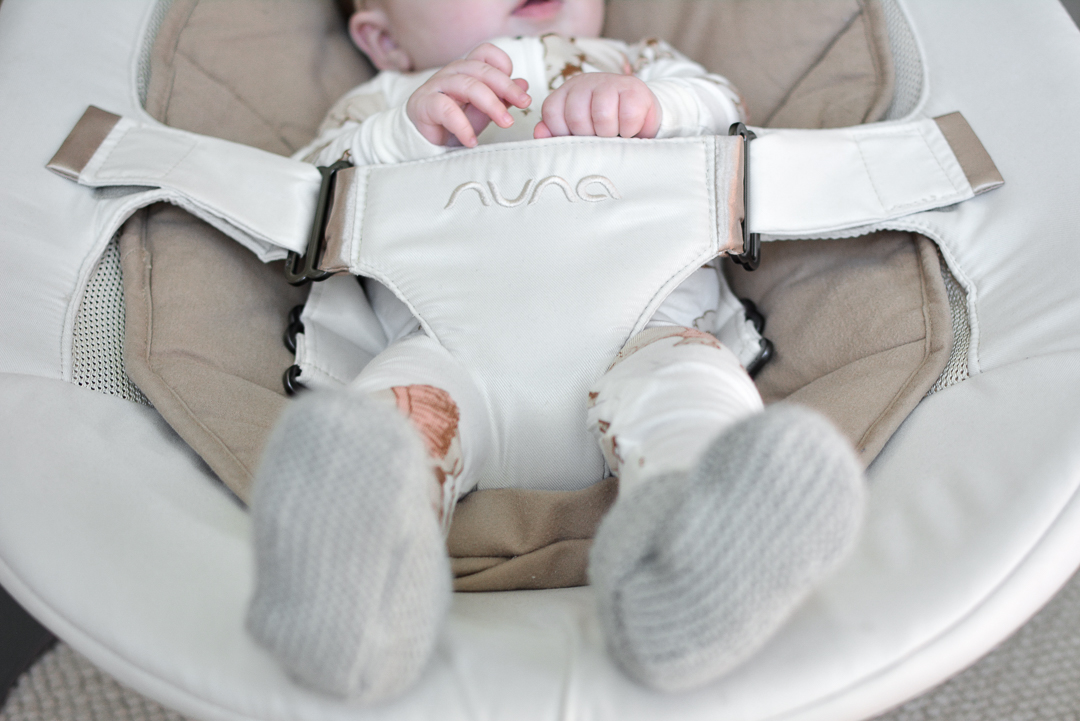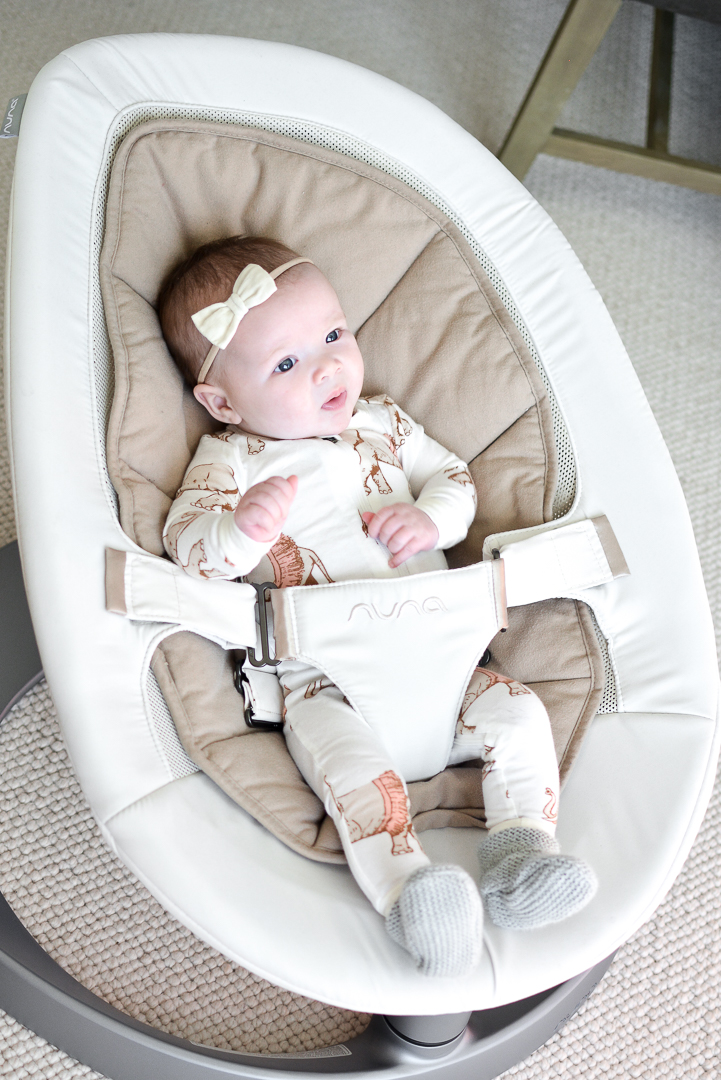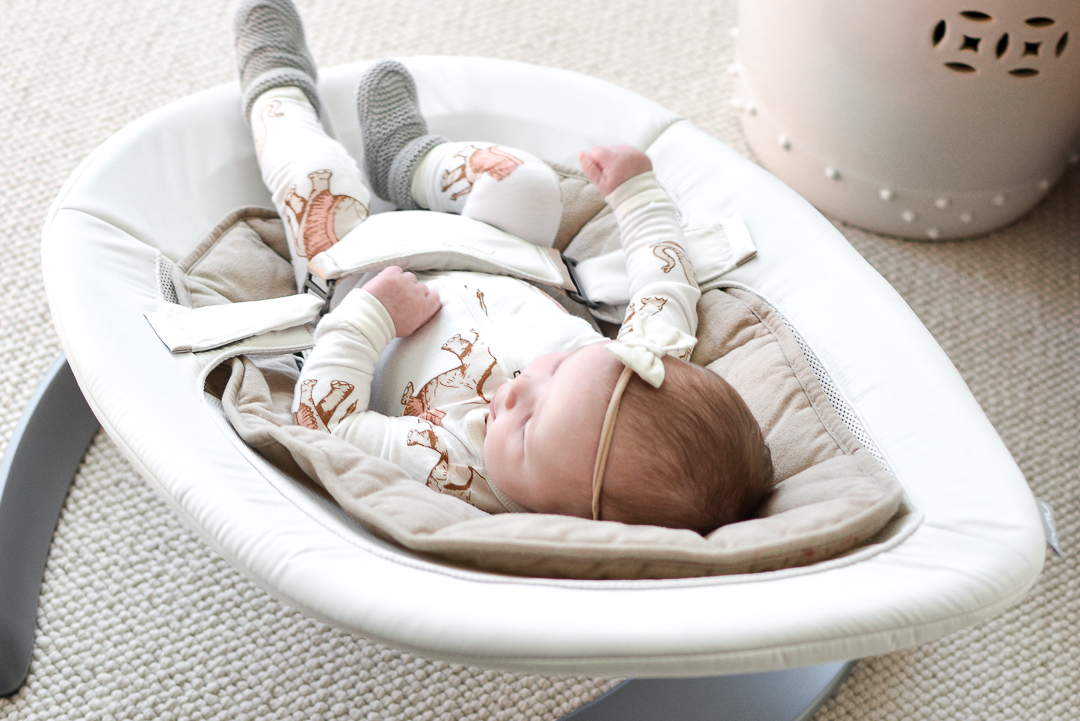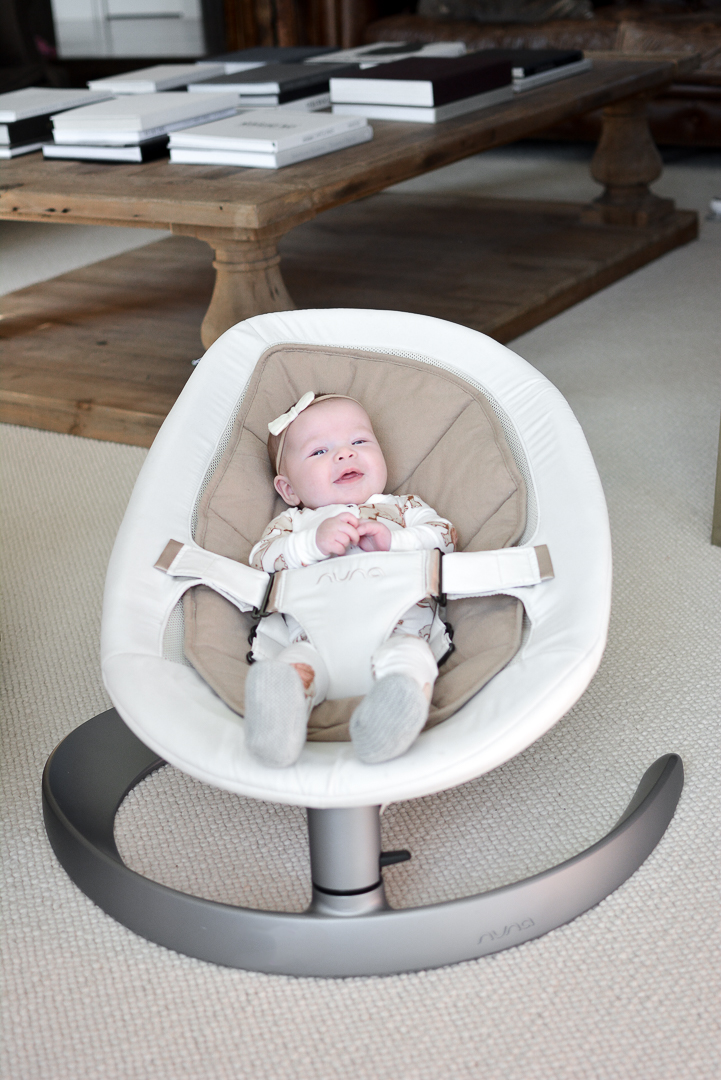 xoxo
Lindsey
SaveSave SaveSave SaveSave SaveSave
SaveSave