This morning, Ryan and I decided to channel the fall vibes and head out onto our deck in the early hours of the morning.  It is only a matter of hours before the sun is perched high in the sky and the temperatures are well into the 80's again so being out there while the dew still covered the ground and while the air was still a touch cool was exactly what we both needed this morning.  While we were out there I giggled and thought, "I should wear my new favorite fall sweaters out here from 7am-8am every morning seeing as I won't be wearing them much any time soon."
This little venture outside while the sun was rising served two purposes.  The first reason simply being that it felt refreshing and was a nice little escape from our morning routine.  The second?  If you watch our Instastories, you may already know that Ryan has been waking close to 5am for the last two months.  After speaking with our sleep consultant several weeks ago, we made some changes in hopes of getting him back on track.  Well, nothing has helped so after speaking with her again yesterday, she suggested taking Ryan outside around 7am to try and help his circadian rhythm adjust.  Man, I cannot tell you how much I am praying that this works.  I don't mind waking at 6am, but 5am is just exhausting.  Fingers crossed that these mornings spent outside help!
Who else is anxiously awaiting fall?  This 35 week pregnant lady cannot wait.  Sweaters, scarves, coats…I want them all.  Speaking of sweaters, I recently found this adorable (non-maternity) sweater dress and wanted to share it with you all.  The color is gorgeous and the statement sleeves sealed the deal.  As I mentioned, this is a sweater dress but I opted to style it as a sweater and pair it with jeans.  However, this will definitely be worn as a dress with cute tights and booties as well as paired with faux leather leggings and black over the knee boots once the weather becomes cooler.  There are so many styling options!
| To shop the post, simply click on individual images at end of post |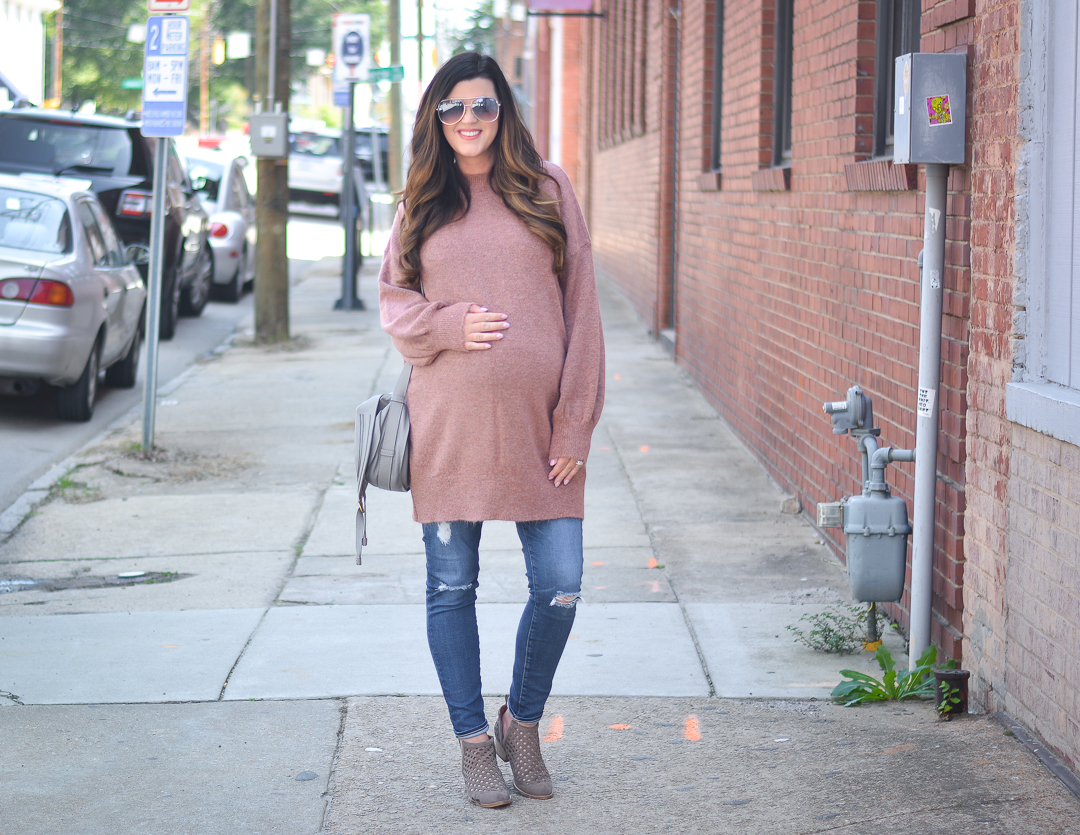 xoxo
Lindsey