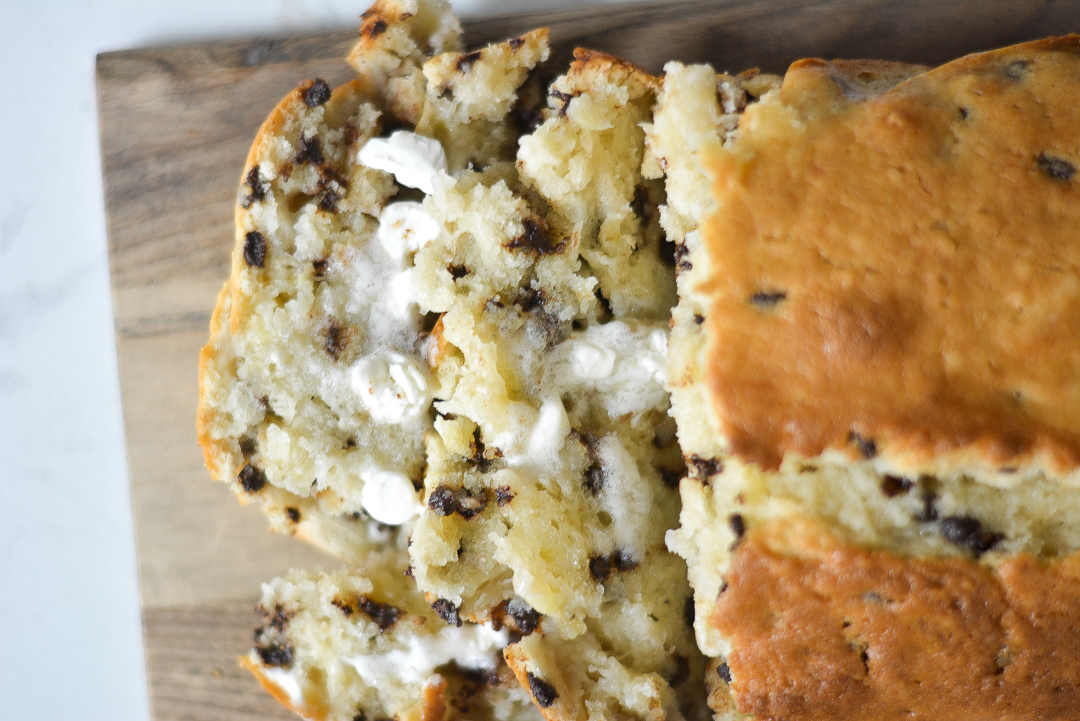 Raise your hand if you LOVE a delicious banana bread.  How about a banana bread that calls for yummy chocolate chips?  Pretty close to perfection if you ask me, personally.  Funnily enough, I actually remember the first time that I ever tasted this combination…and it was over two decades ago.  It was the summer between eighth and ninth grade and I was attending basketball camp at Princeton University.  My close friend was meeting me there and we would be rooming together in the dorms.  When she arrived, she began unpacking and pulled out a loaf of banana bread that her mom had made for us.  When I tasted the first bite of banana mixed with bitter chocolate, I was hooked.  Ever since then, it has been one of my favorite treats.
While searching for a new recipe to try, I stumbled across one that used a special trick.  Instead of mashing all of the bananas before mixing them in, you set one to the side and add it in at the end.  Before tossing it in, you gently cut that banana into thin slices.  This is what sold me on the recipe and let me tell you, this is genius.  It adds such great flavor to the end results as well as providing the perfect amount of moistness.
I gave some to Ryan last night after dinner and he kept saying, "Mmmm…yummy.  So yummy."  Because he was so cute while eating it, I chose not to be offended when he kept asking where the banana bread came from and then when I would respond, "Mommy made it for you" he would ask where it came from again.  The kid didn't believe that I was responsible for such deliciousness.
By the way, I made the banana bread yesterday afternoon and we now have two slices left.
 | Recipe source:  Cookies & Cups |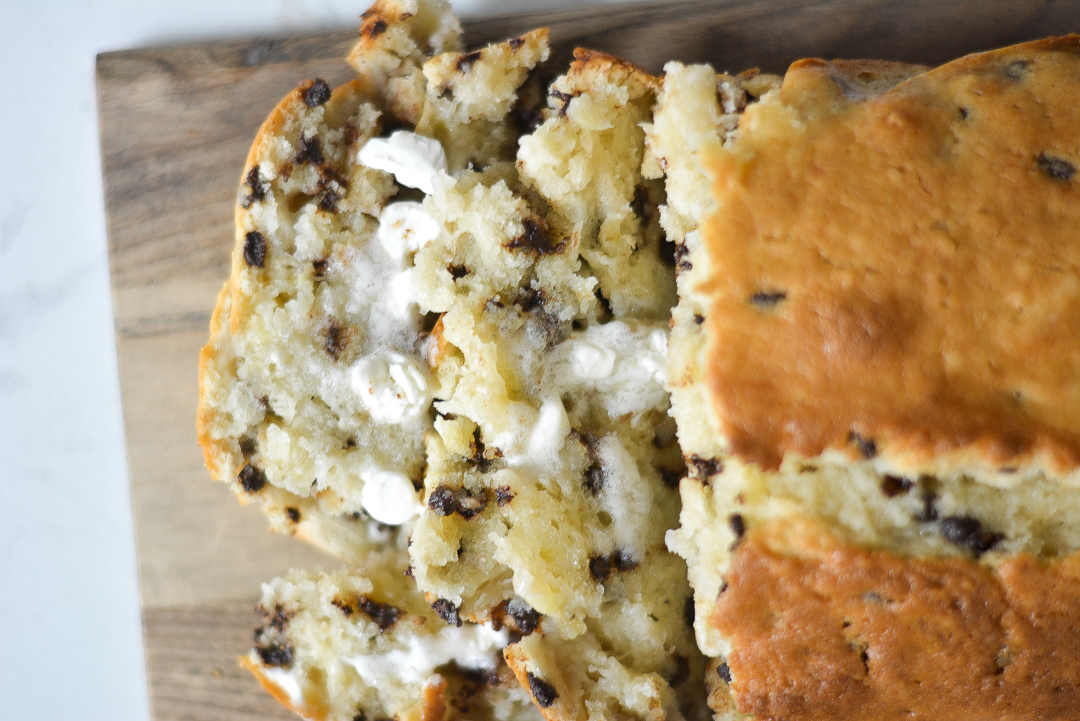 Chocolate Chip Banana Bread 
Prep Time: 10 minutes
Cook Time: 60 minutes
                                                                                                 ___________
Ingredients 
3 extra ripe bananas
1/2 cup butter, melted
1 cup granulated sugar
2 eggs
2 teaspoons vanilla
1/2 cup sour cream
1 teaspoon baking soda
1 teaspoon kosher salt
1 1/2 cups all purpose flour
1/2 cup mini chocolate chips (you could easily go up to 3/4 cups)
1/3 cup chopped walnuts (optional…I chose to keep the recipe free of nuts)
                                                                                              ___________
Instructions
1. Preheat over to 350 degrees.  Spray a loaf pan with nonstick cooking spray.  Next, line the pan with a piece of parchment paper.  Spray paper with cooking spray.
2. In medium size bowl, mash two of the bananas, leaving them a bit lumpy.  Thinly slice the third banana and set to the side.
3. In large bowl, mix together butter and sugar.  Next, stir in eggs and vanilla until mixture is smooth.  Add in the sour cream, mashed bananas, baking soda and salt.  Stir until well blended.  Add in the flour and mix thoroughly.
4.  Fold in chocolate chips, walnuts (if using) and banana slices.
5. Pour the batter into the loaf pan and bake for 50-60 minutes.  (I pulled the pan out at 55 minutes and it was perfect!)
6. Allow bread to cool for 15 minutes (if you have more willpower than I do) and then using the parchment paper, lift the loaf out of the pan to finish cooling.
7.  Slice this amazing bread and slather butter on top.  Enjoy and please let us know what you think!
xoxo
Lindsey