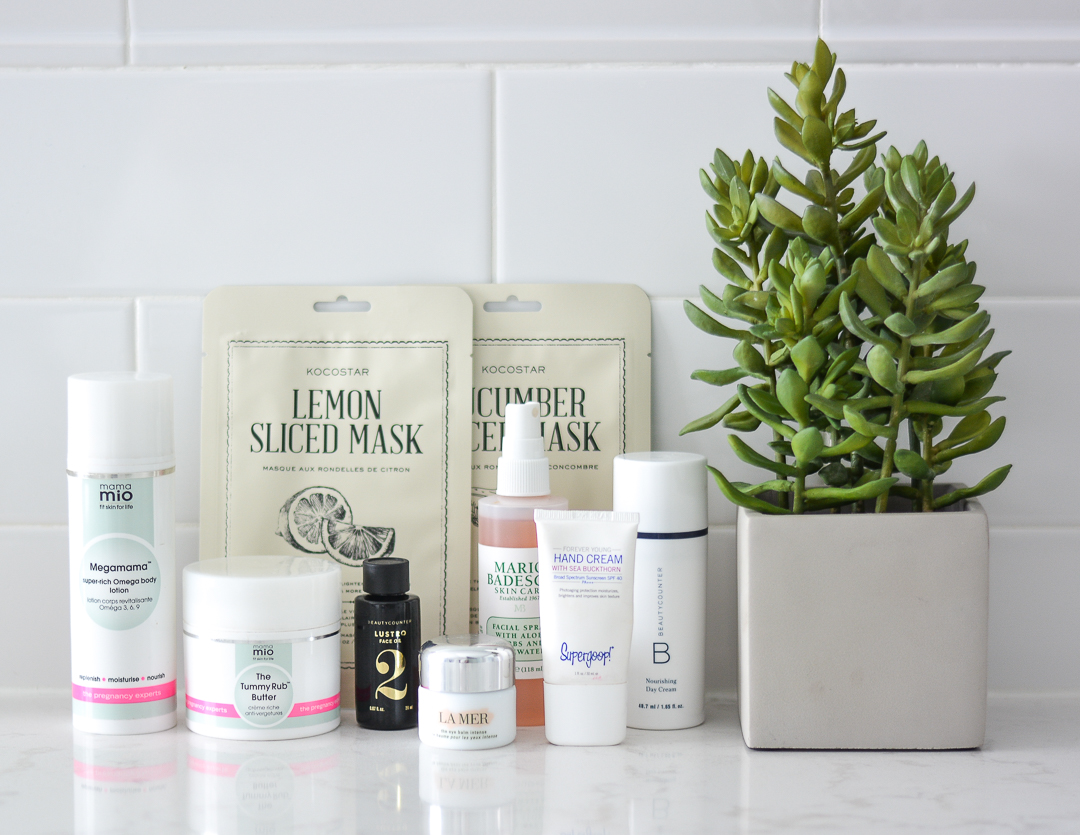 Good morning, everyone!
Ever since finding out that I was pregnant, it was important to me to switch up my beauty routine.  While continuing to take care of my skin remained important, so did minimizing the products that I had been using previously.  For the last couple of years, I have been using the Rodan + Fields Reverse line and have LOVED the results.  However, I definitely didn't feel comfortable with continuing this regimen during my pregnancy.  In fact, I stopped using R + F as soon as we began trying to get pregnant.  Do not get me wrong, I will be using Reverse as soon as it is safe for me to use again.  After a summer spent in the sun, mama's going to need some Reverse to take away my melasma again.
Within days of confirming the pregnancy, a college friend of mine happened to post to Facebook.  She mentioned that she was now selling Beautycounter products.  It seemed like the perfect opportunity to try some more of the products.  I had tried a couple of the makeup products but had yet to really delve into the skincare.  The company prides itself on the fact that their products are safer for everyone.  According to their website, "The US has not passed a major federal law to regulate the safety of ingredients used in personal care products since 1938."  Yep, you read that date correctly!  How is it even possible that regulations haven't been updated in close to 80 years?  Beautycounter compiled a "Never List" of ingredients that will NOT be found in any of their items.  The list consists of approximate 1500 questionable chemicals that have not been banned in the US (but have been in other countries) and are found in countless others products distributed by other brands.  Wanting to make a change for the safety of my baby as she develops, this change was a no-brainer.  I switched the majority of my skincare products over to Beautycounter.  My absolute favorite products are the face oils as well as the Calendula lip balm.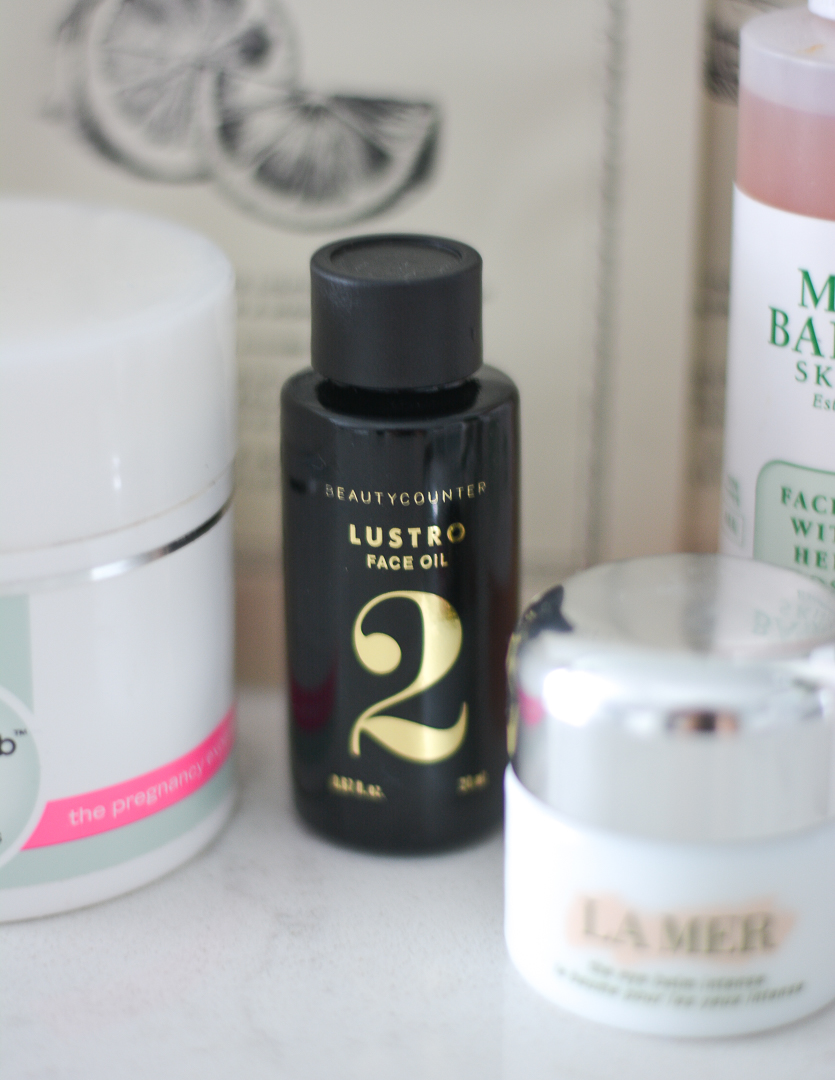 During my last pregnancy, I swore by the Mama Mio products.  The Tummy Butter became a ritual for me and I continued to use it for a couple pf months post-pregnancy as well.  While I cannot guarantee that the Tummy Butter was solely responsible for this (as genetics likely play a significant role as well), I did not end up with any stretch marks after having Ryan.  Not wanting to deviate, I have been using the product again this time around…so far so good. I also added their body lotion to my regimen and love the way it feels.  The Mama Mio line is 100% safe for pregnancy as it is designed specifically for this important time.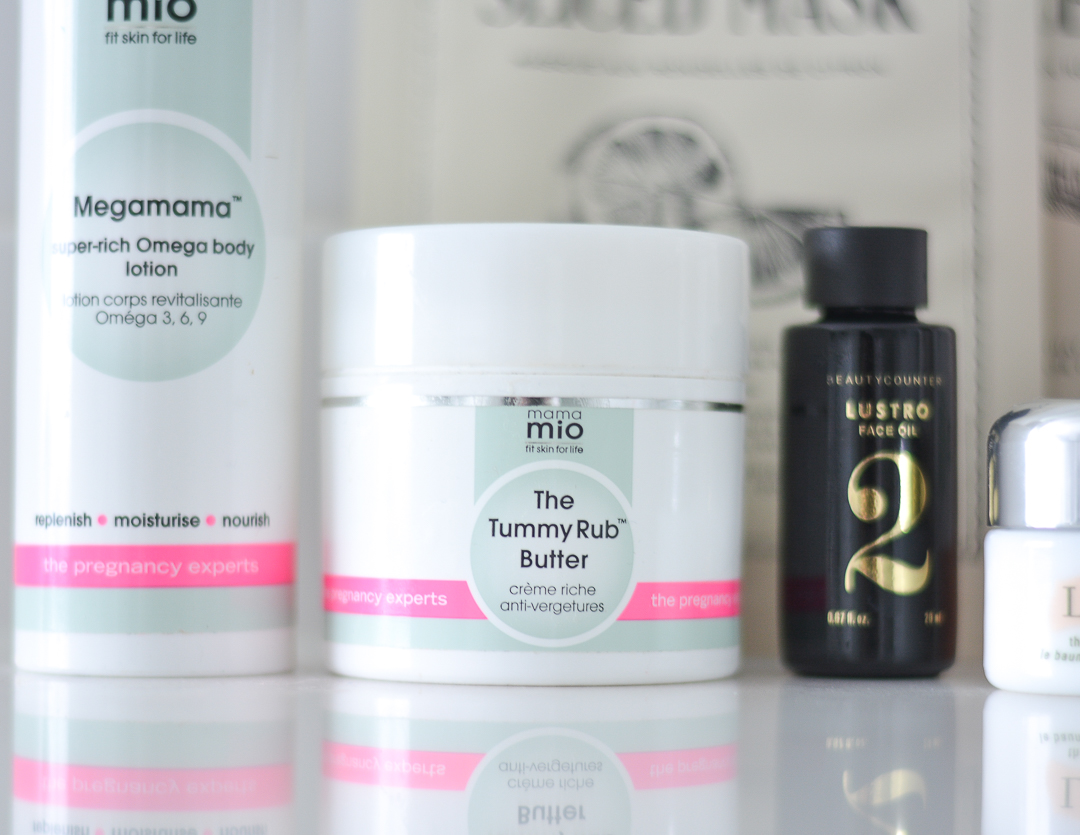 My favorite way to give my face a little pick-me-up?  Using the Mario Badescu Facial Spray.  Halfway through the day, I like to spritz this on my face to feel refreshed.  Tiffany has featured this products previously as it's one of her favorites as well!
As far as sun protection goes, truth be told, I have been using my toddler's Babyganics sunscreen this summer at the pool and while at the beach.  It has worked beautifully and I have yet to burn at all this summer…which is a first.  For every day skin protection, I make sure and wear SPF on my face but I also focus on my hands.  Lack of protecting my hands has resulted in sun spots.  They drive me insane…so much so that I'll look into laser removal in the future.  For now, I use the Supergoop Forever Young Hand Cream.  It it is formulated with SPF 40…amazing to find in a hand cream!
I LOVE trying out new masks so when I spotted these Lemon and Cucumber masks at Anthropologie, they made their way into my bag.  They know what they're doing at their stores…placing all of the fun small items right at checkout so you can't resist them!  When you open the packets, you realize that these are not sheets masks but instead there are pads saturated with serum and they look like cucumber and lemon slices.  So adorable…such a cute gift idea!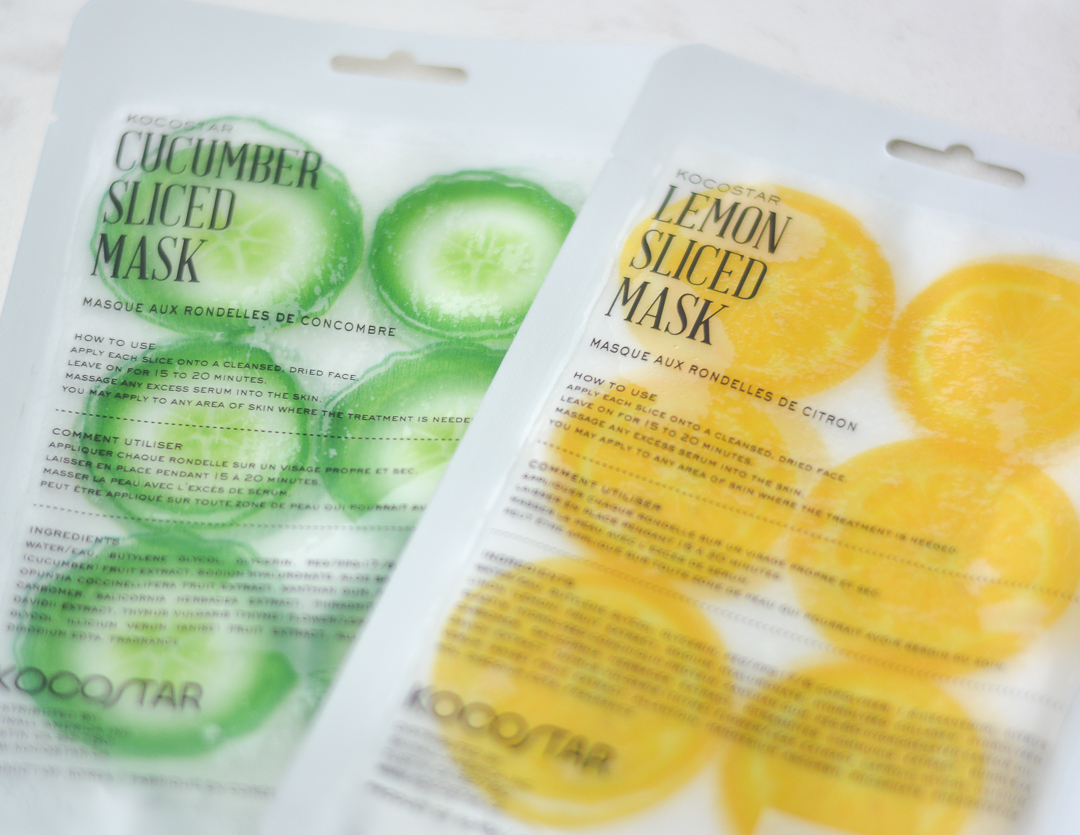 Finally, let's talk under-eyes.  The La Mer products have been a part of my daily regimen for years now.  I completely understand if the cost blows your mind…it still does for me too!  The thing about La Mer products is that they are so concentrated.  Because of this, you do not need to use much.  For example, I have had this Eye Balm Intense ($200) eye cream for three months and have only used a quarter of the jar.  That means that I should have the jar for an entire year.  Is it worth the expense?  Let me tell you a little story.  When I go get my lash extensions, my girl tapes little pads under my eyes to hold down my lower lashes.  After switching to this product, she could no longer use the pads.  My under-eyes were too moisturized for the pads to stay in place!  I need to note that I use the cream at night and get my lashes done during the day…which means that the product  is doing its' job!  Personally, I would much rather spend more money on one product that works for me than waste money trying out several less expensive options.
That is the bulk of my current skincare routine.  I should mention that continuing to use the Beautycounter products post-pregnancy is the plan.  While I wish I could switch to all of their safer products, I know myself and love trying out products too much.  I can't give that up!  Let's all hope that new regulations will be set in place for all beauty product lines sometime in the near future.
You can shop these products by clicking on the individual images below!

Have a wonderful weekend, friends!
xoxo
Lindsey