Well, it's pretty darn late but I am finally sharing details from Ryan's second birthday party…
As Ryan's second birthday began to approach this past year, I grew increasingly more excited.  The idea that he would be able to pick a theme was so exciting.  Because our little monkey wasn't highly verbal just yet, I printed out four pictures each highlighting one of his favorite interests.  The idea was to give him a visual of party theme options so he could point to which one he liked best.  His options for themes were Curious George, arts and crafts, Chuggington and trains.  Without hesitation, five different times, he selected Curious George.
Party planning began and my first stop was Etsy.  Hello, countless options for decorations.  I found a woman who makes amazing fabric backdrops and that was my very first purchase for the party.  That backdrop from the Etsy shop, ohMYcharley,  provided the color scheme and feel for the rest of the party decor.  The color palette for the party consisted of red, yellow and turquoise.
We knew that we were going to keep birthday Ryan's gifts to a Curious George theme so we found a couple of adorable George stuffed animals to add to his little collection.  He opened those earlier in the day and then we used those for decoration at his party…which happened to be on his actual birthday.  I love a Saturday birthday!
The party itself was low-key and wonderful.  We decided to keep it family only because David and I both are aware that once Ryan begins preschool this year, the bigger parties will begin.  This would likely be our last birthday party with just family for quite some time.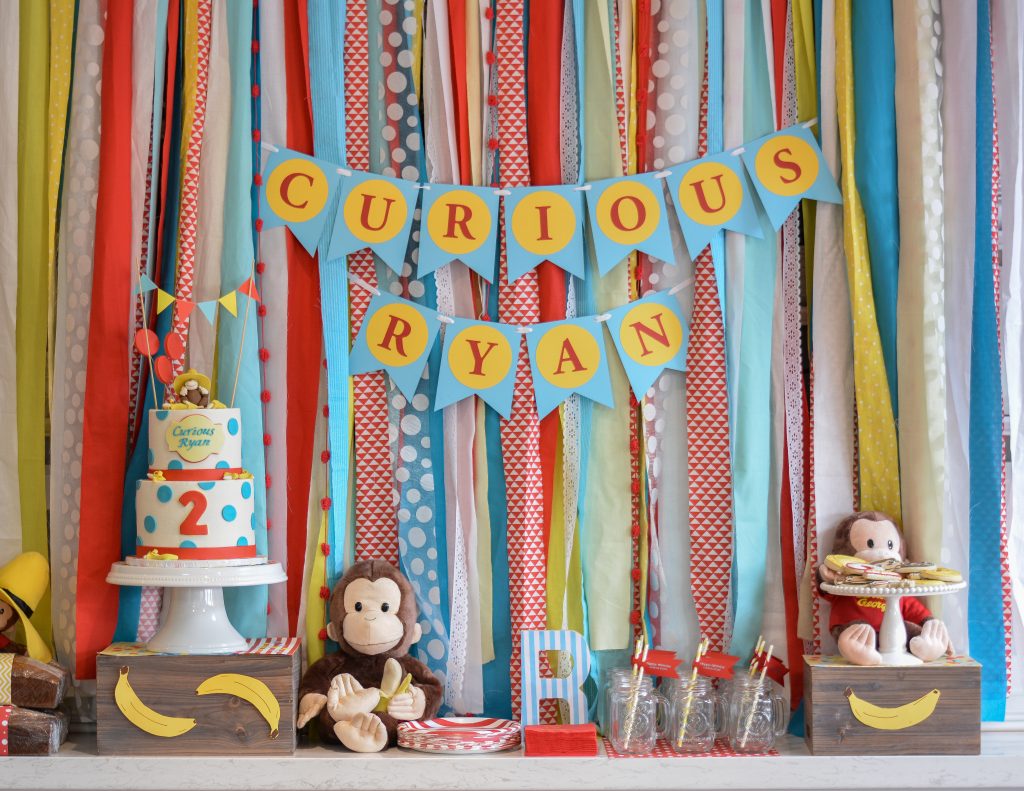 We have a large built-in cabinet area in our kitchen and it has a long piece of countertop.  This is where I decided to set up most of the party details.  The banner and Ry's "Curious Ryan" sign were hung first and then I slowly pieced together the other decorations.  I had some random wooden letters in my craft room, including an "R".  In order to add a but of personality to the letter, I traced it on a piece of blue and white striped craft paper, cut it out and glued it over the wood.  Next, I had been drawing and cutting out bananas all week, so I began to place those all over the kitchen walls.  Somehow, I didn't manage to snap a pic but it was such a simple (and affordable) way to decorate the rest of the space.  Setting up the food and drinks we the last thing on my list!
Banner: ohMYcharley on Etsy | | Sign: Saewon on Etsy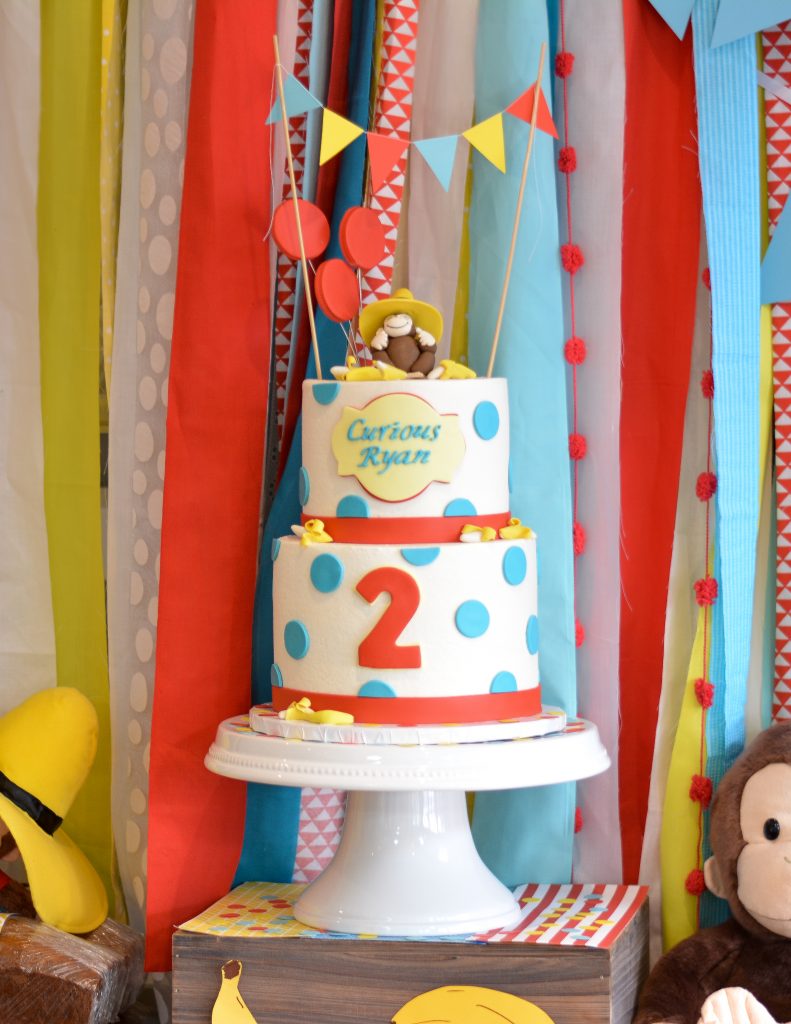 We buy our specialty cakes and cupcakes from The Cupcake Shoppe in downtown Raleigh.  I go in and explain my vision and show them a couple of inspiration pictures of what I want and they ALWAYS knock it out of the park!  Look at those little peeled bananas!
Cake: The Cupcake Shoppe in Raleigh, NC | Cake Banner: JoyousReflection
Flags: Michael's | Letter Stickers: Michael's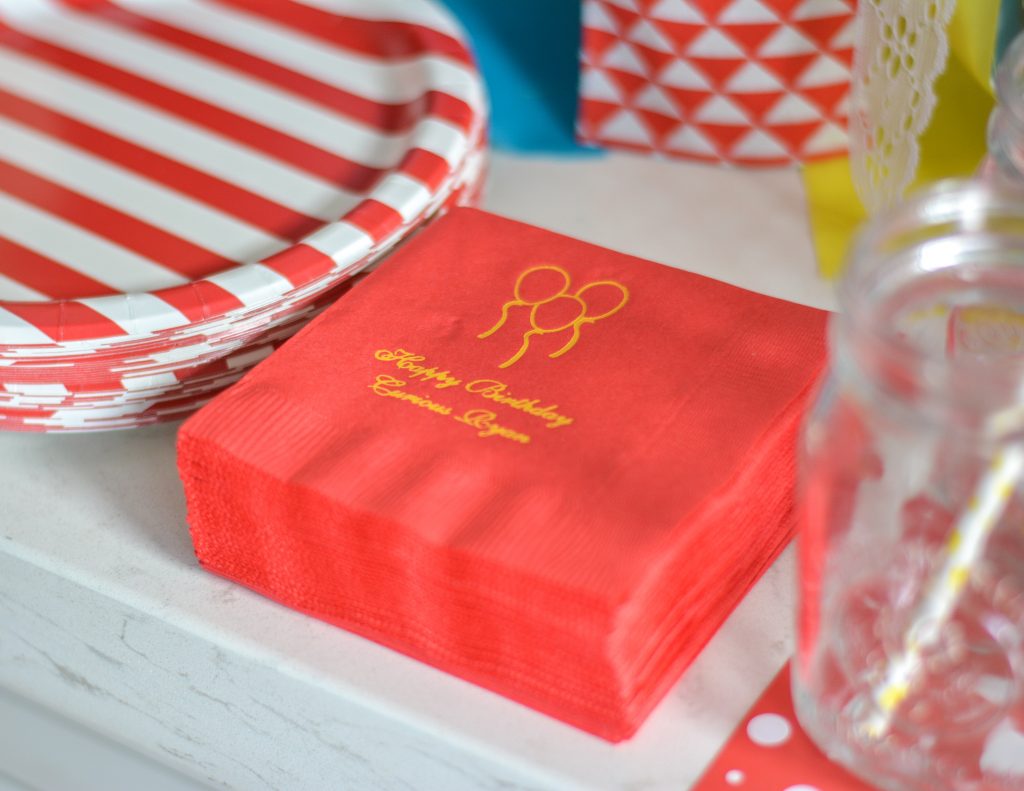 Napkins: Beau-coup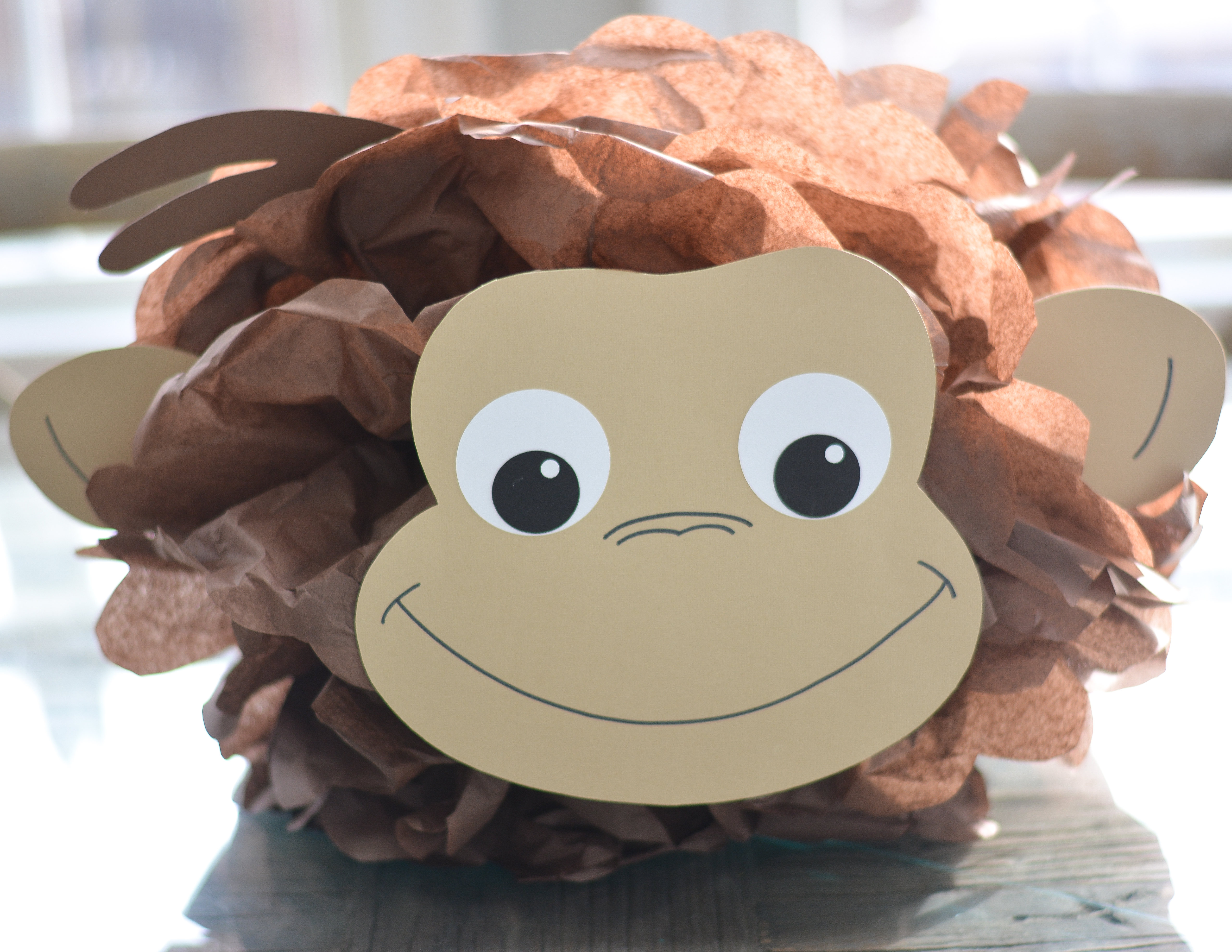 Curious George Table Top Pom Poms: TheLittlePartyShopNY  (Side note: If you live locally and you want these pom poms, I will happily give them away!  I have zero clue how to pack them up so they are taking up space at this point.  Let me know!)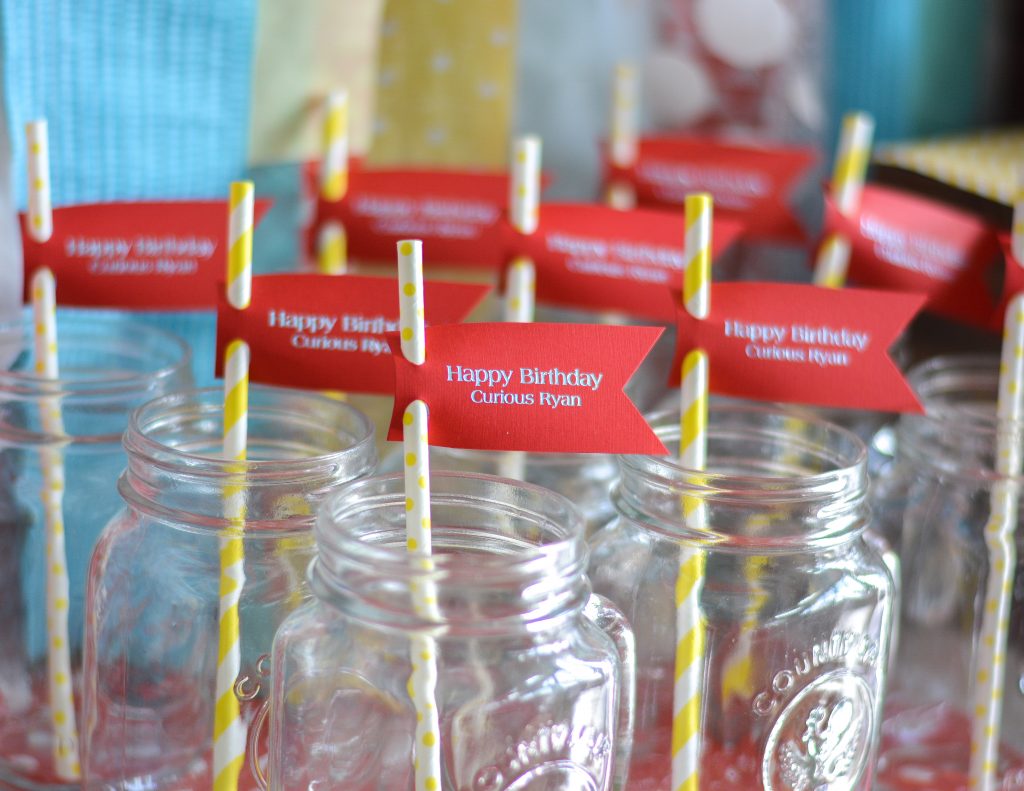 Straw Tags: Beau-coup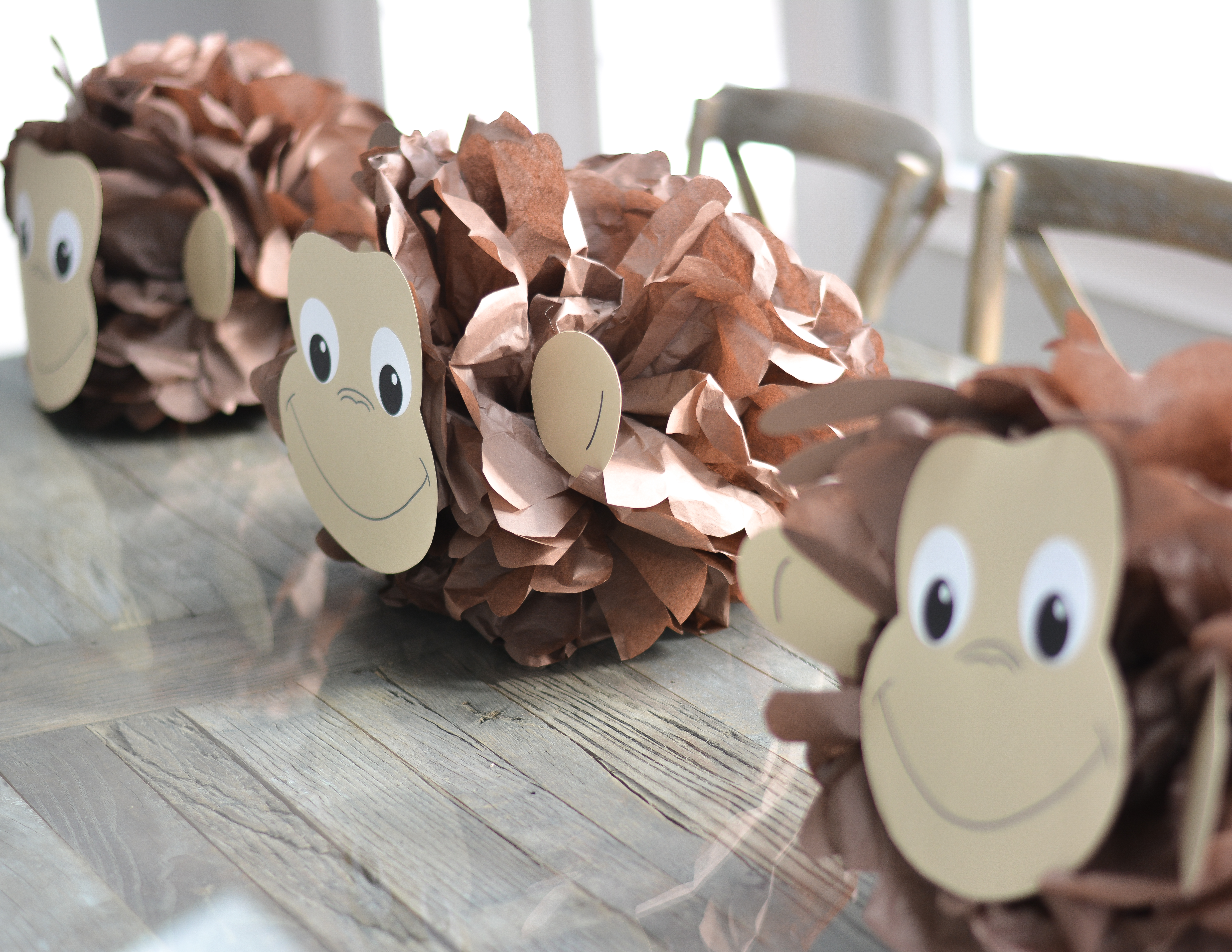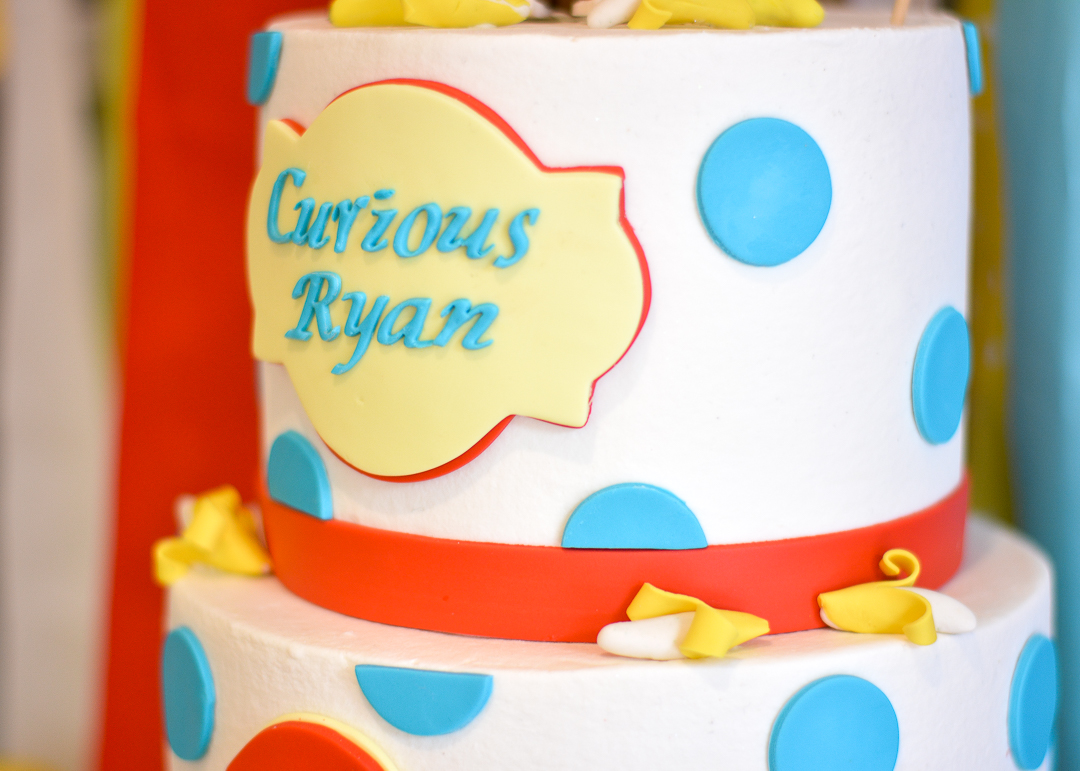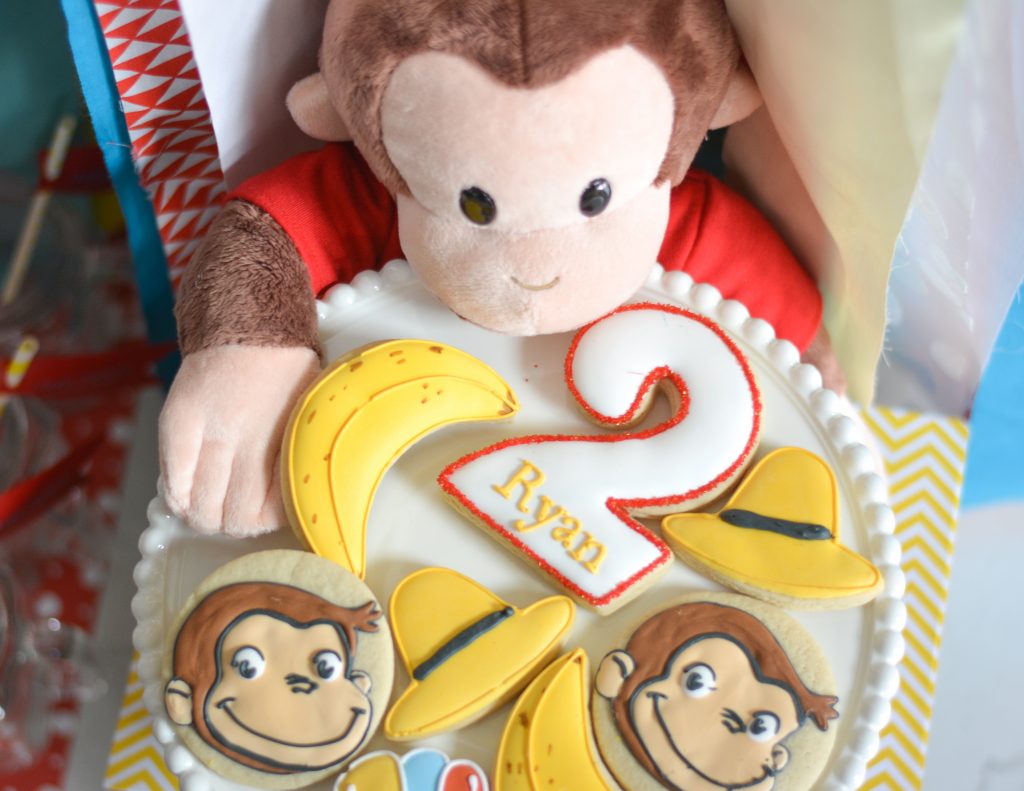 How adorable are these cookies?  The little spots on the bananas are the best detail!  The ladies behind Southern Sugar Bakery are so incredibly talented.  Their artistic skills and their baking skills never disappoint.
Curious George Cookies: Southern Sugar Bakery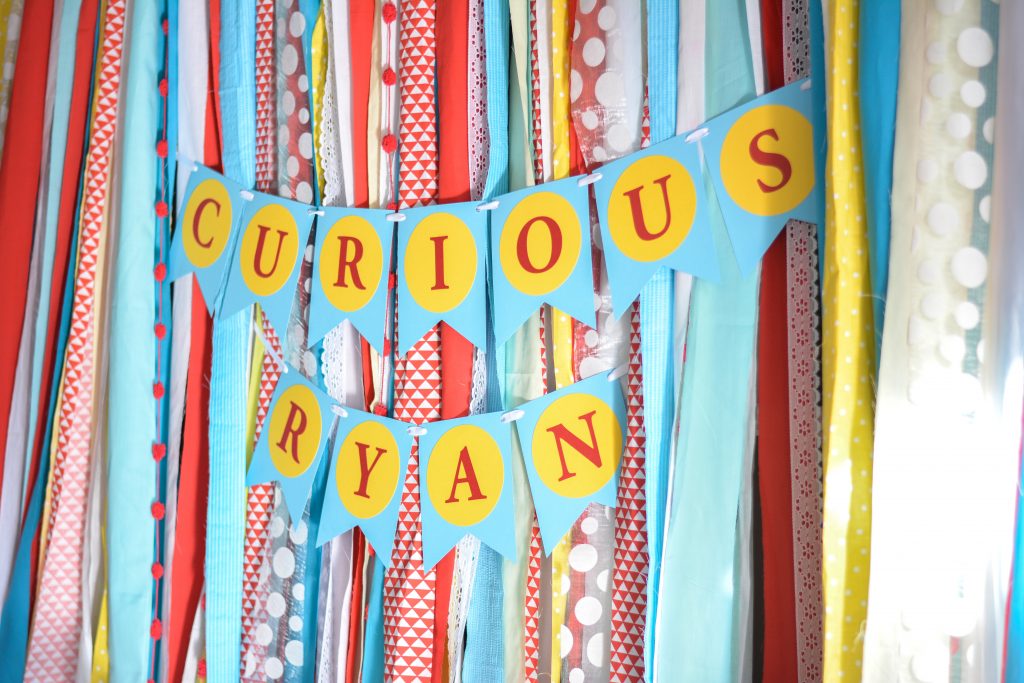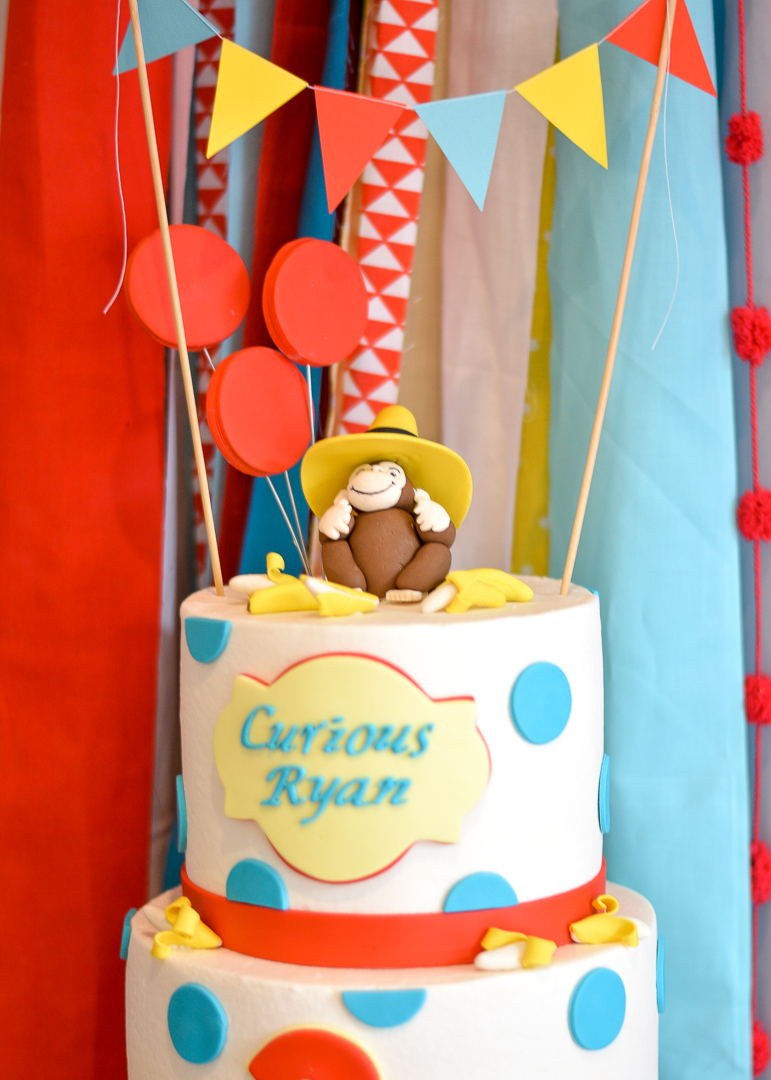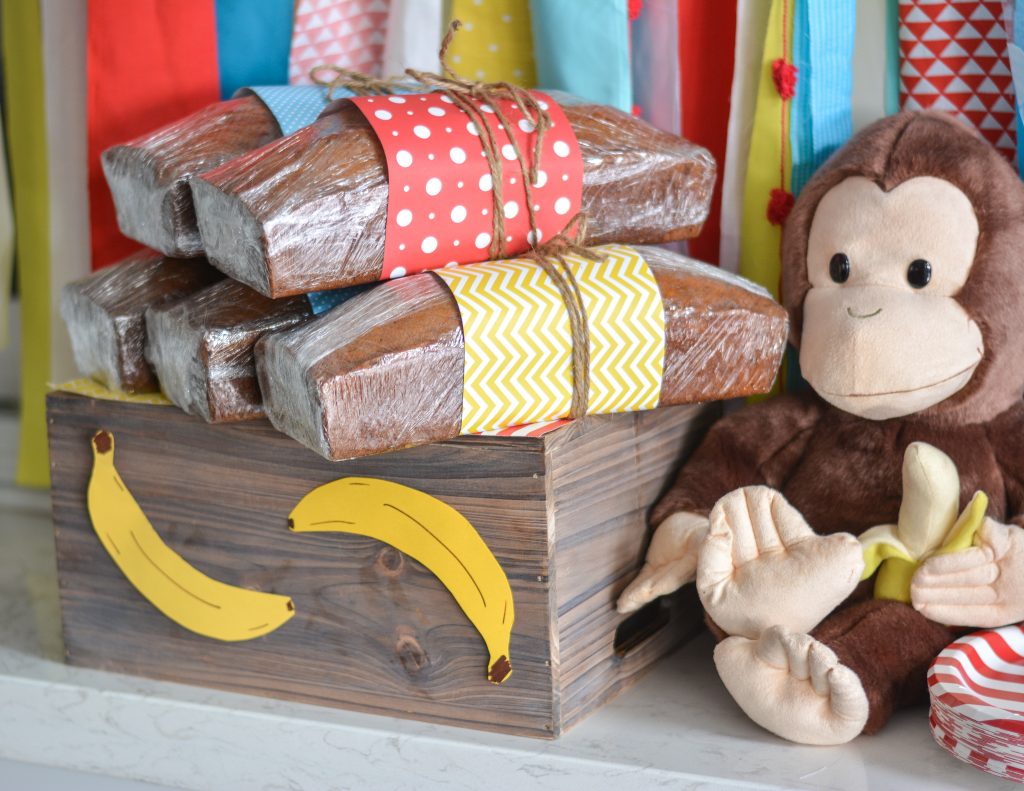 I drew and cut out approximately 75 bananas to use as decoration around the kitchen.  I simply used painter's tape to adhere it to the walls, to the cabinets, to these decorative boxes.  I had a couple of wood boxes laying around so I flipped them upside-down and taped patterned paper to the top.  This particular box then became the place holder for the banana bread loaves that we gave away as party favors.
Banana Bread: The Cupcake Shoppe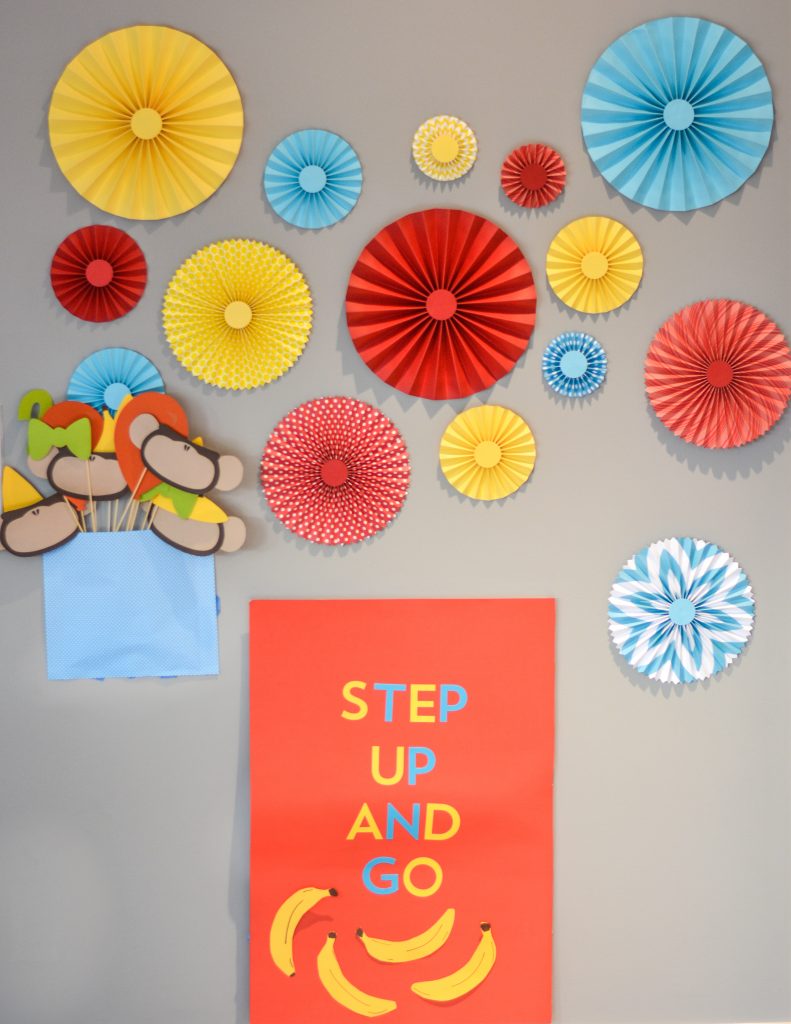 This was the one area that didn't turn out quite as I had anticipated due to time restrictions but here is the little photo-taking area.
Photo Props: SunnyLemonade on Etsy | Paper rosettes: BeautifulPaperCrafts on Etsy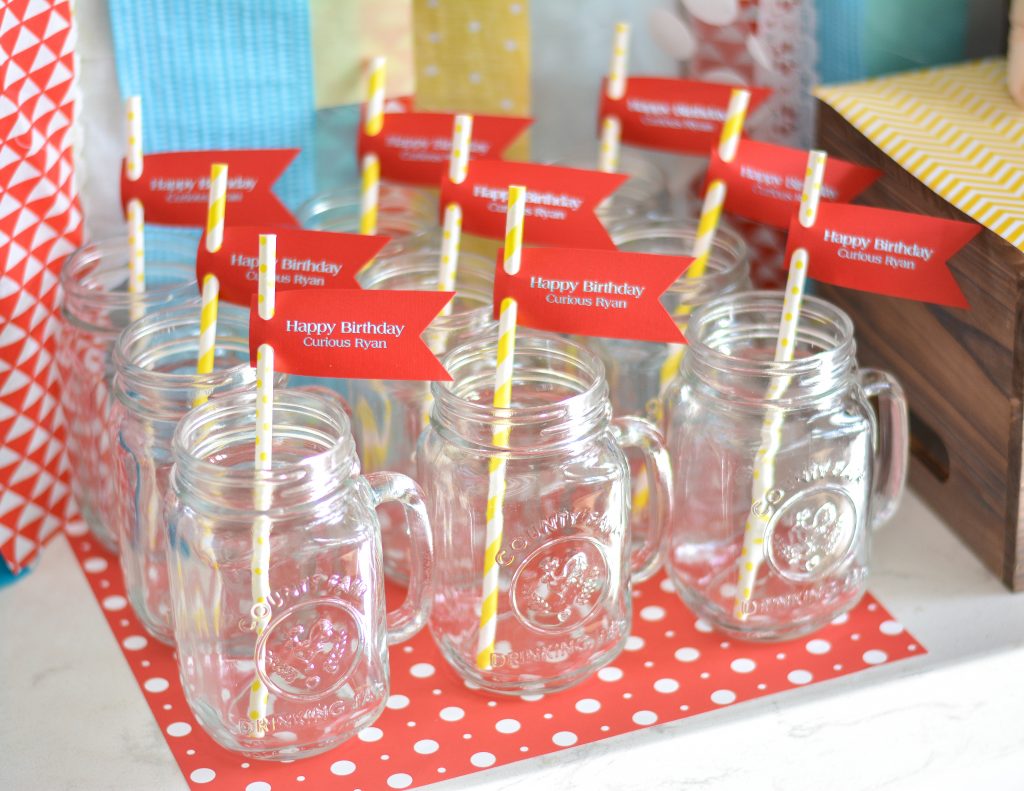 I simply place large square sheets of patterned paper from Michael's under the cups to add a bit of color.  I adore these straw tags.  They are such a cute and easy way to personalize a party.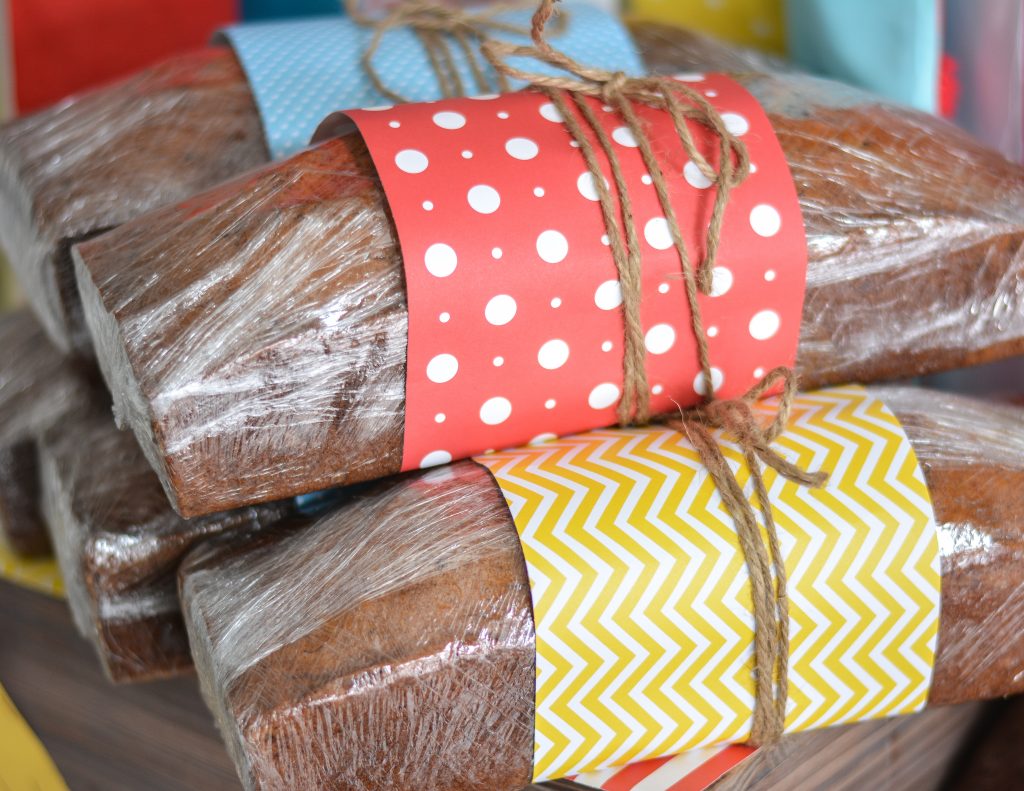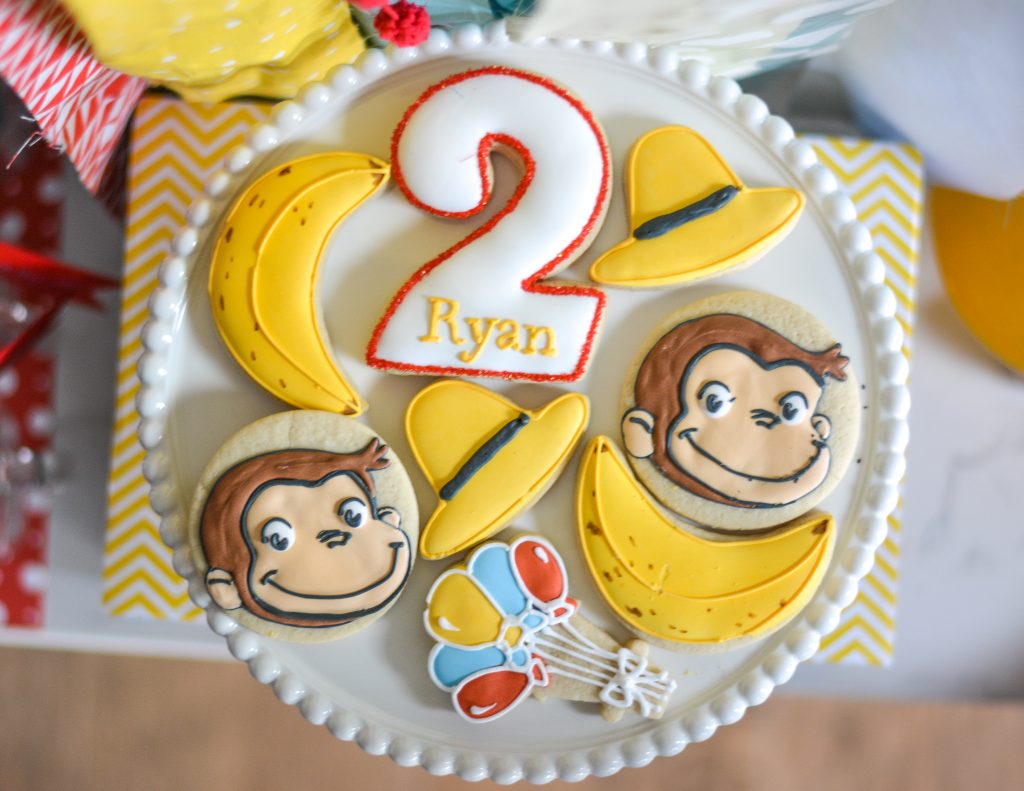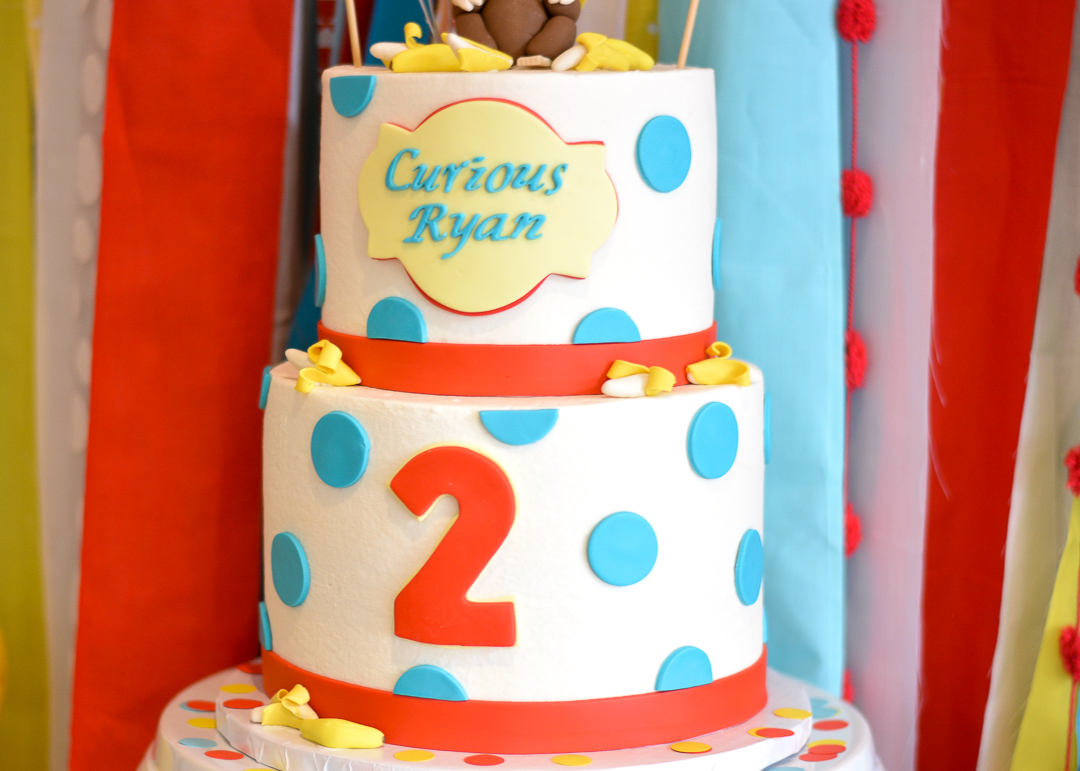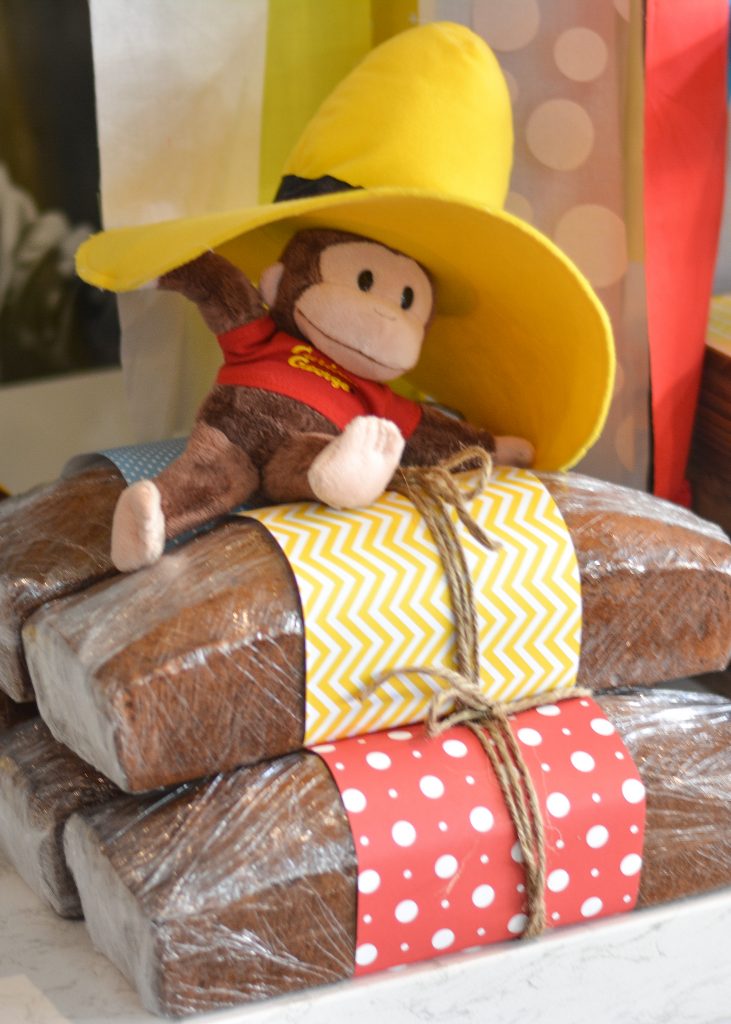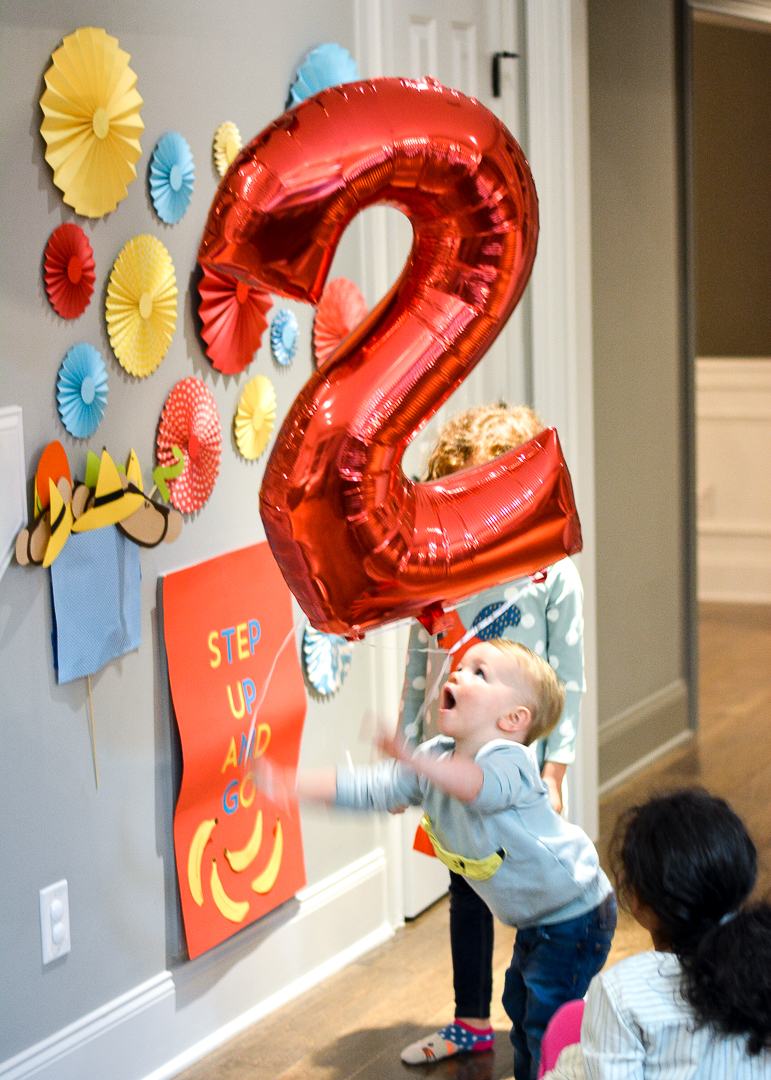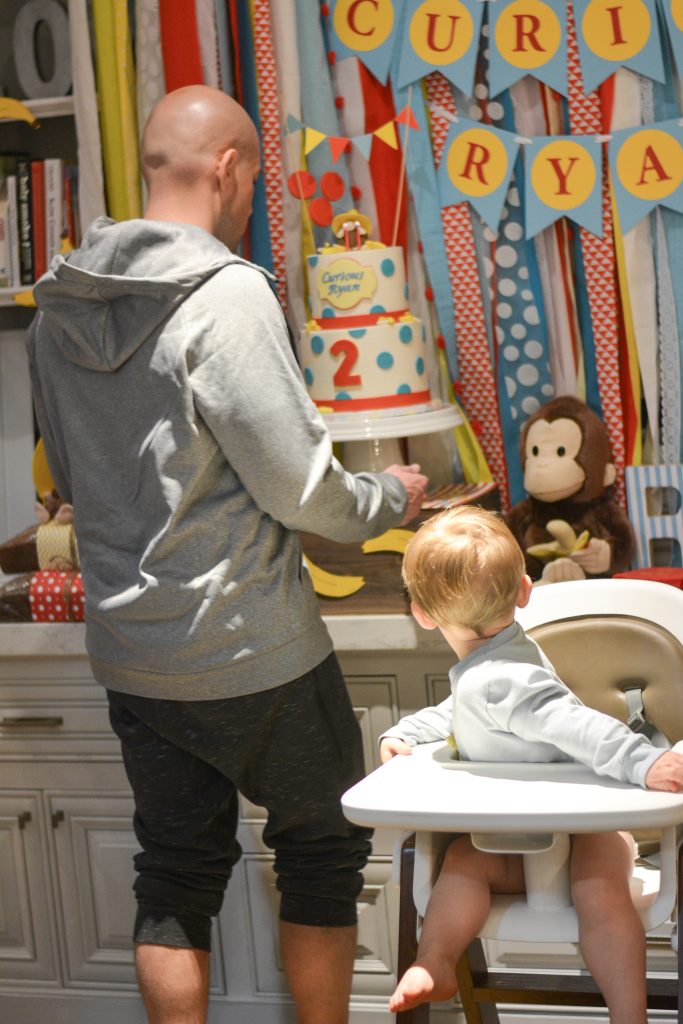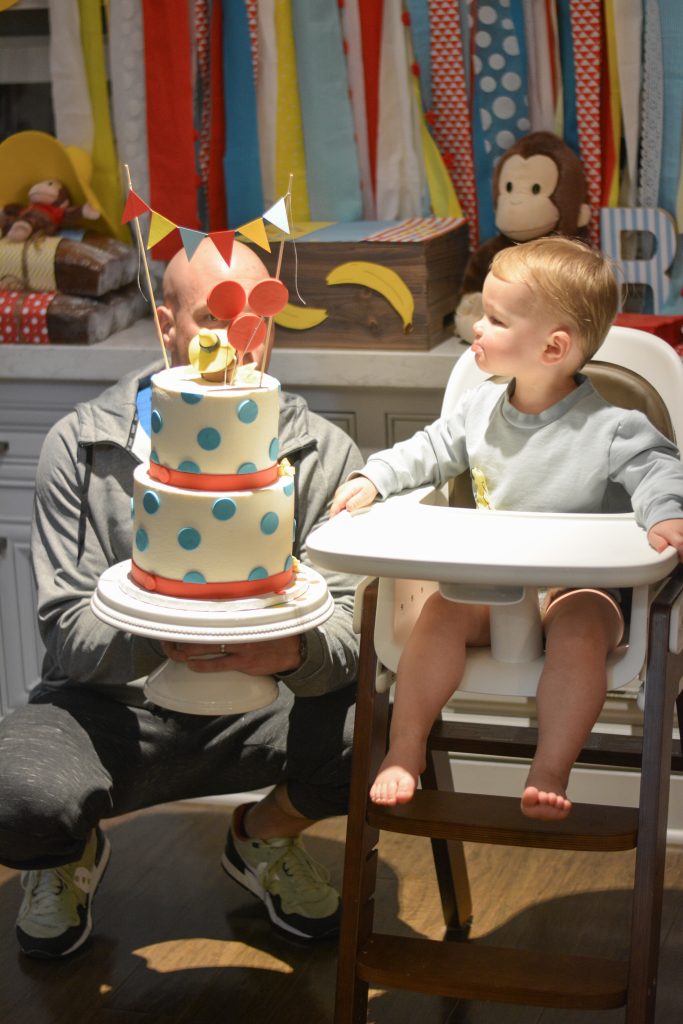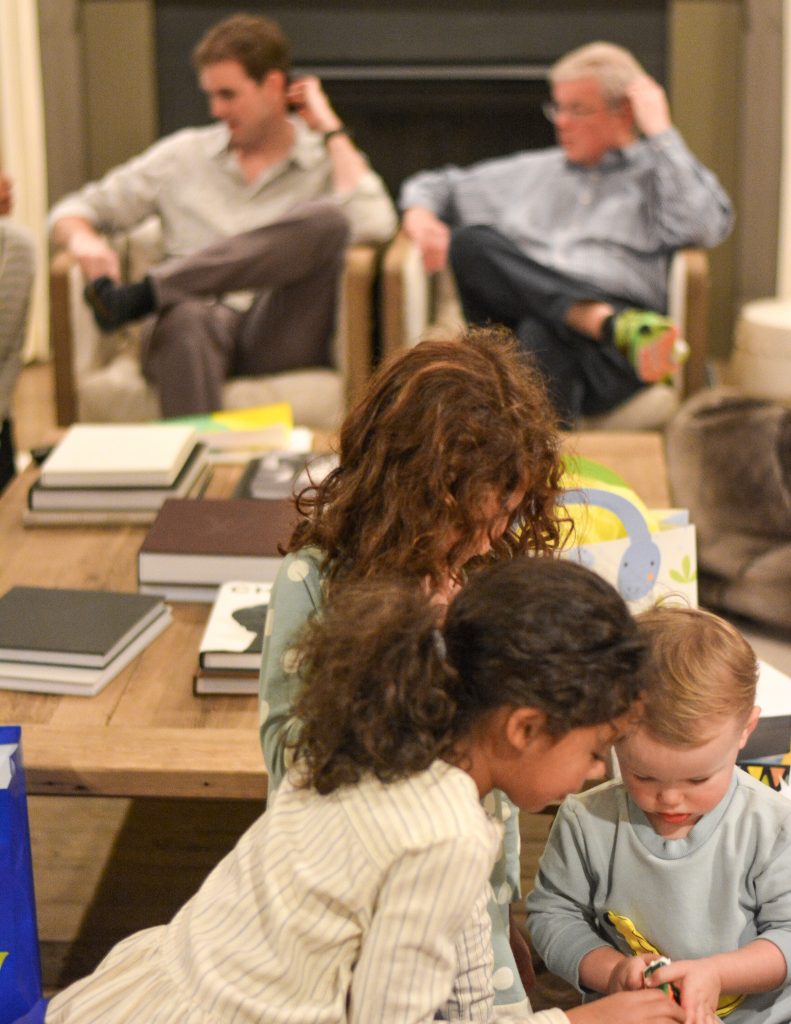 (Can we have a moment for the fact that my brother and dad are sitting the same way?)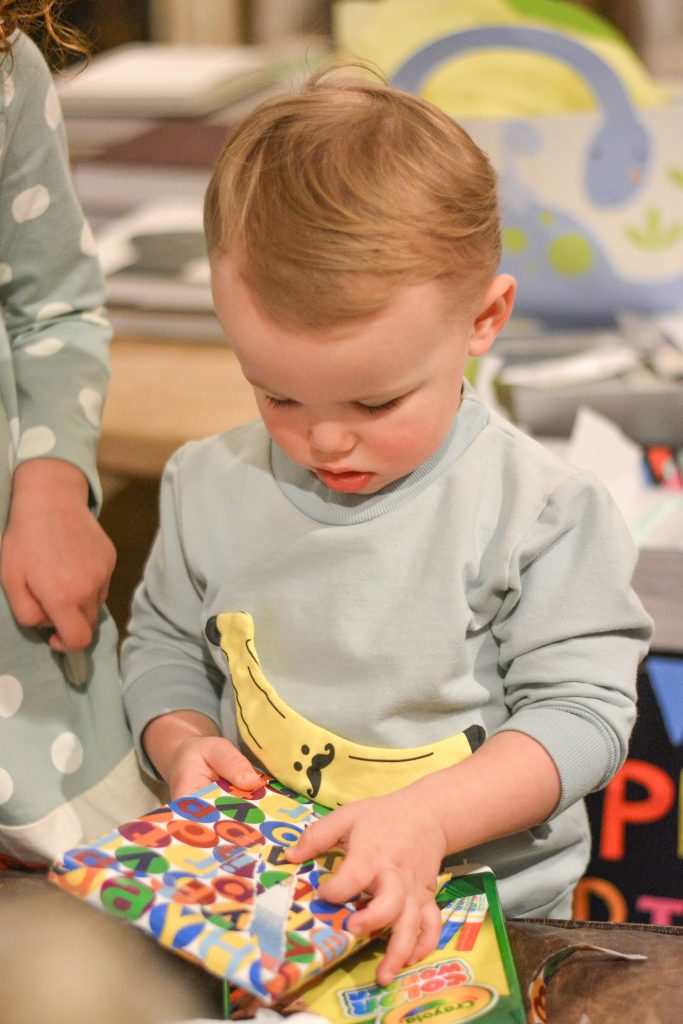 Ryan had the best time at his Curious George party.  I always say that he is happiest when surrounded by all of his family.  It will be so interesting to see his theme for his third birthday…although I have a feeling that the shift to superheroes just might happen.
Hope you all have a beautiful day!
xoxo
Lindsey