Good mooooorrrrrnnning!
I am a bit exuberant this morning because the ice has melted (for the most part) and this girl is leaving the house for the first time since last Friday!  Playing outside has been such a blast and the sight of melting snow bums me out but I am ready for the ice to disappear.  When the streets are covered in ice here in Raleigh, everything shuts down.  Really, the entire city seems to go on a winter hiatus.  Well, the temp hit close to fifty degrees yesterday so the roads should be relatively safe.
I am a stay-at-home mom but Ryan has a babysitter on Wednesdays for 4-5 hours.  His sitter was actually my nieces' preschool teacher when they were little so we have known her for years and I thank my lucky stars for her constantly.  I struggle with leaving Ryan (EVERY SINGLE TIME) so I feel very fortunate knowing that he is spending time with someone I trust implicitly.  We made the decision to have her start watching Ryan when he was just shy of one.  I wanted him to become comfortable with the idea of me leaving so he could learn that I would always come back.  As wonderful as Ryan has been and still is running errands, it provides me the opportunity to be more productive when out and about because I don't have to worry about his nap schedule.
Anyway, today I am picking up my mom to head to the mall and do some returns from Christmas.  After that, we are meeting up with my sister-in-law to view the space where sh is throwing my brother's upcoming 40th birthday party.  We are selecting a color scheme and looking at table linens…two of my favorite things to do!  I am so psyched to see the event space.
Okay, let's switch gears and talk about overalls.  I featured overalls and discussed my lifelong love affair in here in a previous post.  It seems that people think of them as a spring or summer piece but then keep them in the closet during the winter.  It is incredibly easy to transition overalls in the colder weather.  My favorite way to do so is by throwing on a cardigan or duster over them.  That's all you have to do.  Crazy easy, right?
When wearing overalls, I tend to keep the look fairly simple so as not to appear over-styled or juvenile.  For this particular outfit, I wore a black and white striped shirt and a black open front cardigan.  I felt that it was safer to leave any pop of color for my lips and selected a bright red shade.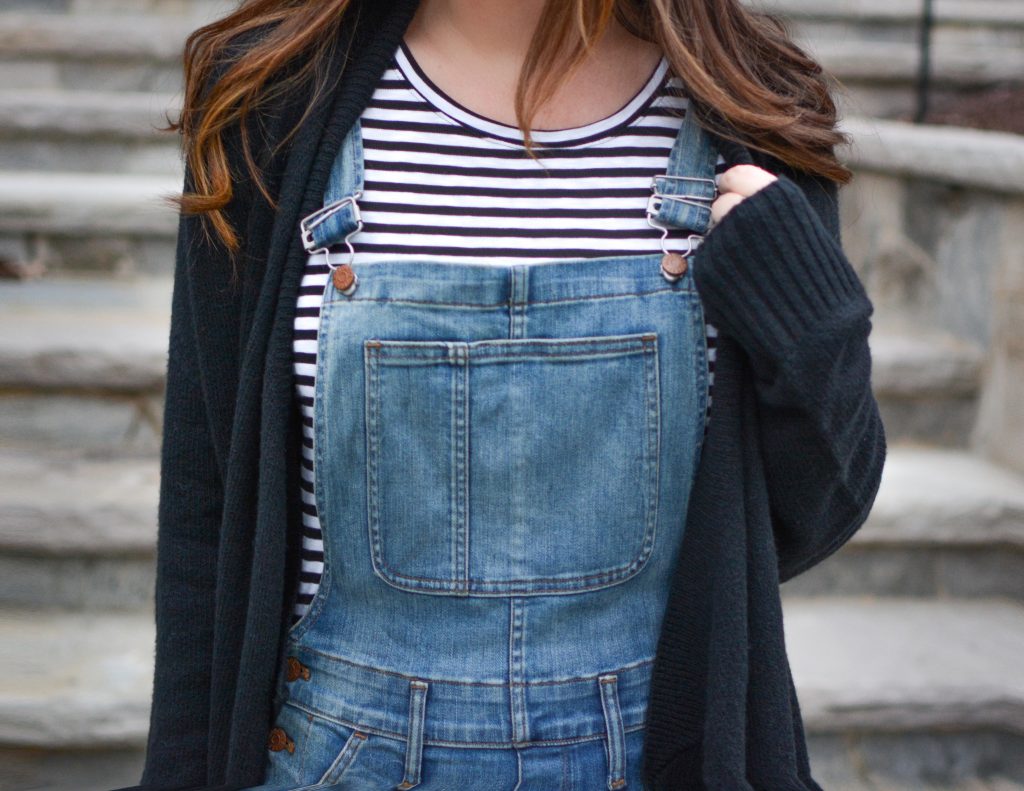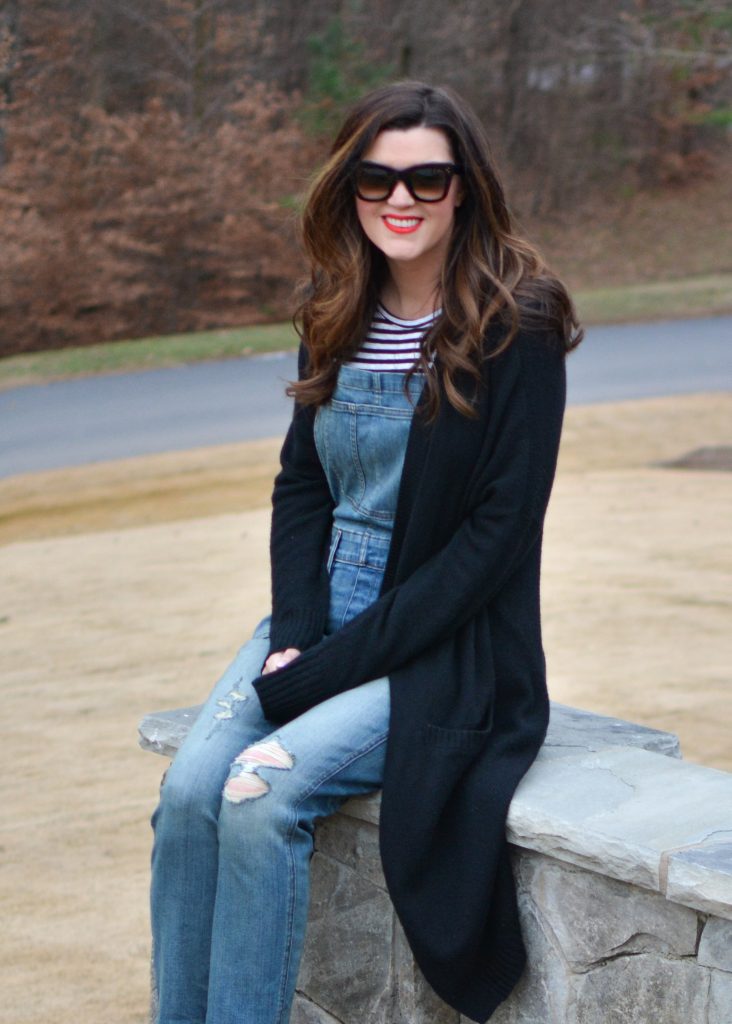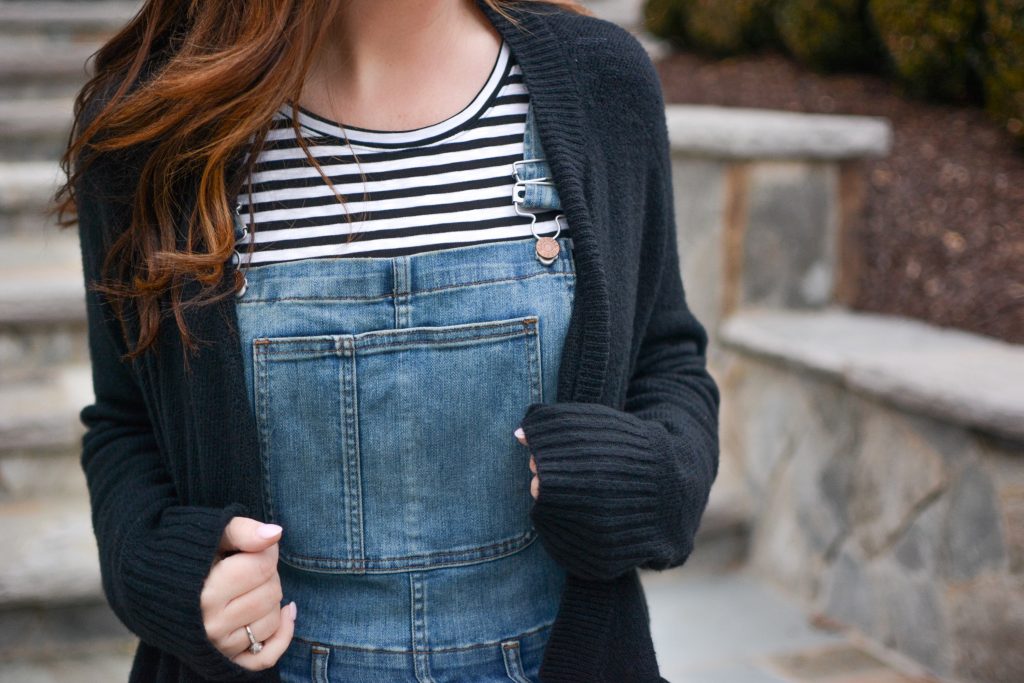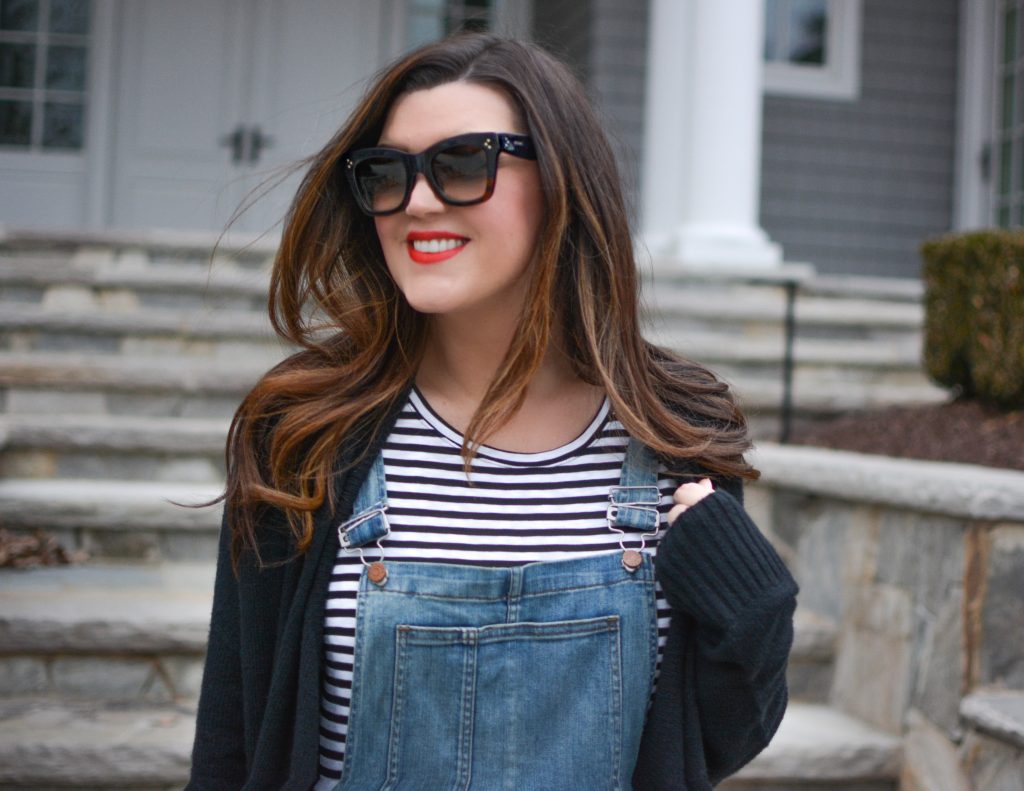 | SHOP THE LOOK BELOW |

Hope you have a wonderful day!
xoxo
Lindsey