Is everyone ready for a new week to begin?  This week is far busier for us than a typical week in our household.  I have a friend who is in town from London so he and I will be heading out on Tuesday night.  David and I are taking care of our nieces on Wednesday and then Tiffany and I are attending the annual Bevello Fashion Show in Cameron Village on Thursday night.  While I am looking forward to both nights out, it will be my first time being away from Ryan two nights in a row.  My heart aches when I miss bedtime so knowing that it will be missed two nights back to back makes me so sad.  David is planning a trip to Charleston for us in October for our five year anniversary and he laughs at me because I have been obsessing about leaving Ryan for months now.  Do any of you feel this way?  It surprised me a bit because I never expected to struggle with these feelings quite so badly.   It is pretty safe to assume that with everything we went through before having Ryan, it has left some intense feelings of separation anxiety.  I just want to keep Ryan safe and, for me, that means being by his side.  If you're thinking, Lindsey, you'll be fine once you get to Charleston, I certainly hope that you are right!  This mama wants to enjoy a beautiful few days with her husband…and a few cocktails.  Okay, and like a gazillion calories of food.
Fingers crossed that the weather is nice for our trip.  The thought of walking down Charleston's cobblestone streets with a beautiful breeze in the air seems pretty close to getaway perfection.  I am hoping that the weather will have cooled dramatically and I can pack jeans and booties.  I recently purchased this washed out green top and will be taking this on our trip next month, assuming the weather cooperates.  Aren't the   beautiful lace and fabric covered buttons just beautiful?  Not to mention the gorgeous color.  I also want to mention that the neckline is low enough to show a little bit of décolletage without making me feel too exposed.  It hits at the perfect spot.
I paired this lace with a pair of my favorite distressed jeans.  I have this same pair in several different washes…and sizes.  (After having Ryan, I tend to fluctuate between two sizes fairly often.)  They are by far my favorite fit and style.   The feminine lace top needed to worn with something a little edgy on bottom so these ripped jeans did the trick.  I threw on my go-to neutral booties.  These are several years old but I will link similar options below.  Finally, I grabbed my faaaaaaavorite statement piece.  This metal choker necklace calls to me every morning when I get dressed.  While it was not inexpensive, I have already worn it a dozen times since it arrived just a little over a month ago.  It pairs beautifully with tees, dresses, jackets, tanks…just about anything!  It elevates a look instantly and I just can't seem to stop wearing it…over and over.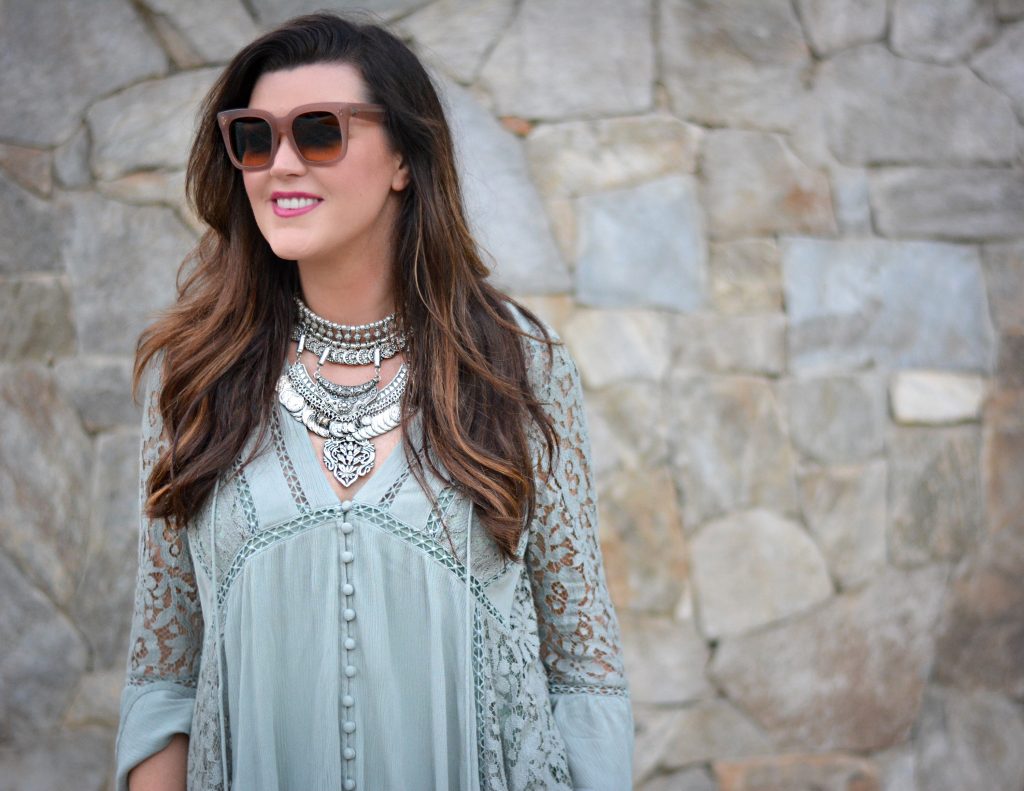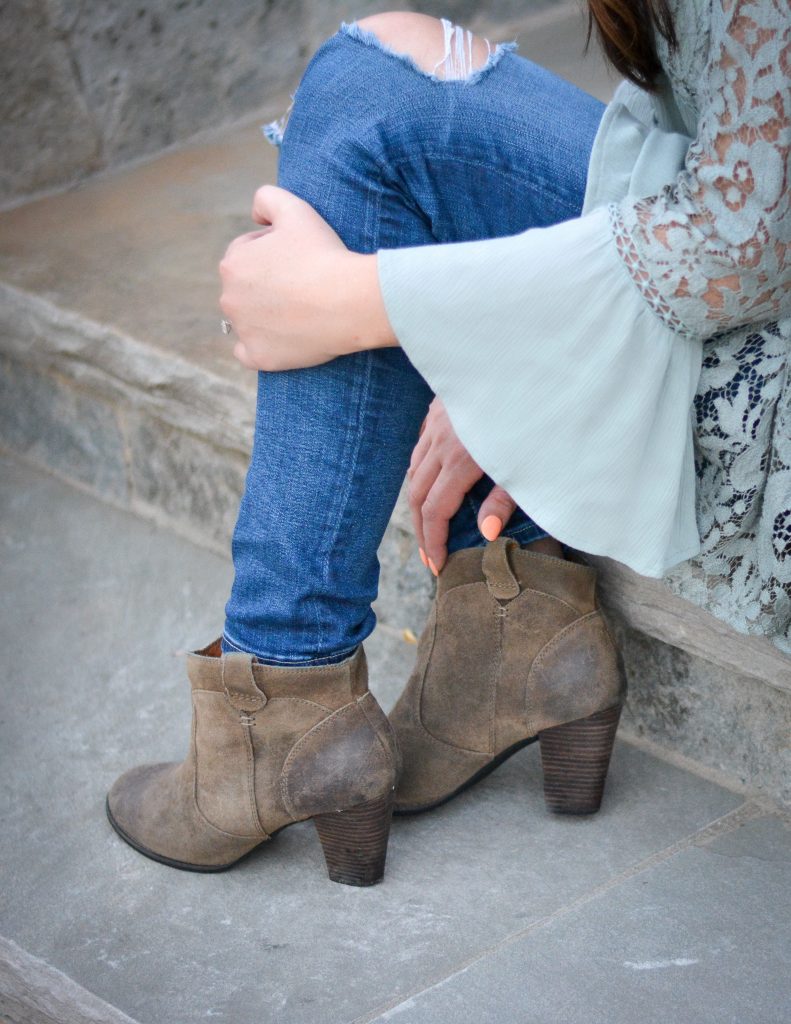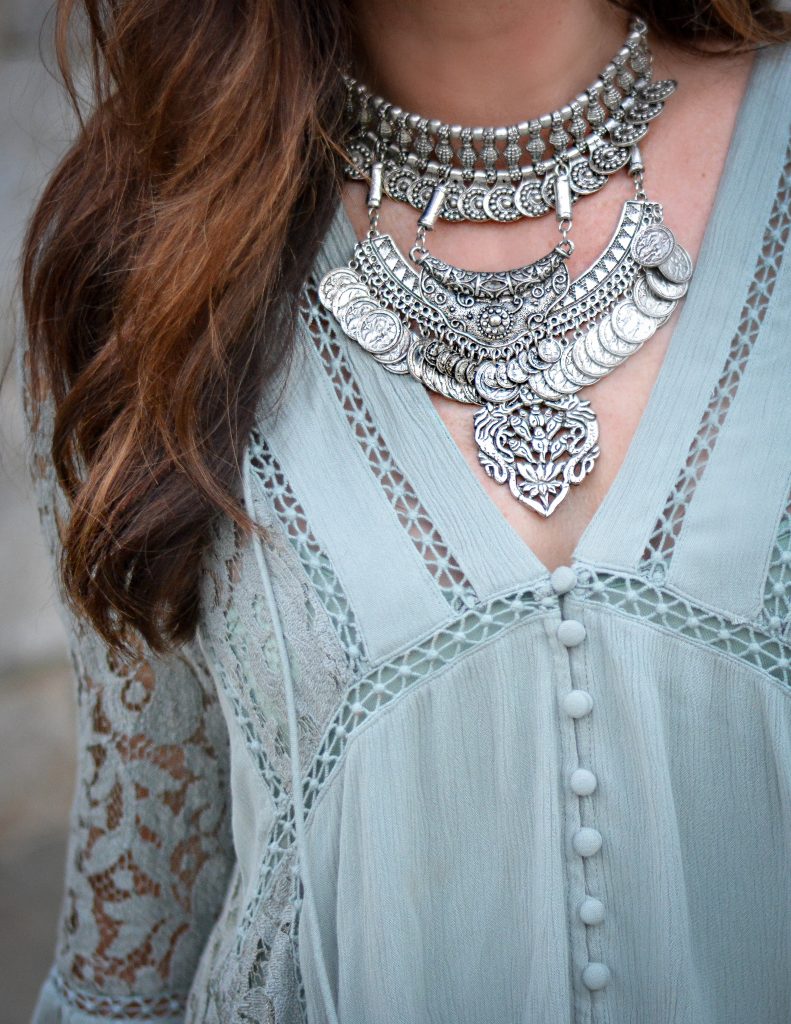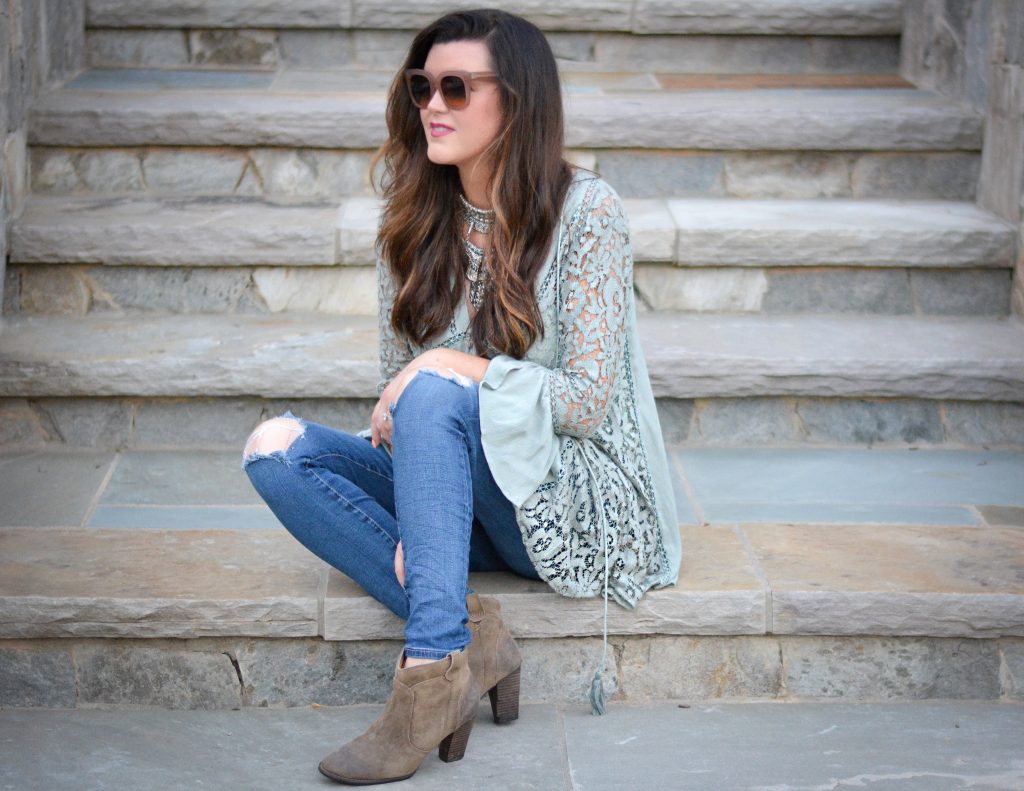 | SHOP THE LOOK BELOW |
xoxo
Lindsey