Good morning, friends!
I wanted to share several of my favorite skincare and makeup products that I have been using lately.  Trying out new products is something that I love to do.  It is part of the reason why I limit my Sephora shopping experiences to only twice a year.  It is far too dangerous in there, isn't it?!   For those rare visits to Sephora, I have a rule to follow.  I am only allowed to purchase what I can hold, meaning using one of the baskets they provide is not allowed.  No basket to hold items, only my hands…okay, and sometimes my arms.
It is easy enough to avoid trips to Sephora but avoiding Target's cosmetic section?  Impossible.  I have become a huge fan of both the e.l.f. line and the Sonia Kashuk line.  While e.l.f. is great for experimenting, I have found that Sonia Kashuk lip products have become just as much of a staple for me as MAC liners and colors.
Because I have tried some new products over the last few months, I wanted to share my current favorites…
______________
1. I am a major fan of saving a bit of money on eye makeup brushes.  Personally, I don't spend enough time on my eye makeup to feel like I need to spend a ton of money.  These e.l.f. brushes work perfectly for my needs!
2. Over the last year or so, Sonia Kashiuk lipstick has won me over.  I never leave the house without this particular color.  It is called Peachy Pink and it is a gorgeous color for every day wear.  
3. I use several shades of the MAC Mineralize Skinfinish depending on how tan I am…or more realistically, how pale I am.  Because any semblance of a tan is fading, I am wearing this Lightscapade shade during the daytime.  It creates a beautiful, soft glow on your cheeks.  
4. Oh, concealer…how much much money I have wasted on you over the years.  Do any of you feel the same way?  To me, the perfect concealrer is the most difficult beauty product to find.  It's like the unicorn of the beauty world.  After trying countless brands, I found this one by Estee Lauder four or five months ago and I have zero plans of switching.  It provides such great coverage and blends so easily.  (You just need to make sure to set it with a powder because it is a cream concealer.)  
5.  The Anastasia eyebrow products have long been a staple in my cosmetics collections but I only recently upgraded to this great little kit.  It provides you with multiple brow stencils, two shades of brow powder, an applicator brush and highlighting shadows.  It is wonderful for travel.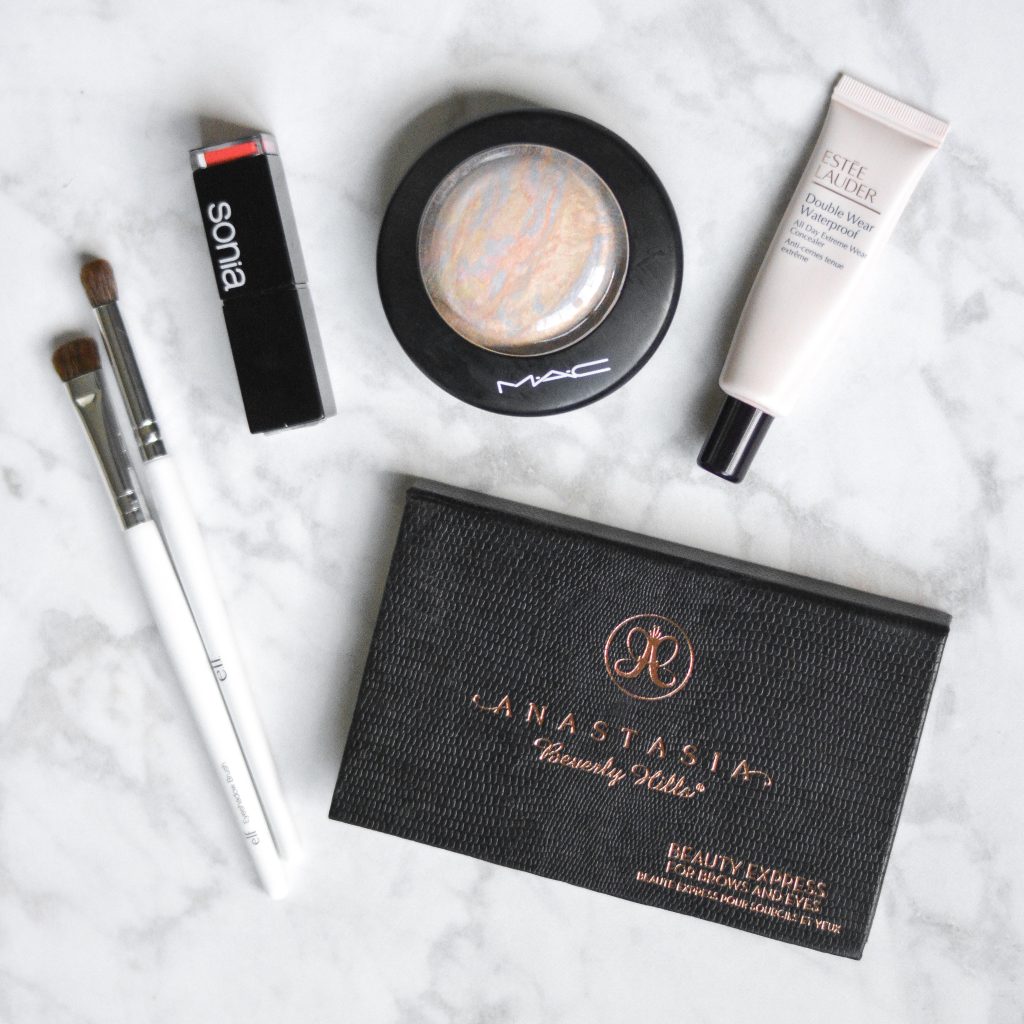 Have a beautiful weekend!
xoxo
Lindsey