Good morning, everyone!
I hope you all had a wonderful weekend.  David and I took Ryan for a quick trip to Wrightsville Beach at the end of last week.  I had a meeting with the architect who designed my parents' house that they are building down there so we figured we might as well make a little two-day vacation out of the trip down.  My parents were there with us for the first night and then it was just the three of us for the second night.  We were so curious to see how Ryan responded to the beach.  While he has been swimming quite a bit in pools this summer, he hadn't been to the beach since last summer when he was less than a year old.  Initially, he only wanted to play in the sand but within half an hour, he had planted himself at the tideline..firmly planted himself.  Because my parents main reason for building a home at the beach is to create a place for the grandchildren to make magical memories, we were thrilled (a.k.a. relieved) that Ryan was so content at the beach.  In fact, he slept better than he ever has slept at night!
Now that we are back, I am keeping my fingers crossed that cooler temperatures are around the corner.  The weather at the beach was so beautiful…a nice breeze and no humidity.  I cannot wait for layers.  (Then again, I have been saying that since June.)  Personally, I think the outwear for fall and winter this year is exceptionally great.  Military-inspired jackets for women are continuing to be a hot trend for this fall.   The beauty of these jackets is that they can be styled a multitude of ways and can be worn with so many colors and prints.  The green can act as a neutral so it makes it pretty darn easy to pair it with various colors.  One of my favorite looks is actually military-inspired vest and jackets paired with a black and white striped top.  They also look cute when unexpectedly paired with a feminine bohemian style dress.
I spotted this one from Free People and couldn't walk away.  I fell hard for this particular jacket because of the embellishment on the sleeve.  It was such a unique detail…one that I clearly couldn't resist.  This jacket has an oversized feel.  It is meant to look more like a boyfriend style jacket, however, I did size down.  Because of the design, it is really comfortable to wear.  I will happily wear it as a piece of clothing rather than a piece of outwear. Meaning, I will style it and keep it on all day long.  I opted to pair it with a (super-duper old) Free People tee, a dramatic statement necklace and my wedge sneakers.
(I have shared some additional jackets and tees after the pictures.)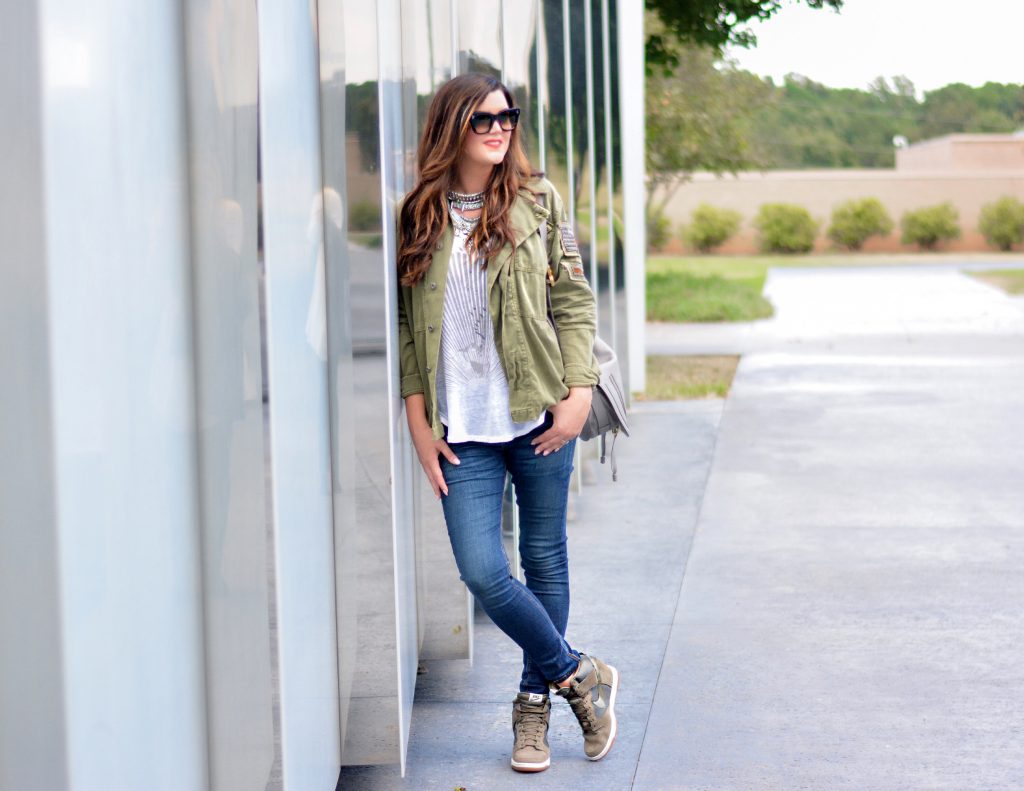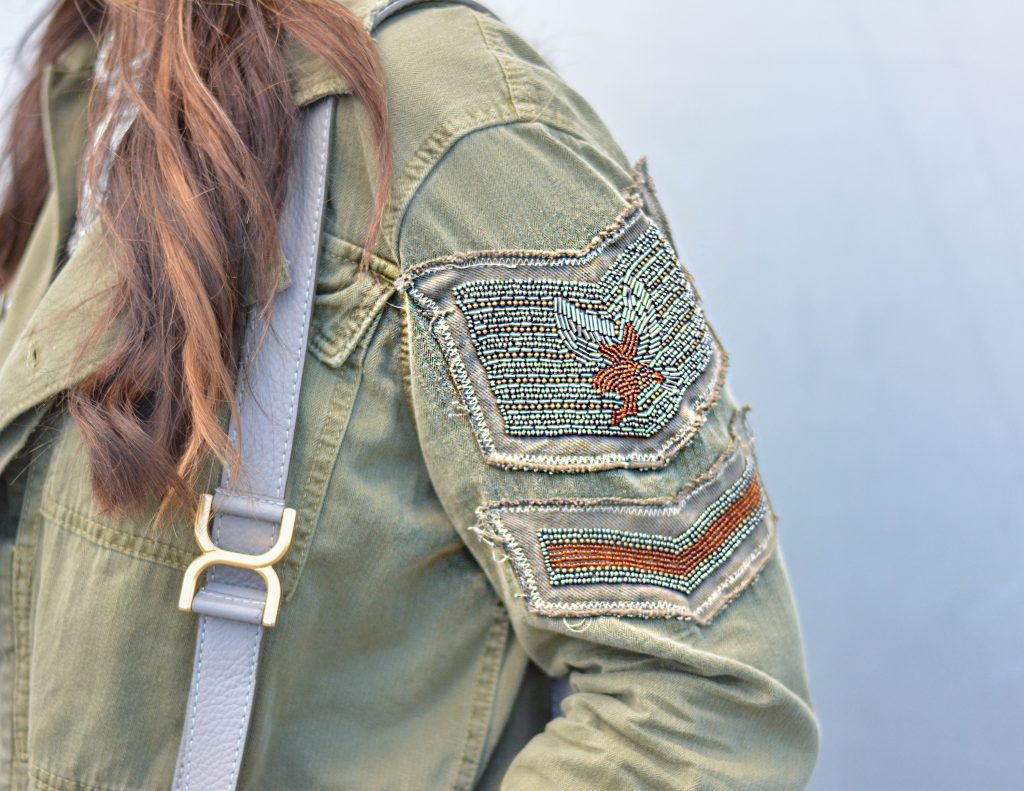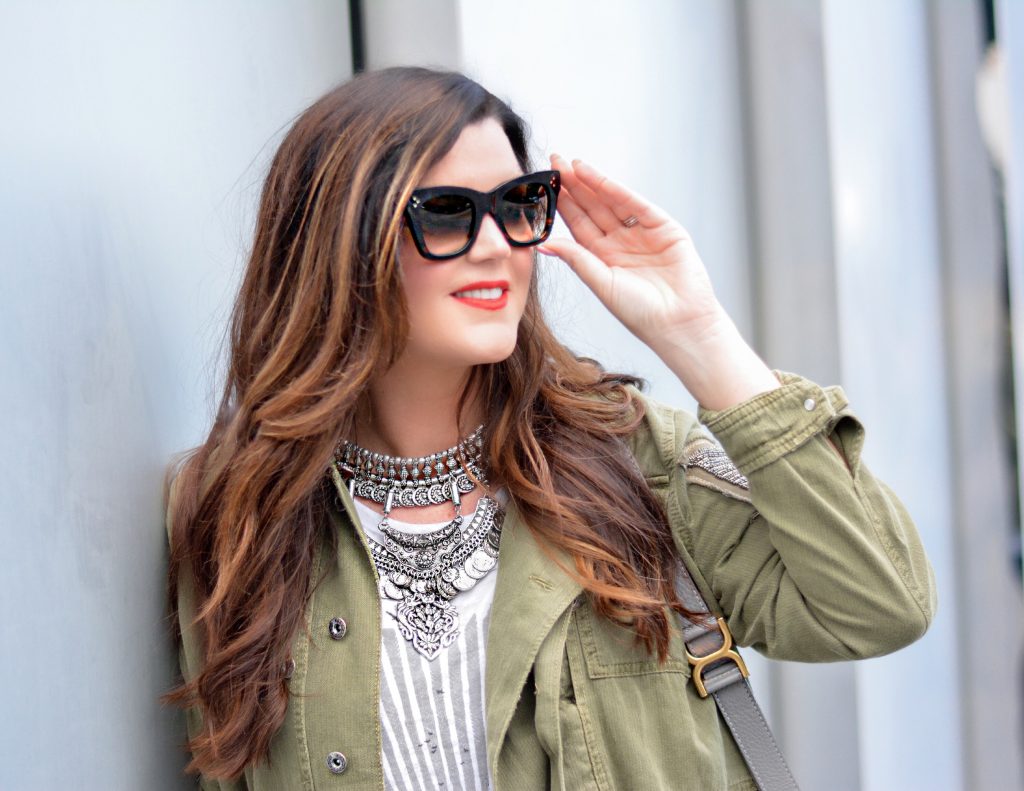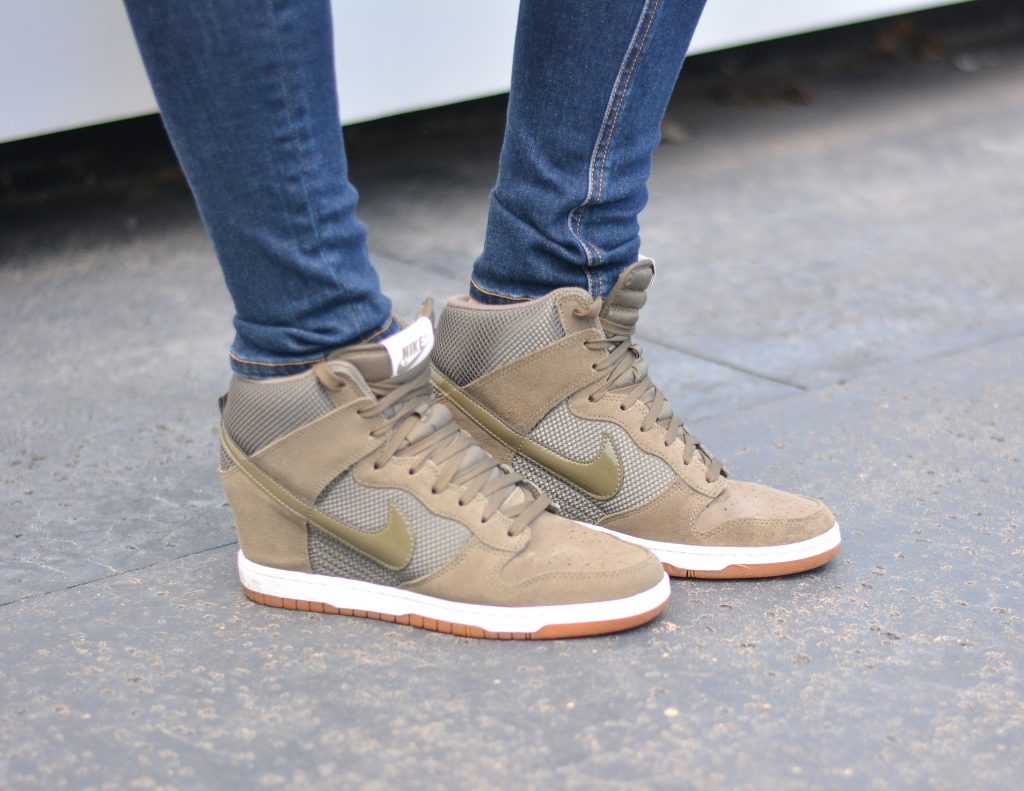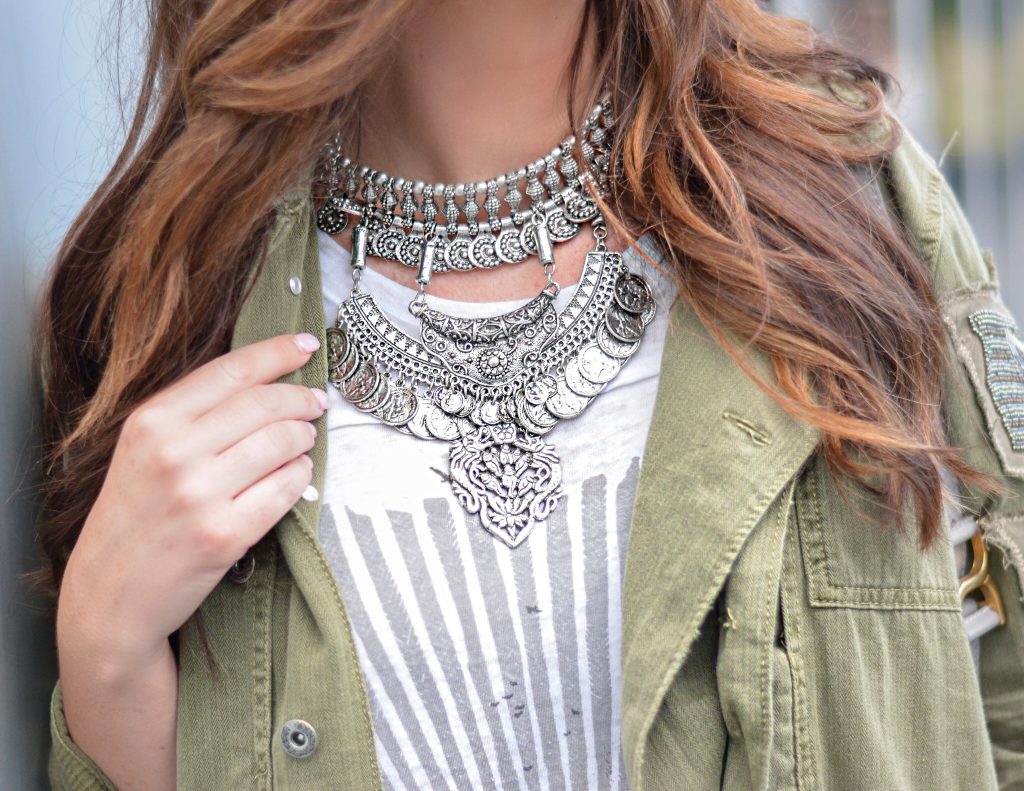 | SHOP THE LOOK BELOW |
Wishing all of you all a fun-filled week!
xoxo
Lindsey