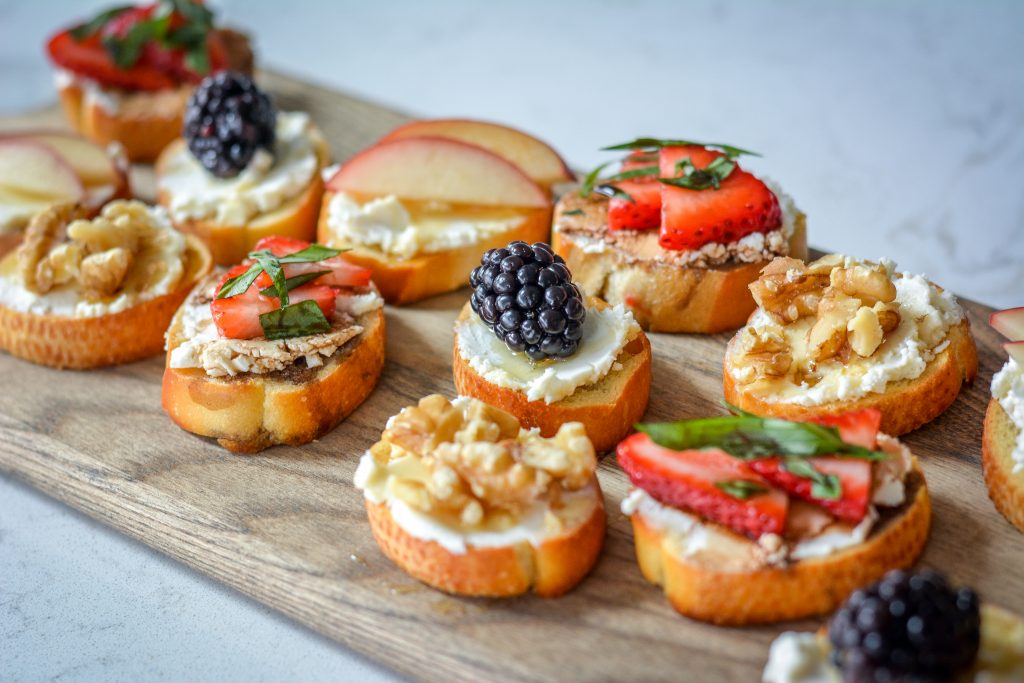 Have you ever decided to host a get together or girls' night at the last minute?  This typically leads to us running to the store and tossing miscellaneous items into our carts in hopes of putting together a decent spread.  It causes chaos and typically results in us feeling overwhelmed and frazzled and, ultimately, ends with us looking at random food items that just don't make sense.  Because of this, we wanted to share a simple yet filling hors d'oeuvre that you can prepare in just minutes.  This goat cheese crostini topped with various fruits looks so pretty that your guests will think it took you far longer than it did in actuality.  Perfect, right?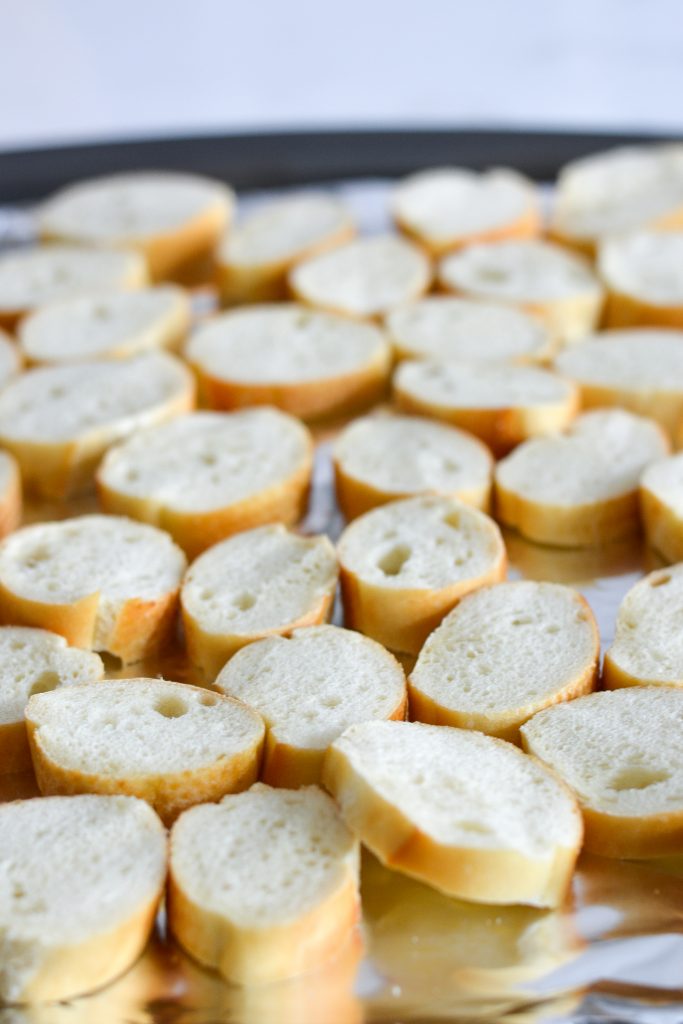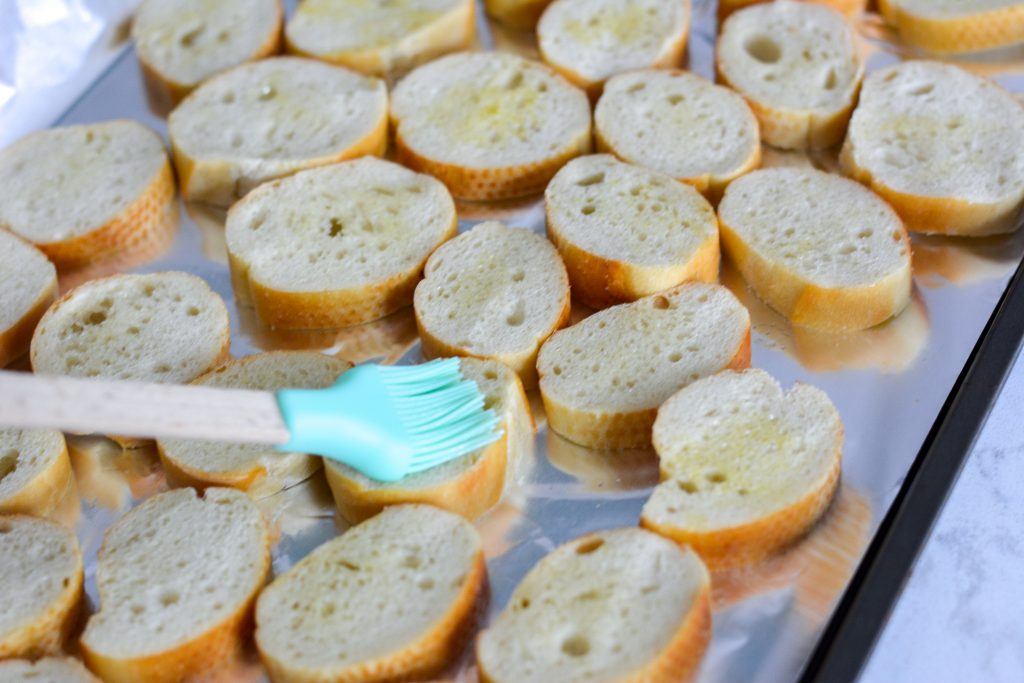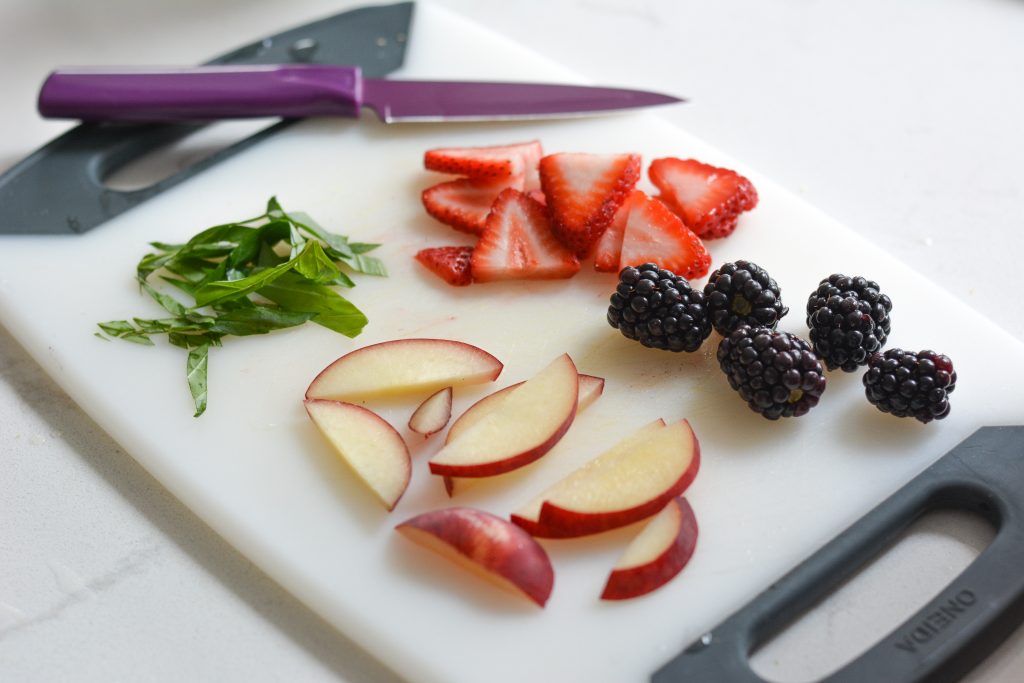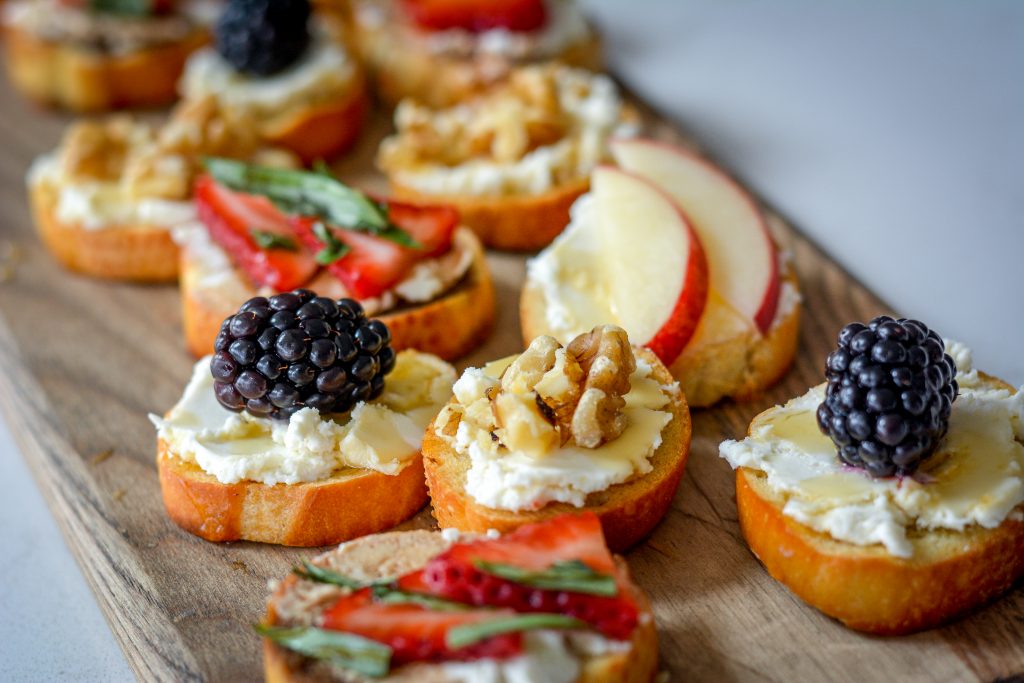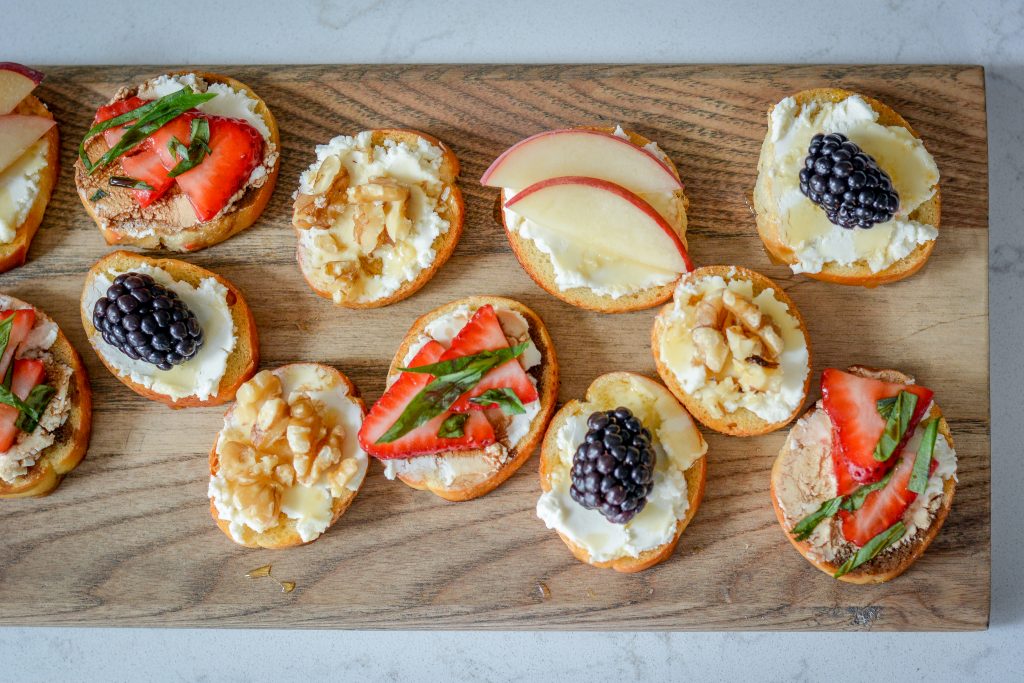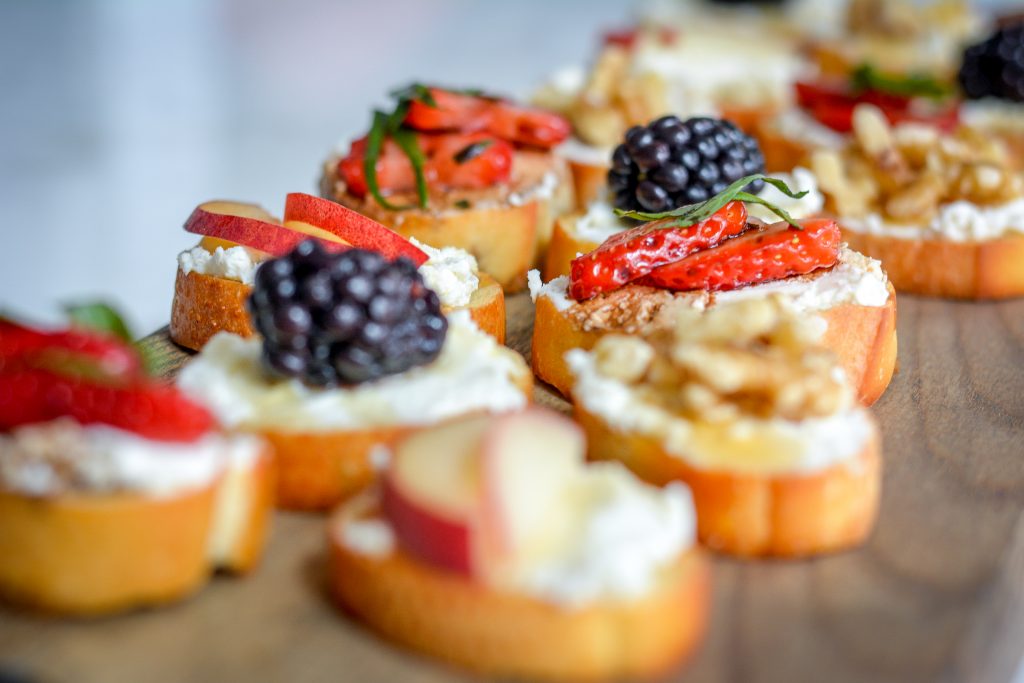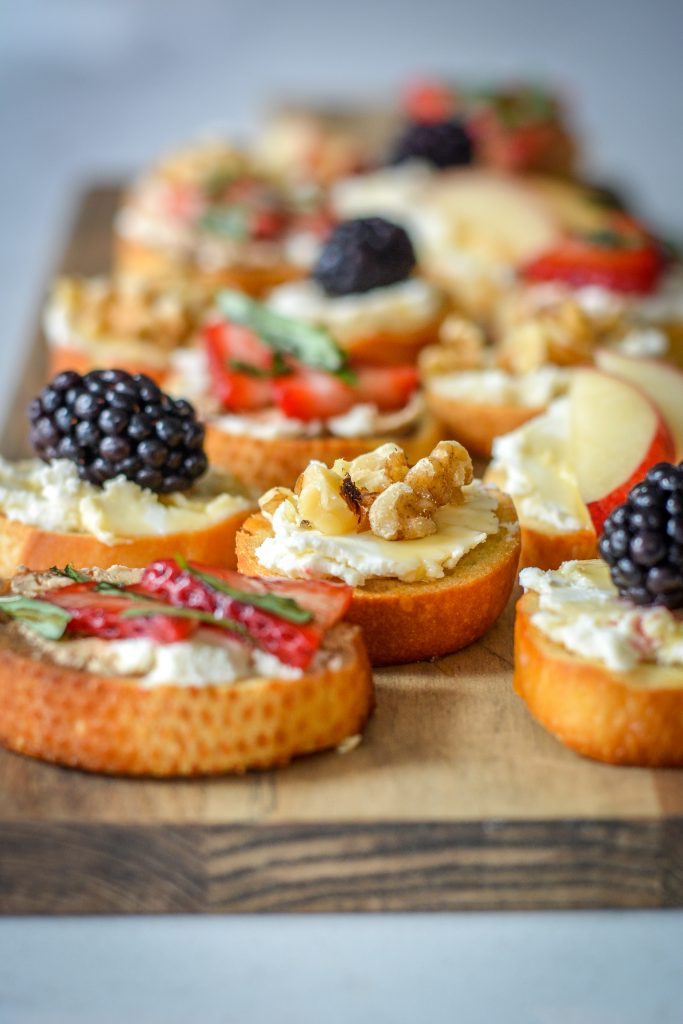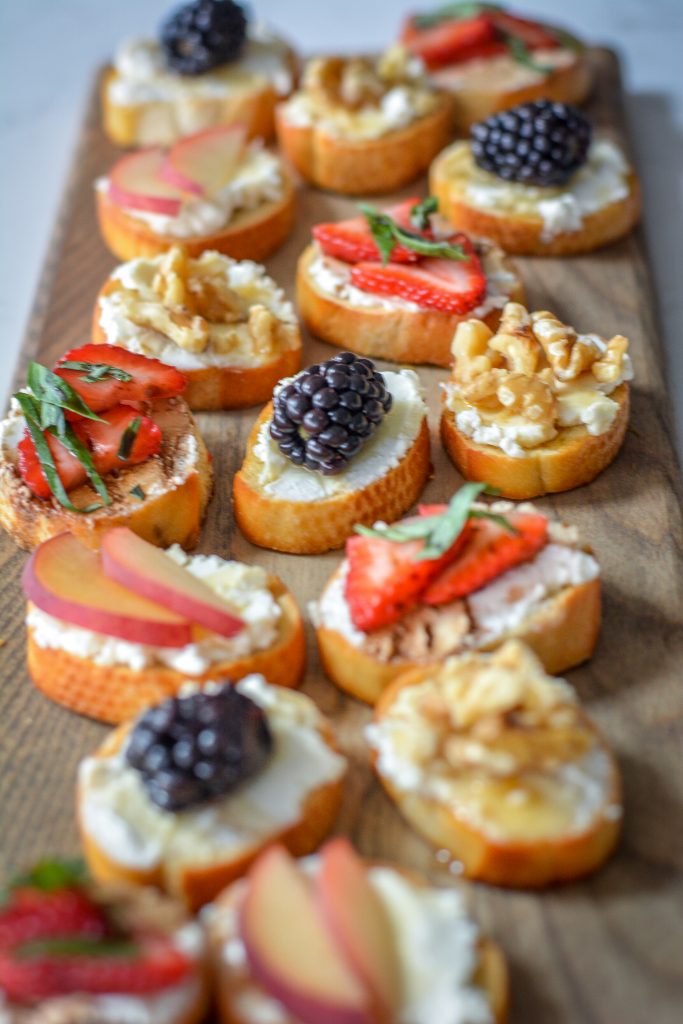 Let's get started!
Ingredients
A French baguette (or pre-made crostini if you're in a huge hurry)
2 tbsp olive Oil
8. oz Goat cheese
Strawberries
Pears
Blackberries
Dried cranberries
1 cup walnuts
3 leaves of basil
Honey for drizzling
Balsamic vinegar for drizzling
*We are not providing specific amounts of fruit only because it will vary so much depending on which combination of crostini you want to make.  Because each crostini only needs a few slices of fruit, you don't need too much.  We used 3 strawberries,  1/3 of a pear, and 6 blackberries.)
Instructions
1. Preheat oven to 350 degrees (unless you purchased premade crostini)
2.  Slice the baguette into 1/2 inch pieces and coat with thin layer of olive oil.  Place in oven for 10-12 minutes or until edges have browned.  While bread is toasting, begin slicing fruit.
3. Generously cover each slice with goat cheese
4. Place as much sliced fruit on top as you want and drizzle a bit of honey over top for the pear and/or blackberry crostini.
5. To make the strawberry basil crostini, simply place a few pieces of chopped basil on top and drizzle with balsamic vinegar in lieu of honey.
6.  To make the honey walnut crostini, just add honey directly on top of the goat cheese and sprinkle walnut pieces over top.
7.  Plate the slices and enjoy!
Obviously, feel free to make as many or as few of the options as you wish.  The less variations, the less time but the more variations, the prettier the spread looks.  Totally up to you!
Our Thoughts 
We were so happy with the results.  We were hoping that these adorable little crostini would actually be as easy to make as claimed…and they were!  Because we clicked the fruit while the bread was baking, the entire process took approximately 20 minutes.  The large baguette we had purchased provided 30 individual crostini.  Plenty for a group of 6-10 guests!  The best part?  They were DELICIOUS.  The simplicity of the goat cheese, honey and fruit was perfect for spring and summer.  The strawberry with balsamic gave the perfect little tingle for the tastebuds and the walnut version provided the perfect combination of savory and sweet.  We have two suggestions…1.  Add the balsamic vinegar immediately before serving so it doesn't completely saturate the bread before guests dig in.  2.  We covered the baking sheet with a piece of aluminum foil before toasting the crostini.  This allowed for super easy clean up after using both the honey and vinegar.  Drizzle the honey and balsamic over the crostini while it is on the foil.  Remove the crostini once finished, and simply roll up the foil and throw away the mess!
(As always, we would love feedback if you make these pretty little hors 'oeuvres.)
Happy Tuesday, everyone!
xoxo
Tiffany & Lindsey