Tiffany and I met up over the weekend.  We had made plans to grab lunch and head to Southern Season, a cool gourmet food store.  Ryan and I were in the driveway when Tiffany pulled up.  As soon as she jumped out of the car I thought, "That's so funny.  We are both wearing white tees."  Just as the thought finished in my head, Tiffany asked, "Are we wearing the same shirt?".  Yep, she was right.  What had I failed to notice was that it was indeed the same exact tee.  We have always had a strong connection (countless "I was JUST about to text you" and "I was thinking the same thing" moments) so I don't think either one of us was particularly surprised.  We decided that we would show how we each styled the top.  Today I am posting and Tiffany's post will be up next.
This top is awesome.  Personally, I always feel like it is difficult to find a plain white tee that isn't too transparent.  I love when a white shirt can be worn without having to layer a tank under it.  The sleeve length is like hitting the fashion jackpot for someone like me…someone who feels insecure about their arms.  The sleeve hits directly above the elbow.  This is also a great length for the transition into fall because it is cute with a vest and would perfect with a lightweight scarf.  It is offered in nine different color options.  (I am currently obsessing over the Plum color.)
I layered the tee with an item that is in constant rotation….my denim vest from Madewell.  Tiffany recently posted an additional vest option from Target here.  I selected a darker wash denim jean but I am also a fan of pairing together similar shades of denim.  (Not much of a fan of the rule that if one piece you are wearing is a lighter denim then you should only wear it with a darker piece.)   Because the tee was a touch longer than I would have liked in relation to the vest, I decided to knot one side.  I LOVE when longer tops have slits on the side because it makes this trick super easy to do.
For the accessories, I had recently purchased some brightly colored bracelets from Baublebar's current Build a Bracelet set selection as well as my new favorite necklace…this long chain with an oversized "R" for my little guy, Ryan.  You can pick from several charms and custom build your own necklace.  Finally, I threw on these fringed boots that are just as comfortable as they are cute.  (Side note:  They are also available in black!)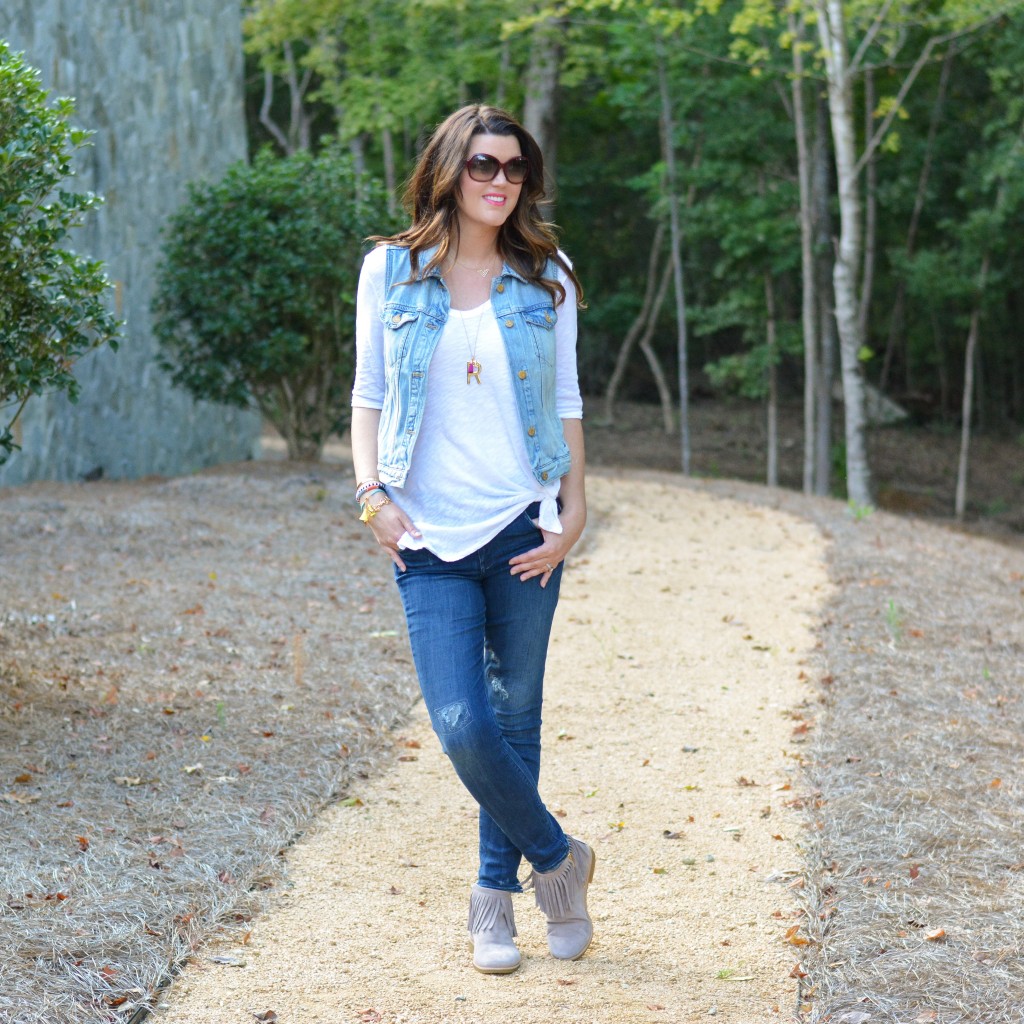 Details:  Tee: Left of Center | Vest: Madewell | Jeans: Pilcro | Booties: Kate Spade | Necklace: Baublebar | Bracelets: Baublebar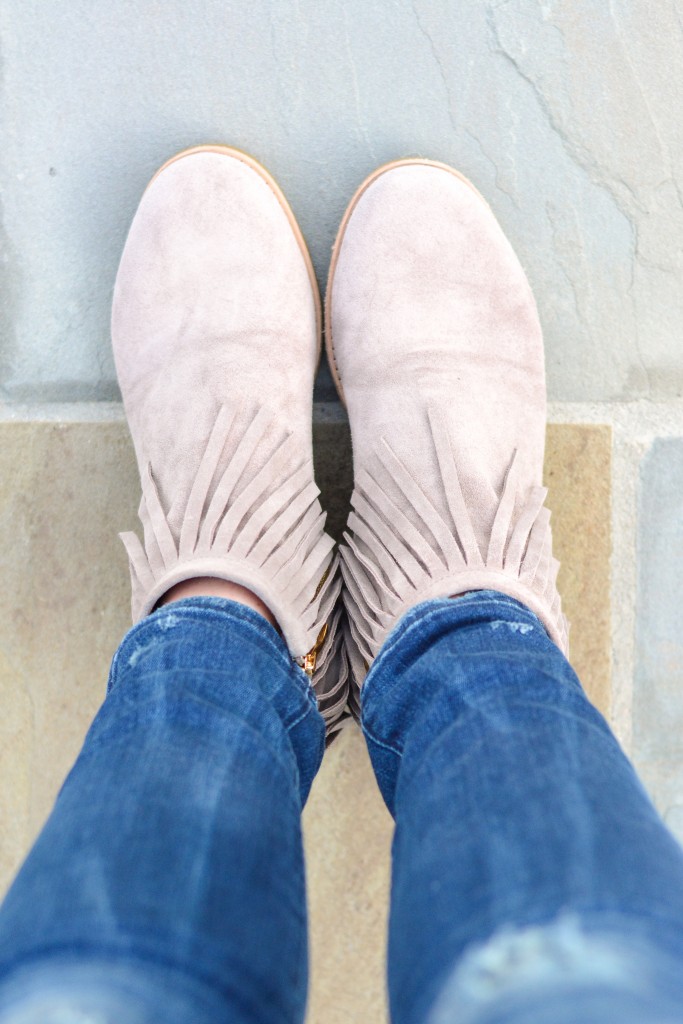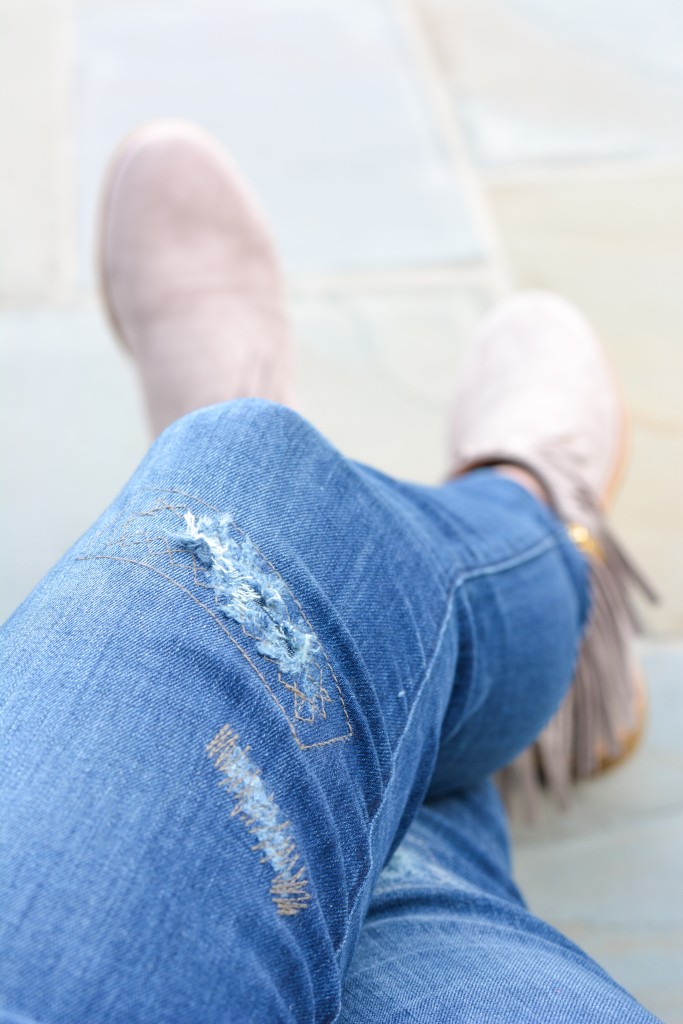 Keep an eye out for Tiffany's post tomorrow!
xoxo
Lindsey