This one is for all our ladies that want to learn more about hair extensions.  Have you ever heard of a Hair Extension Bar?  Well, if not, let us introduce you to Garnish Hair Studio & Extension Bar.  I was actually introduced by my PIC (partner-in-crime), Lindsey, several months ago.  First of all, the studio is BEAUTIFUL.  Candice, the owner has the best style and it's represented throughout the space. We will do another post later to showcase Garnish itself but today, let's focus on the hair!
After living in Raleigh for over 2 years, I thought it was time to find a local stylist to do my hair rather than driving back to Charlotte every 6 weeks.  (Yes, I know how crazy that seems, but I am very particular about who does my hair and I do not like roots!)  So, I asked Lindsey who she recommended and, viola, I became a client of Garnish.
During my short time there, I built a great relationship with both Candice and my stylist Andrayah.  During one of my visits earlier this year, they approached me about being a model/demo for them to try a new type of hair extensions.  Now, I have A LOT of hair, which already takes me 20 mins to just dry, but I was all about adding more length. I mean what girl doesn't want long, beautiful hair?!
In May, I went into Garnish and got my first exposure to the Extension Bar, which is really like any other bar.  You come in, sit down, and pretty much have your choice of hair, like you would your choice of cocktails at any regular bar.   Garnish offers 24 different types and methods for hair extensions.  It's all about what you want.  Do you want longer hair? Do you want fuller hair? Do you want to use extensions to create highlights and avoid damaging your own hair?  Extensions can solve all of these issues….the possibilities are truly endless.
While Garnish offers many methods of hair extensions, they just recently started offering NBR (Natural Beaded Rows) Hair Extensions.  This is the specific type of extension that were added to my hair..  NBR was created by Danielle White, out West in Laguna Beach, CA.  You have to go check her out on Instagram..she is super cute!  When Candice got wind of this new method, she knew she had to to start offering it at Garnish.  She studied and learned this new method, which involves sewing multiple pieces of hair together and then attaching the row to the head by using a bead and string.  Once she mastered the new technique, she was ready to teach her stylists.   This is where I came in.
I had no idea what to expect during this process but I was beyond excited to see the outcome.  First, Candice determined which color combination would look best based on my current hair color.  I wanted it all to blend.  I wasn't going for a drastic color change.
Next, she trimmed by hair to get rid of any dead ends.  You have to start with a fresh, clean canvas, so make sure you arrive with clean, straight hair (if your hair is wavy/curly).
Andrayah and Candice then parted my hair where the 1st row would go. Most clients get 1 1/2 to 2 rows of NBR.
Once the part was perfect, it was time to begin sewing.
The entire process took about 3 hours since they had to sew each piece of hair together.  But look at the results…it was so worth the time!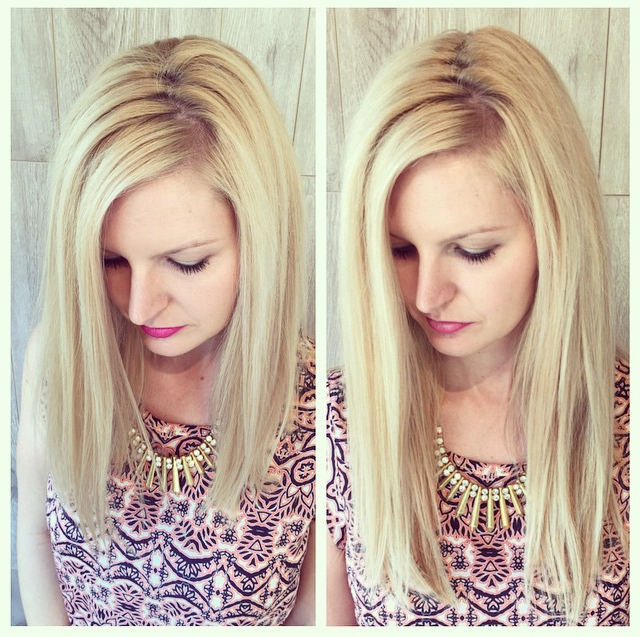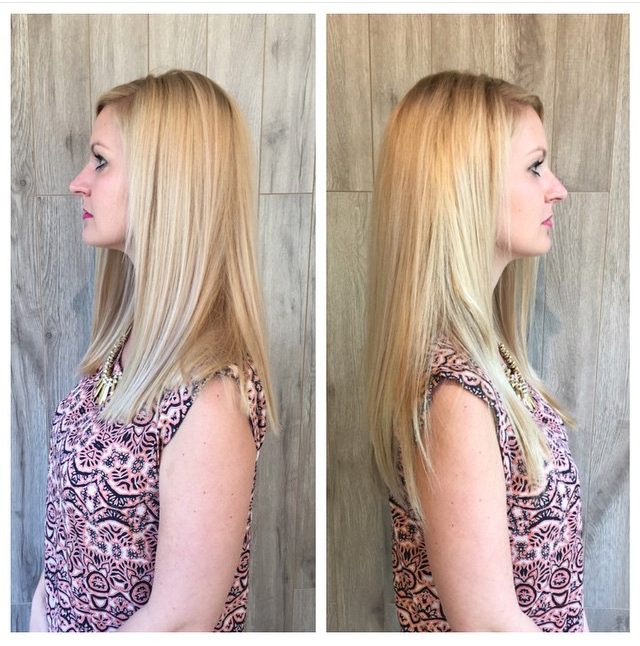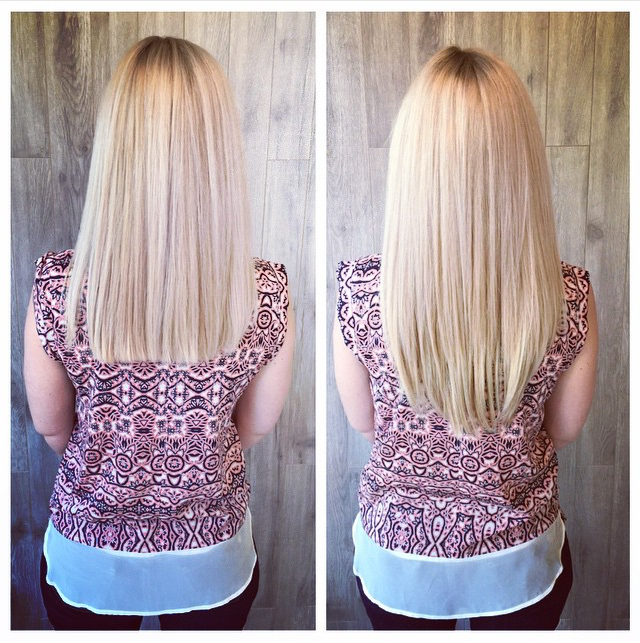 After the initial visit, my touch ups take about an hour and a half.   If you are thinking about extensions, I highly recommend the NBR method as it offers a great way to get a lot of hair without having an abundance of rows.  Plus, it is the only extnsion line that is sewn in!
If you have any questions about extensions, feel free to let us know or you can always reach out to Candice or Andrayah.
xoxo,
Tiffany & Lindsey