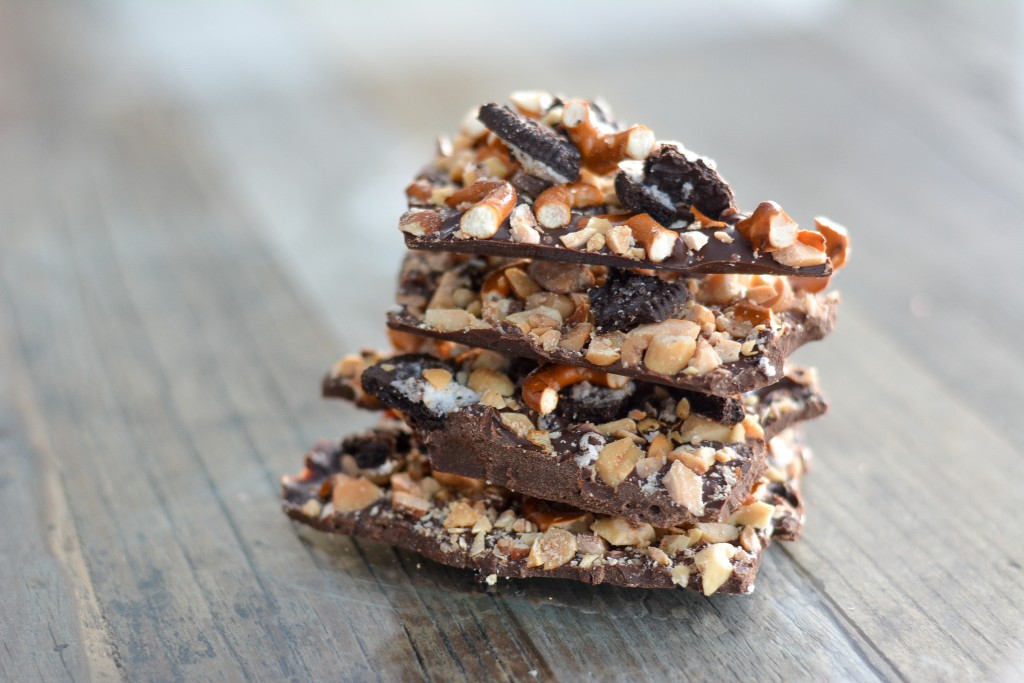 We came across the recipe for this chocolate bark and added immediately added it to our list of recipes that we wanted to out in the future.  We are huge fans of treats that include both sweet and savory flavors.  This recipe turned out to be easy enough to be completed in approximately 20 minutes with the only time-consuming step being chopping up the ingredients.  The bark turned out to be a dangerously addictive snack.  This would be a perfect treat to make in bulk for get togethers, to give as gifts…or to stockpile for yourself.  It lasts for weeks as long as it is stored properly or can be frozen for months.  This is absolutely a recipe that we recommend you all to try if you love sweet and salty snacks!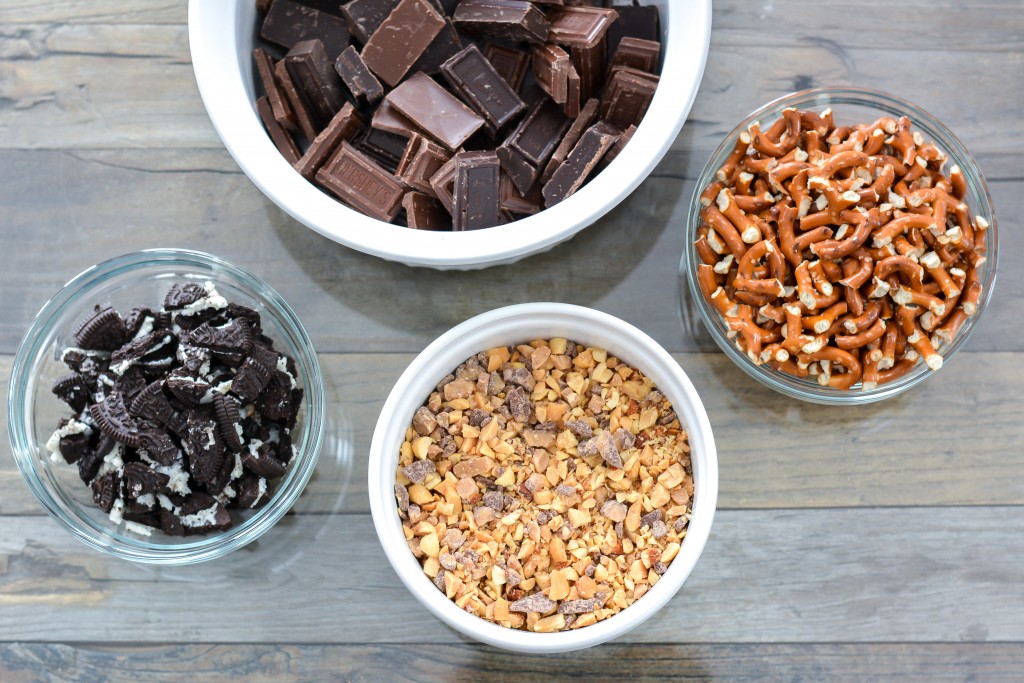 Ingredients
-20 ounces dark chocolate and milk chocolate (we used a 1:1 of Baker's 56% unsweetened cacao chocolate and Hershey's milk chocolate bars)
-1 1/2-2 cups mini pretzels (we used 1 1/2 cups but wish we had used 2 full cups)
-1/2 cup toffee bits
-1/2 cup coarsely chopped salted peanuts
-1/2 cup coarsely chopped almonds
– 8 Oreos, broken into pieces
-sea salt to sprinkle on top
Instructions
1. Measure and chop up the Oreos, pretzels, toffee, peanuts and almonds.  Place these ingredients to the side.
2. Line a cookie sheet with parchment paper
3. Chop the chocolate into chunks so that it melts evenly
4. Place chocolate in microwave-safe bowl and heat for 2 minutes.  Stir chocolate and continue microwaving for additional 15 minute increments until completely melted
5. Pour out the chocolate onto the parchment paper and use a spatula to smooth and evenly distribute to about 1/8-inch thick and roughly follow the lines of the baking tray
6.  Immediately pour the pretzels, toffee, peanuts, almonds, and Oreos onto the chocolate.  lightly press the toppings into the chocolate so that they adhere.  Finish by sprinkling sea salt on the top
7.  Allow bark to cool in the fridge for an hour
8. Be like us and nibble on it uncontrollably for the next several days…or give it away and save yourself!!!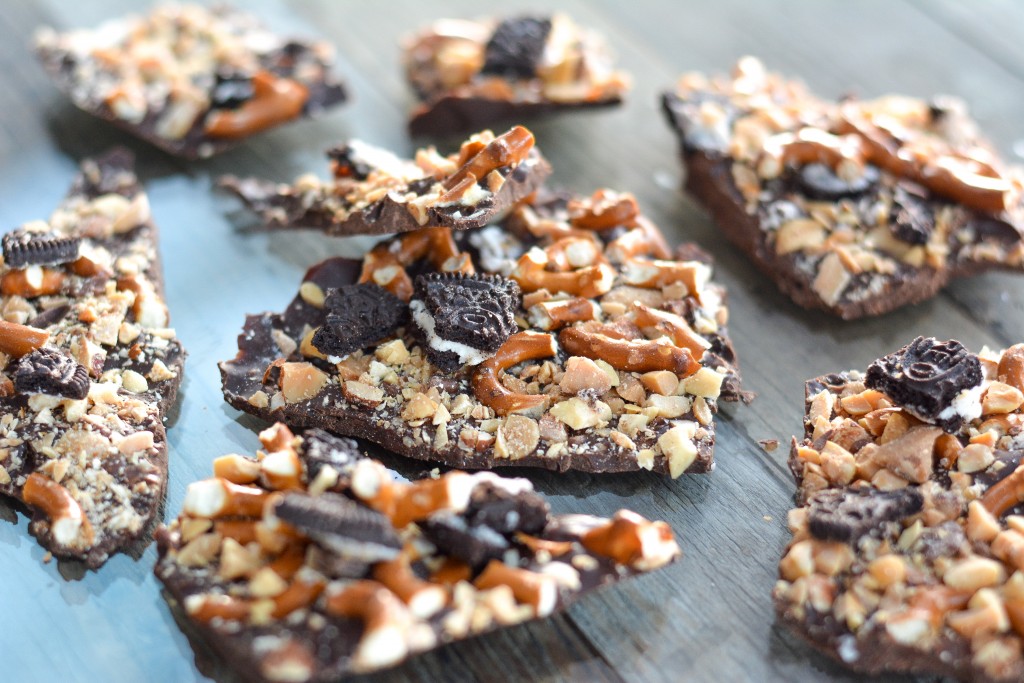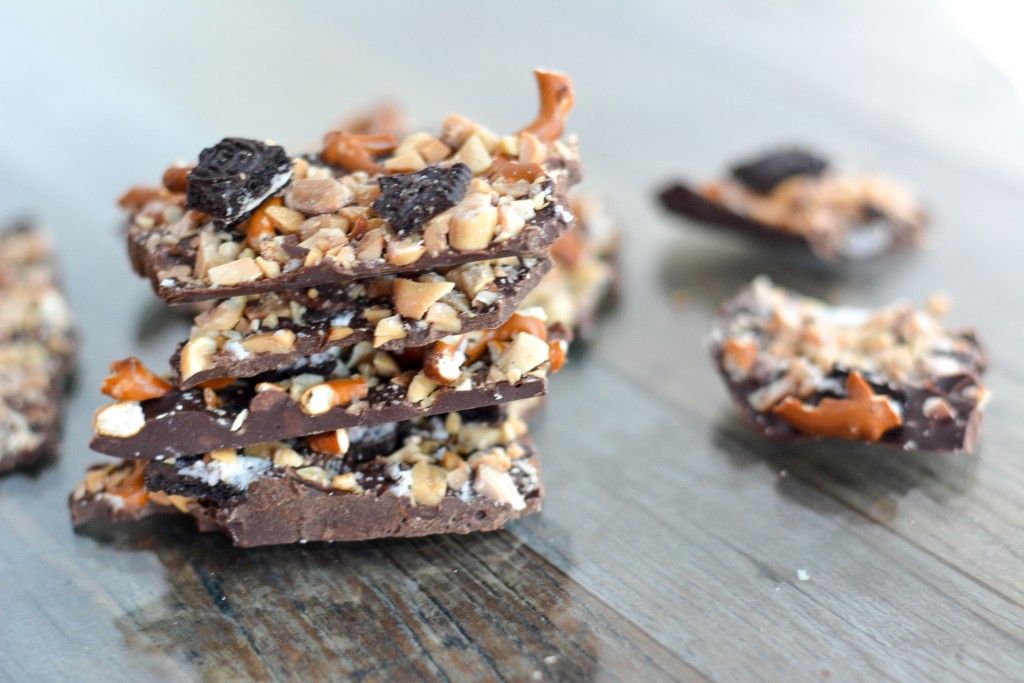 Please let us know if you try this amazing recipe!  We would love to hear your feedback or if you have any recommendations!
xoxo
Tiffany & Lindsey