Ever since David and I purchased our first home together, I have looked so forward to decorating for the holidays.  Each year, I add a couple of new decorative elements or try to make something new (usually via Pinterest) to add to the Christmas spirit in our home.  This year, we knew that we were expecting a baby with the due date of December 9th so we decided to put up our tree just before Thanksgiving.  I wish that we could keep it up all year round!  We then started decorating little by little in an attempt to tackle most of it before the arrival of our little guy.  I also wanted to make it as special as possible seeing as it would be our first Christmas celebrating as parents.  There were a few things that we decided to let fall by the wayside, like the lit garland on our front staircase, but we did our best before our son, Ryan, arrived on December 3rd.  Here are some photos of our decorations this year…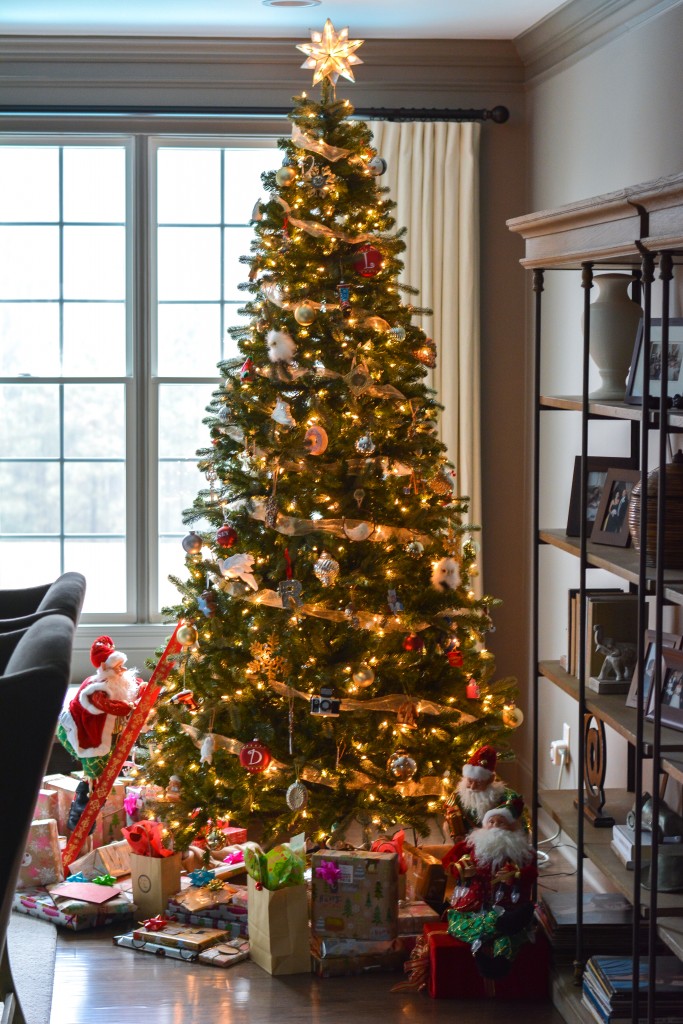 I was really happy with Target's Christmas wrapping selection this year.  They had a whole end-cap dedicated to the line, Paperchase, and I LOVE their products.  I used most of their wrap last year as well.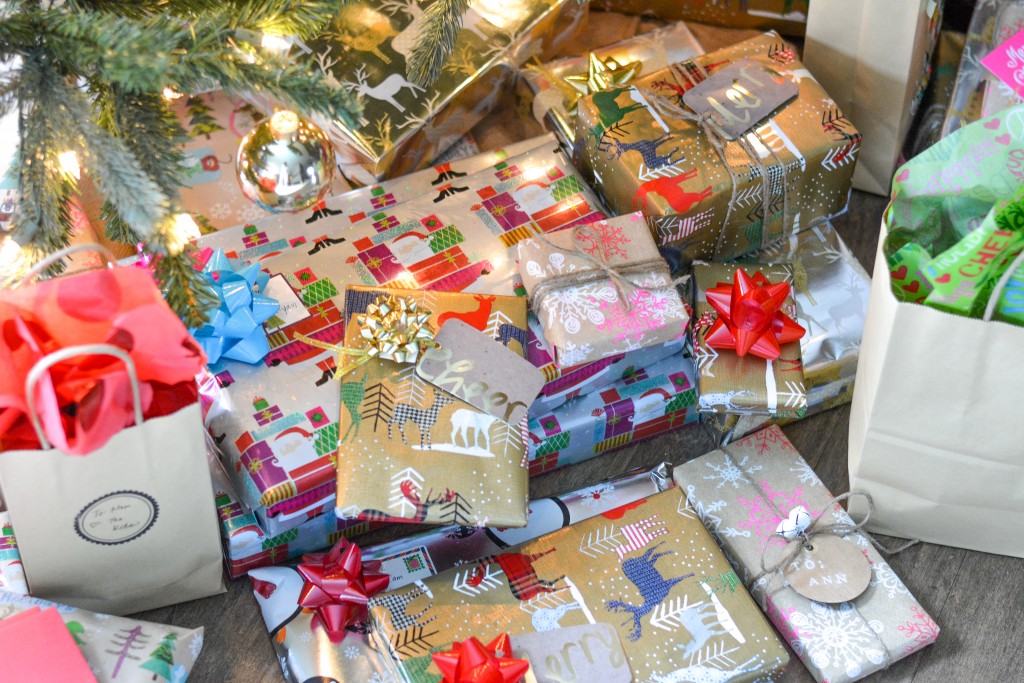 I am slightly obsessed with twine and tend to use it on most of the gifts that I wrap.  It's an inexpensive way to add a bit of interest to a present.  I also like to make a stamped tag or add pinecones or other decorative elements to the packages.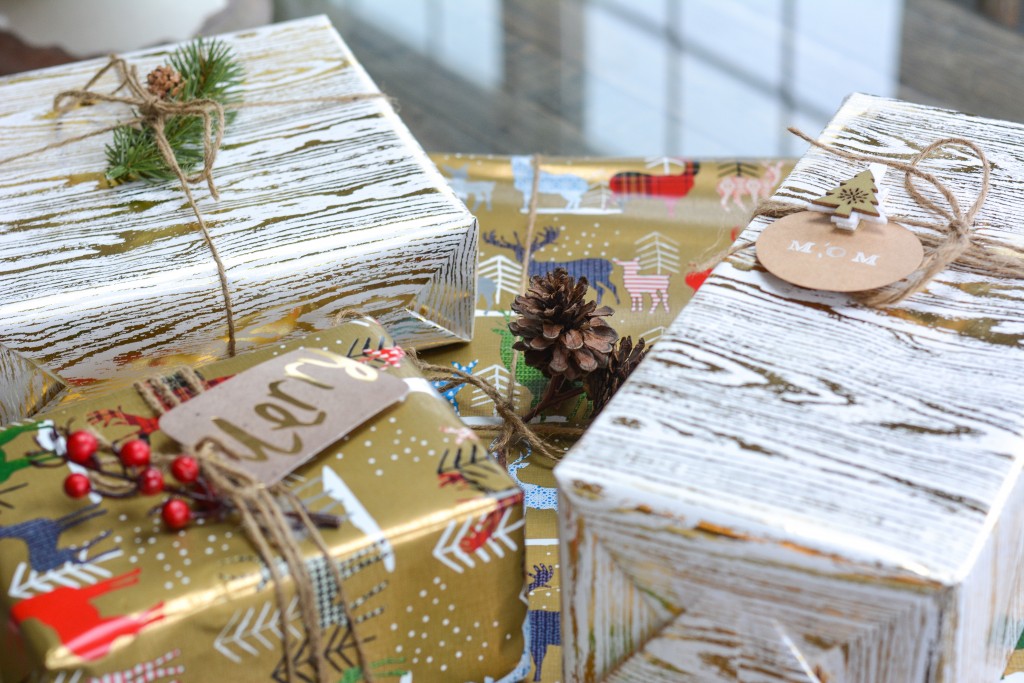 I featured this idea on our Instagram account…such an easy way to add to your holiday decor.  I purchased burlap ribbon and faux foliage from Michael's.  I  simply tied a piece of the ribbon around the back of each chair and tied a knot.  Then, I place a piece of holiday/winter foliage behind the knot.  It only takes a matter of seconds but I think that it makes a nice impact.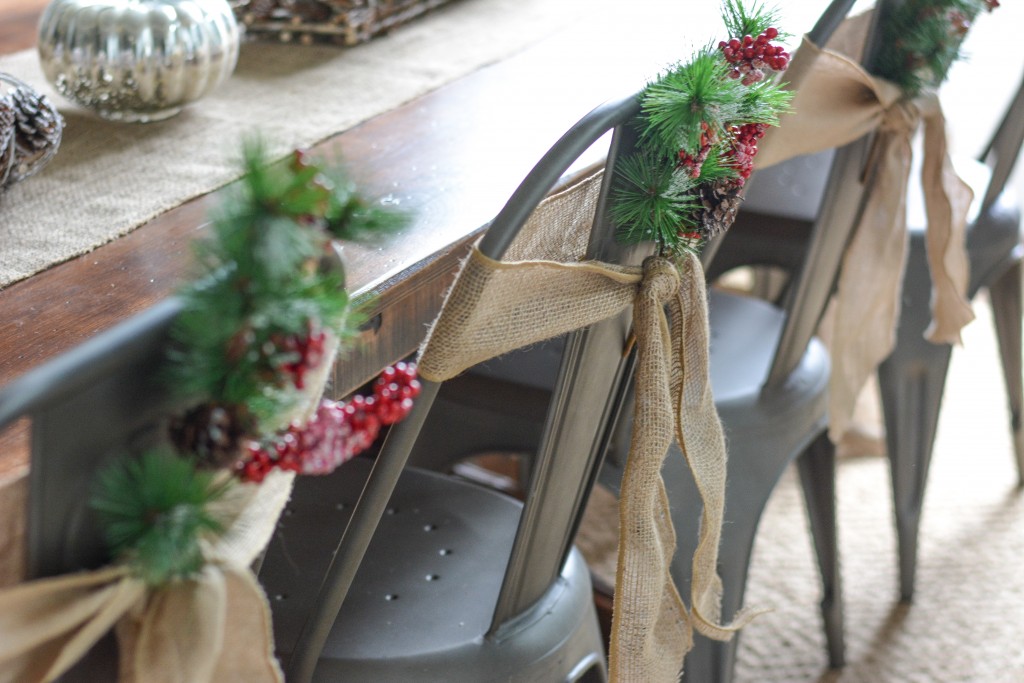 We have a wooden deer head over our living room (ahem, now playroom) fireplace. When I purchased it, I jokingly told my Virginia-boy husband, David, that it was a compromise and would be the closest we would ever come to having a real one.  (Okay, so I really wasn't joking.)  A couple of year's ago, David had the idea to put a battery-operated red nose on the deer in order to entertain our nieces.  It is now a tradition to create Rudolph over the mantel.  This year, I added a sweet NOEL sign that I purchased from Target.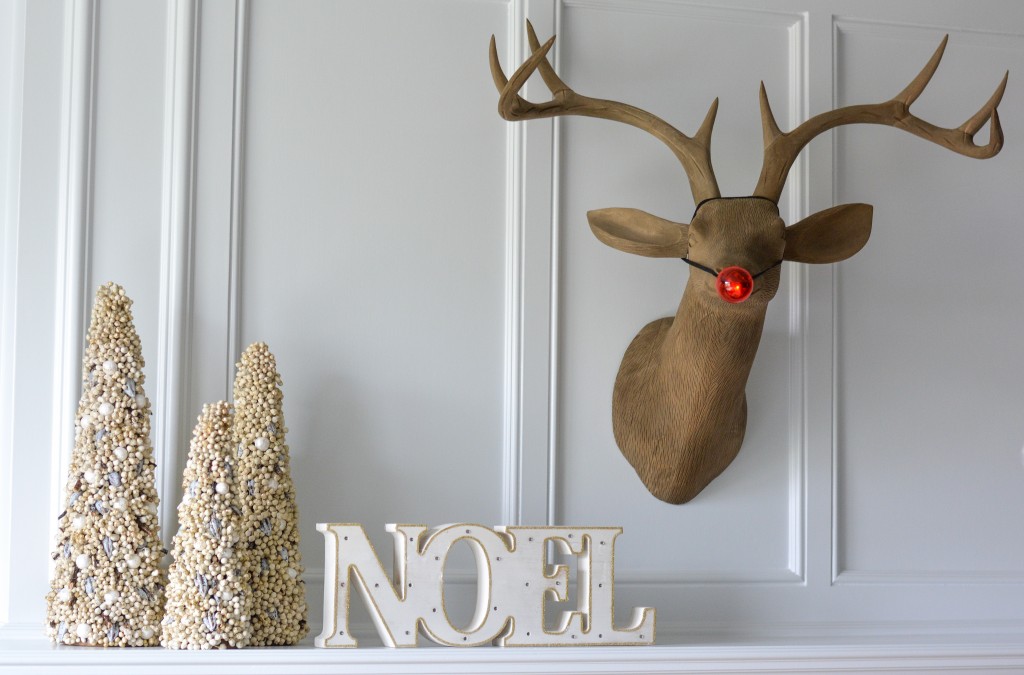 We have a large dough bowl in the dining room that we purchased from Pottery Barn.  It is usually empty but a friend of mine (who is an interior designer) gave me the idea of filling it with pinecones for the holidays.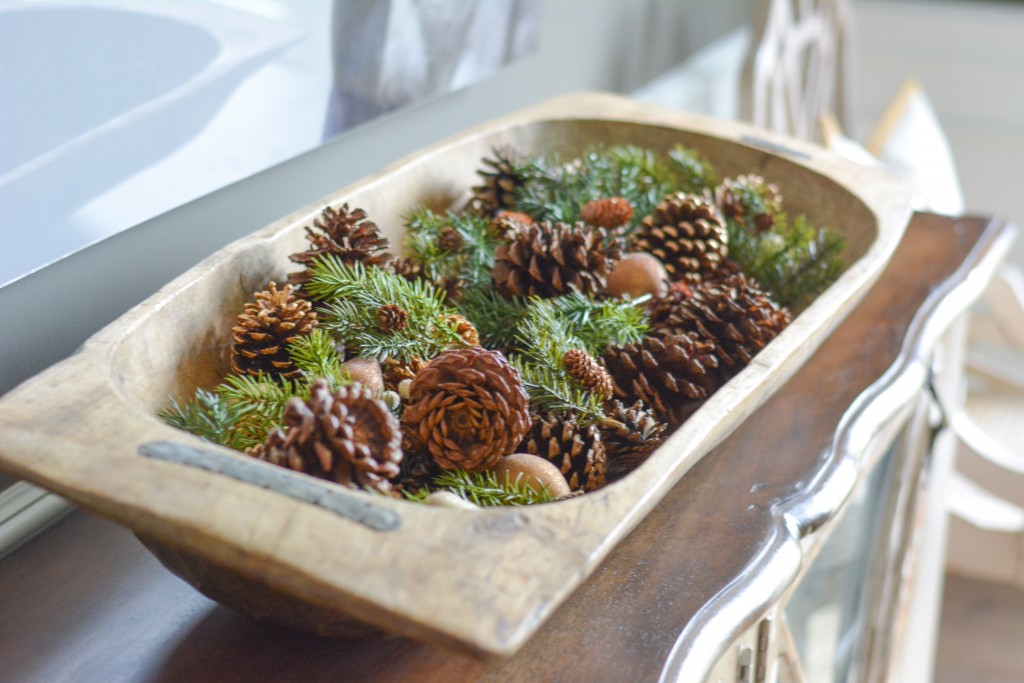 One of my favorite things about the holidays is receiving cards from family and friends.  I have never been able to figure out what to do with them and cannot stand the thought of putting them away.  This year, I copied an idea that I saw on Pinterest (surprise, surprise).  It featured two pieces of large, weighty ribbon, taped to the top of a door.  I used our pantry door and then glued the cards onto the ribbon so that the cards were displayed.  I love the way it turned out!
 We always have candies and treats in these glass jars in our kitchen.  I think it is nice for guests…and dangerous for us.  During the various holidays throughout the year, we like to fill the jars with appropriately-themed treats.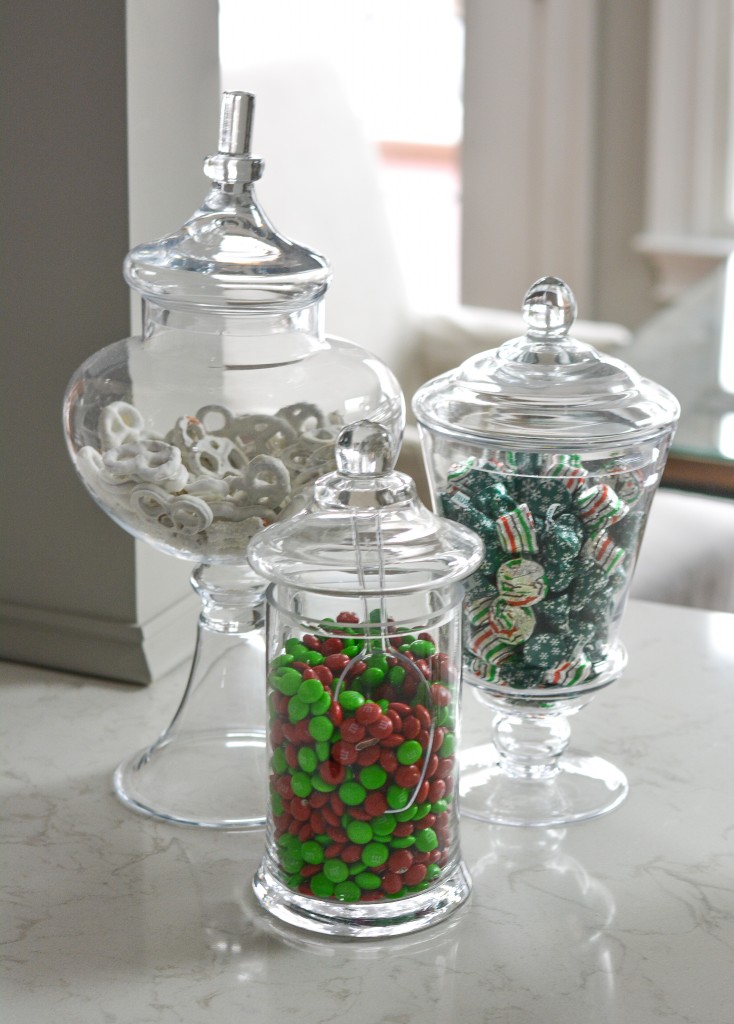 We purchased an  ornament with the intitial "R" for our baby boy, Ryan.  We bought it before he was born but waited until the night we brought him home to place it on the tree.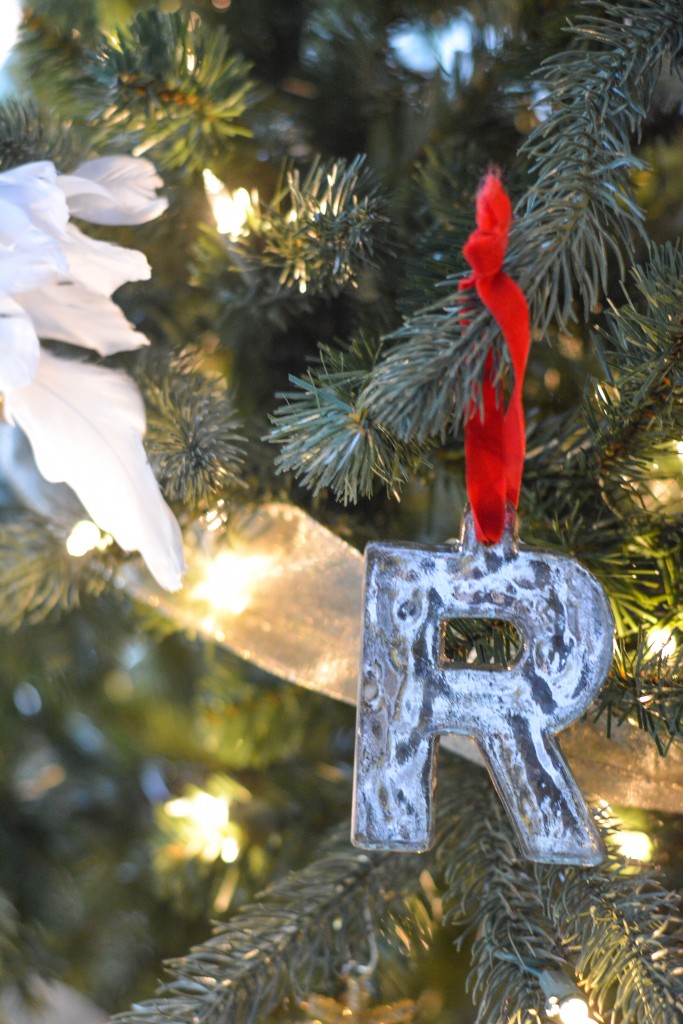 I ordered these stockings from Restoration Hardware.  David and I had quite the journey to parenthood so the names on the stockings were deeply symbolic and important to us.  
Obviously, this was the best part of our Christmas…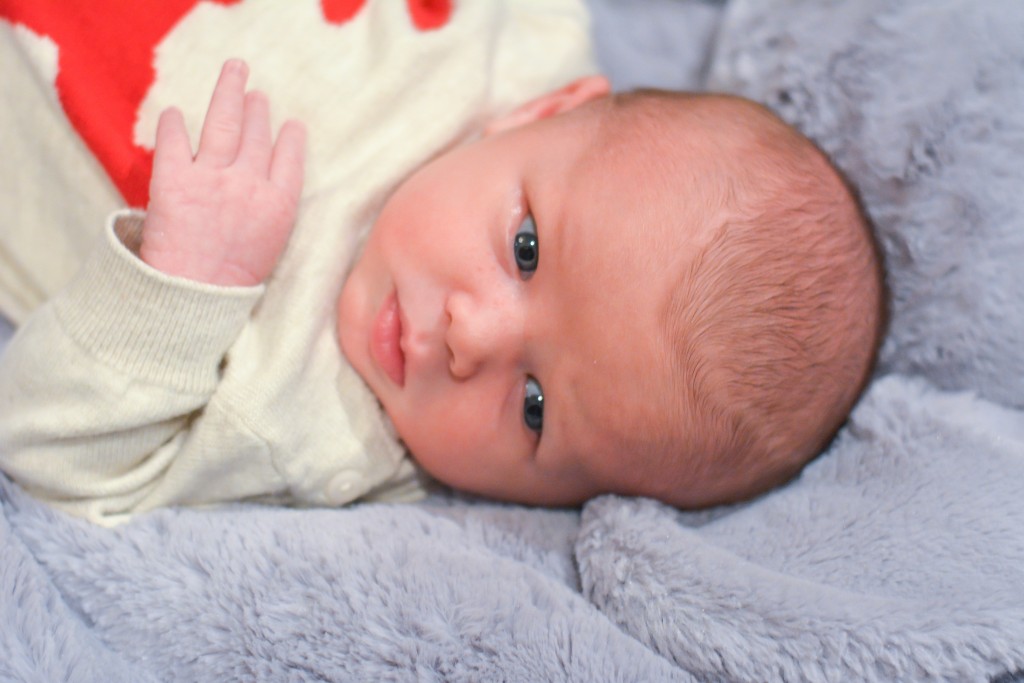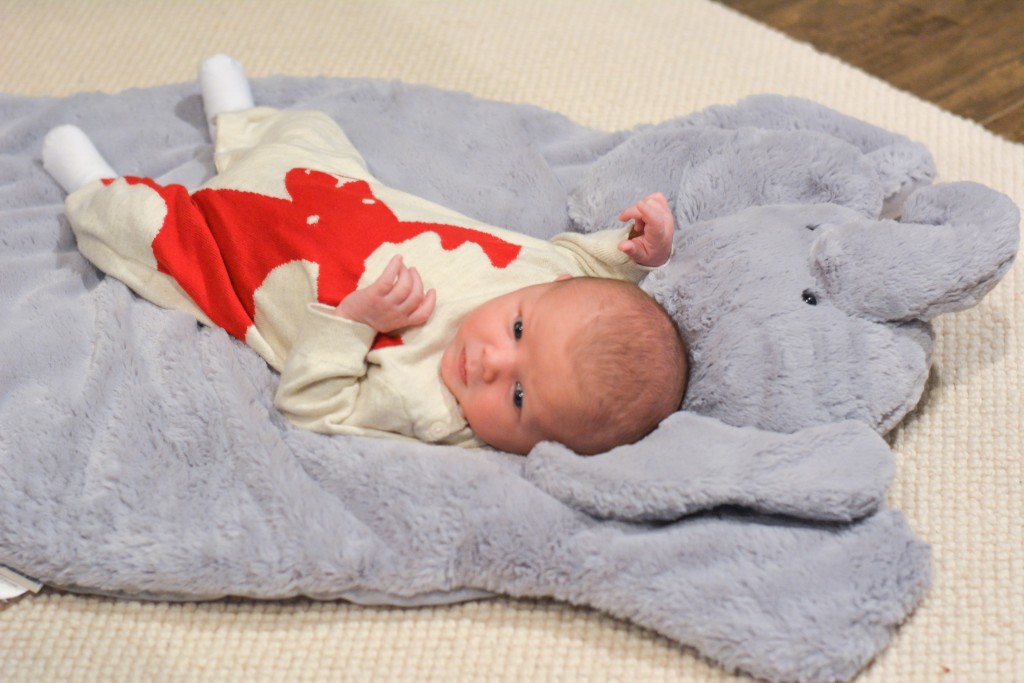 Now that Christmas is over, I know that the decorations should start coming down but I cannot bring myself to begin the process just yet.  I would like them to remain just a little bit longer…they make the house feel so much cozier and warmer.  Do you agree?
Hope that everyone is having a wonderful holiday season!
xoxo
Lindsey