The weather has finally cooled down and we have moved into fall.  The two of us have been anxiously awaiting lower temperatures so we can wear layers…and when we think layers, we immediately think scarves!  It is amazing what tossing on a scarf on can do to enhance an outfit.  It can turn a simple outfit into a fashionable look in seconds.
if you want a little inspiration for wearing your scarves in different ways, click here to check out an incredible video.  It demonstrates 25 different ways to wear a scarf.
Pretty cool, right?   Now if only we could instantly commit all 25 ways to memory!
Here are some of our favorite scarves as we transition into cooler weather…
1. This oversized scarf from Zara provides instant sophistication to an outfit.  We love the juxtaposition of the bright yellow color against the sedate charcoal tone.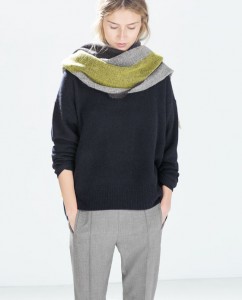 2. This soft scarf with a teeny chevron print is great for both fall and winter.  What's even better is that it is available at Target for just $19.99.
3.  While their scarves are definitely a splurge, they are beautiful and are incredibly high quality.  Theordora & Callum offers a line of scarves that offer versatility.   Because these scarves are general made of 100% viscose, the lightweight material allows for the scarves to be worn in fall, winter, and spring.  Despite the the fact that they are lightweight, they are large enough to wrap around the neck several times to create warmth.  The designers behind the brand, Stefani Greenfield and Desiree Gruber, aim to use unique prints and stunning color combinations.  Here are two of our current favorites…
4. With plaid being so hot right now, we think this oversized check scarf is a great buy.  The sheer massiveness alone makes us want to curl up with a nice mug of hot chocolate.  How cozy does this look?
5.  We are obsessing about this amazing faux fur collar.  It is such a statement piece and it an absolute steal at only $16.97 from Nordstrom Rack's online site.  Throw it on a day when you don't feel like you have the time (or energy) to put forth much effort into an outfit and make a big impact.  It would look great thrown over a simple black sweater or paired with a denim jacket.
It has finally cooled off a bit here in Raleigh so we are getting our scarves ready.  Hopefully, the mild temperatures are here to stay this time!
xoxo
Tiffany & Lindsey