Last month, Lindsey announced that she and David were expecting a sweet baby boy.  Once I found out, I immediately asked her about her dream baby shower.  Lindsey didn't have a theme per se, but she knew she loved the idea of incorporating burlap and using the phrase "Baby Love".   After everything came together,  "Burlap, Bow Ties & Baby Love" best described her special day.
Lindsey's mom, Lynn, hosted the shower at her beautiful home, which was the perfect venue.  We had lots of natural light, a neutral palette and plenty of space.
Since the shower was at 12:30 on a Sunday, Lindsey decided that she wanted to serve lunch.  La Farm Bakery in Cary catered the food and it was delish!  We had a fruit & cheese platter, pastries, three types of sandwiches and salad.  If you are ever in need of a caterer, you should check them out.
We displayed the food on the island/bar in the center of the kitchen.  Lindsey had found a few kits to make tissue paper tassel garland, so we assembled those and hung on burlap rope to add some texture to the food display.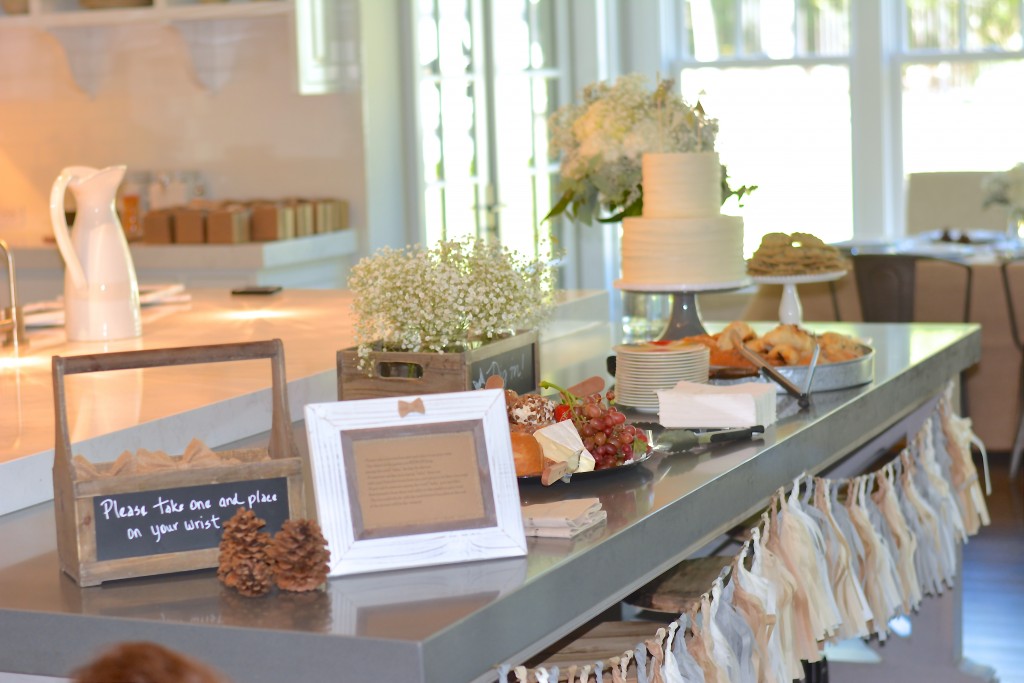 For our beverage station, we provided 'Baby Love Punch' (same recipe as we blogged about here) and 'Over the Moon O.J.'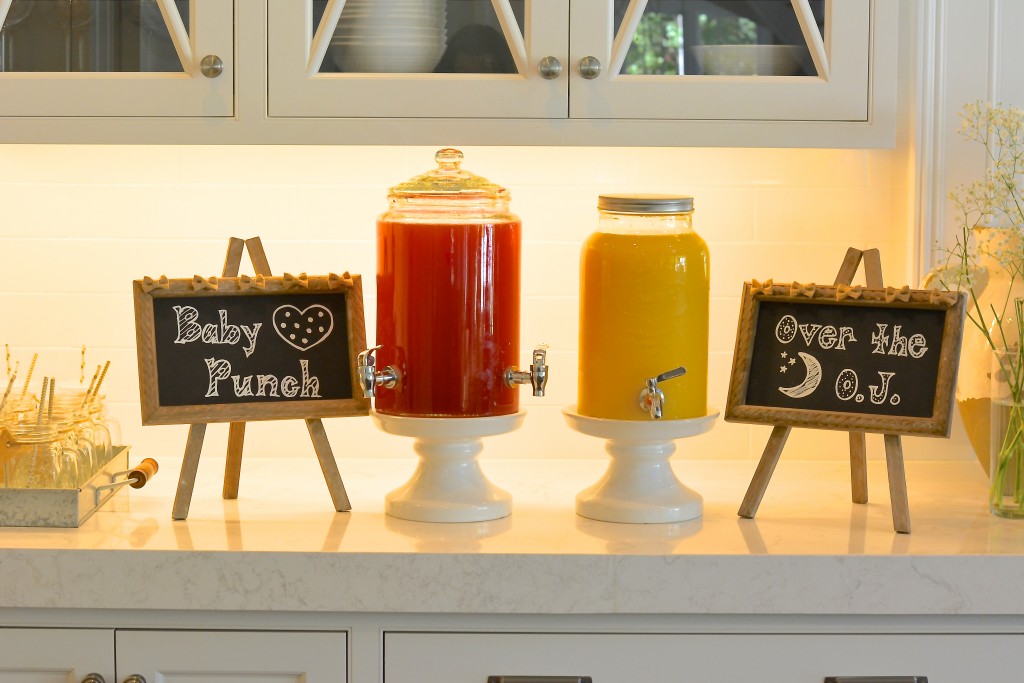 Guests could grab a mason jar adorned with cute burlap tags and polka dotted straws to serve their drink of choice.  We purchased the burlap tags from Michael's along with a stamp of baby feet.  We then simply stamped each tag using white ink and attached them to the mason jars using burlap twine.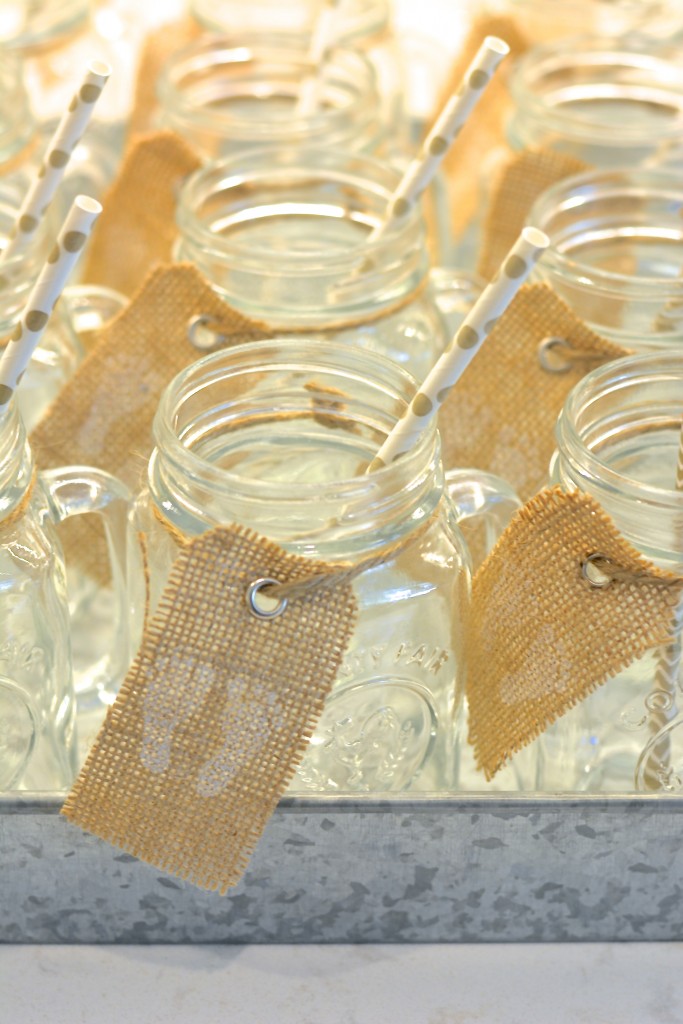 Of course, we provided bubbly for the guests who wanted to spike their punch or turn their O.J. into a mimosa.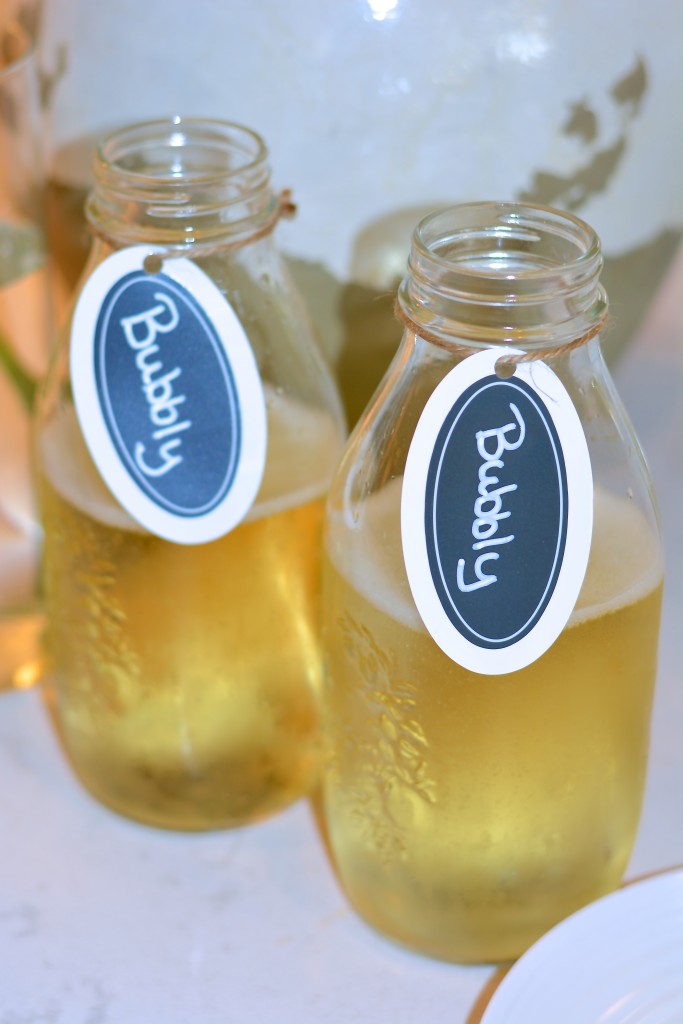 Since we were serving lunch, we decided to have a place setting for each guest.  Lynn and Lindsey had ordered burlap linens for the dining room table and two other round tables.  Once we put the linens on, we placed chargers, white plates, silverware and silver coasters at each setting.
The English Garden in Raleigh provided all the flowers.  They were the perfect touch to soften the tables.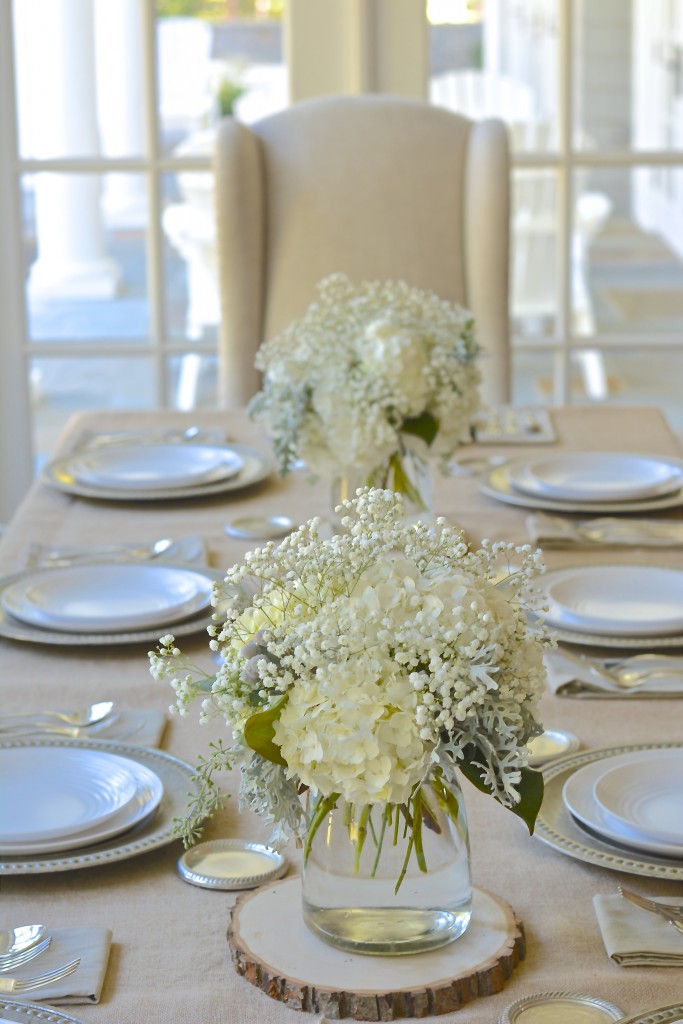 At the smaller tables, we alternated white napkins containing rolled silver and khaki napkins with the silver displayed.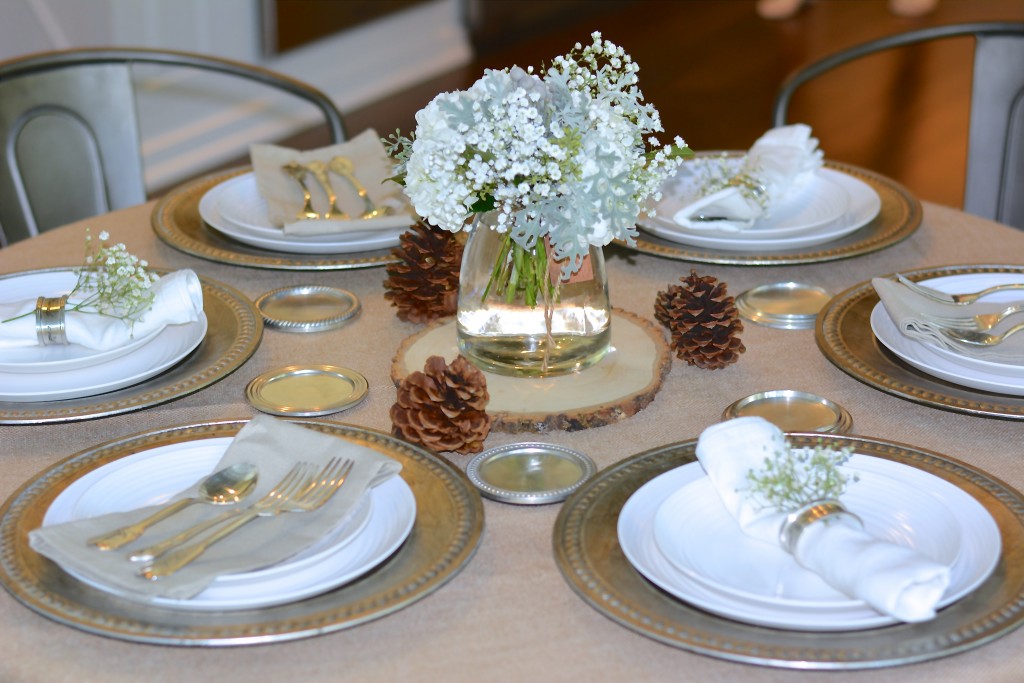 For the white napkins, we decided to add a little baby's breath under the napkin ring, just for a little something extra.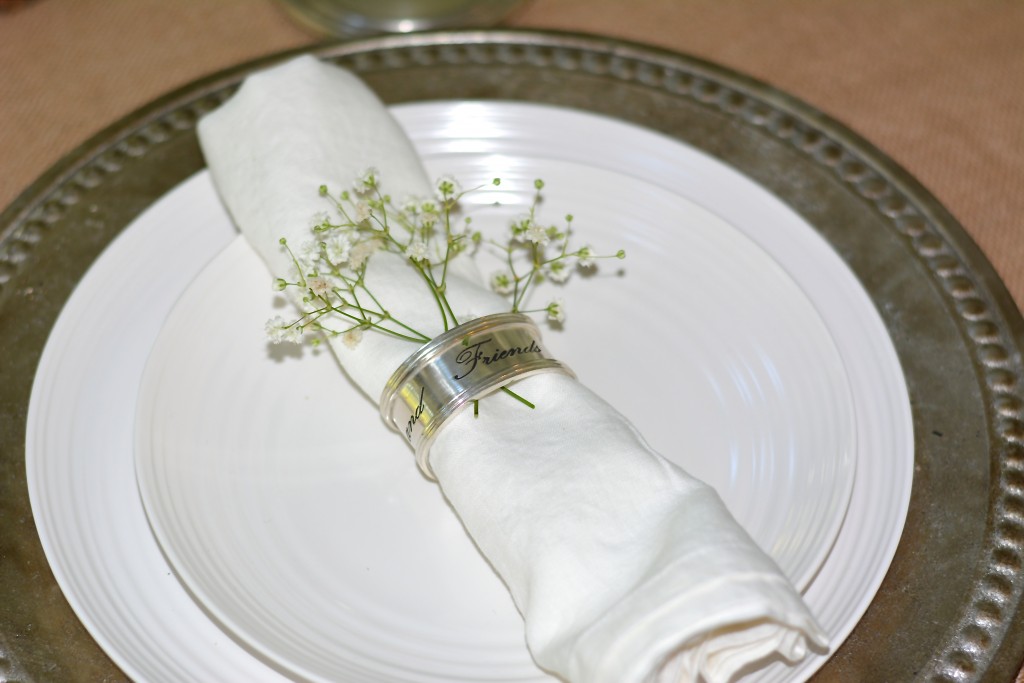 We also made this 'Baby Love' burlap banner and placed it on the windows behind the larger table.  We will also blog on how to make this at a later time.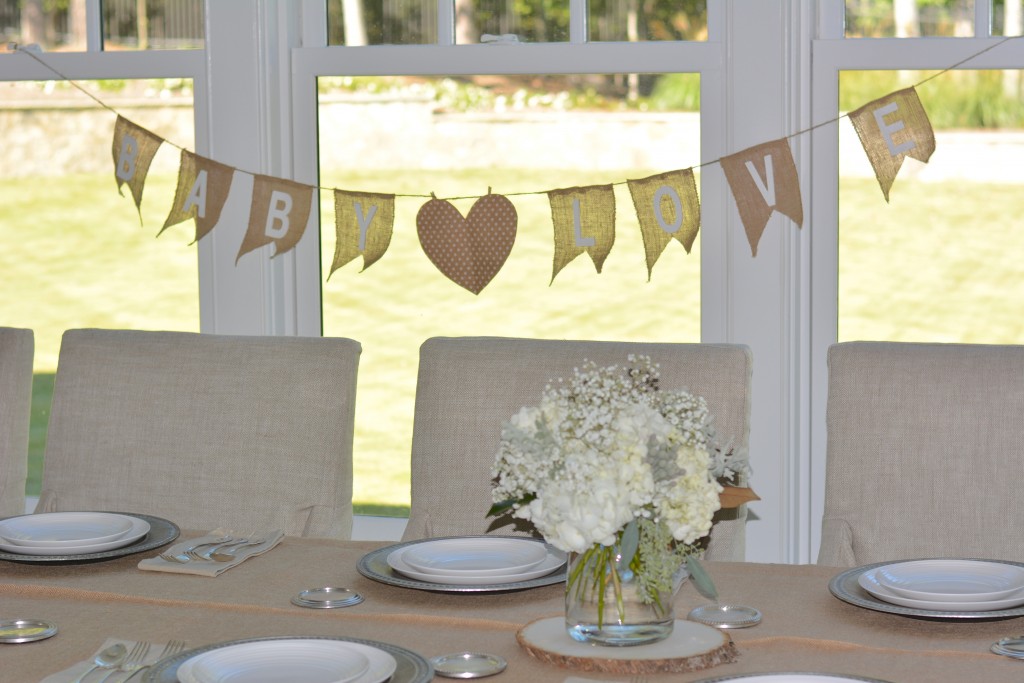 After we finished lunch, it was time for cake!   The Cupcake Shoppe in Raleigh made the masterpiece, which anchored the food table.  Not only was the cake beautiful, it was lemon flavored and delicious.  A perfect balance between cake and icing…divine!  Southern Sugar Bakery provided the yummy sea salt chocolate chip cookies (as well as the favors), and all several dozen were almost gone by the end of the shower.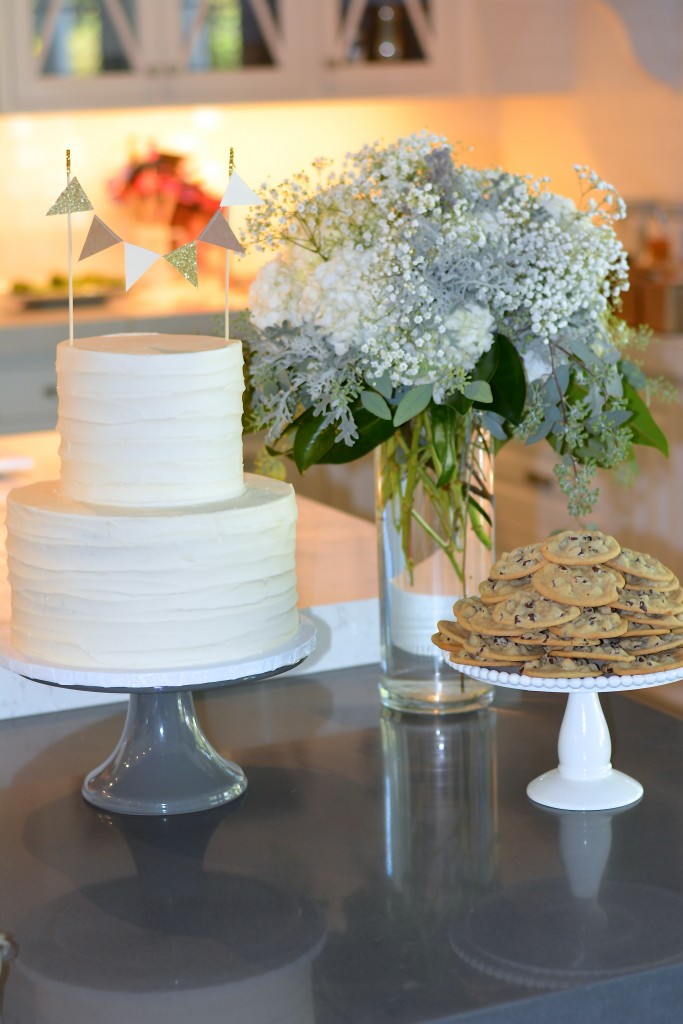 Once we were all stuffed, it was time to open gifts.  Lindsey's nieces were a huge help with opening gifts.  They were so excited to see all the great items for their baby cousin.
One of the last gifts that Lindsey opened was this sweet wooden rocking horse from her Aunt Pat.  There was something about this gift that really touched Lindsey.  By this time, David had made his way to the shower and there was a special moment between the two of them that left everyone in tears.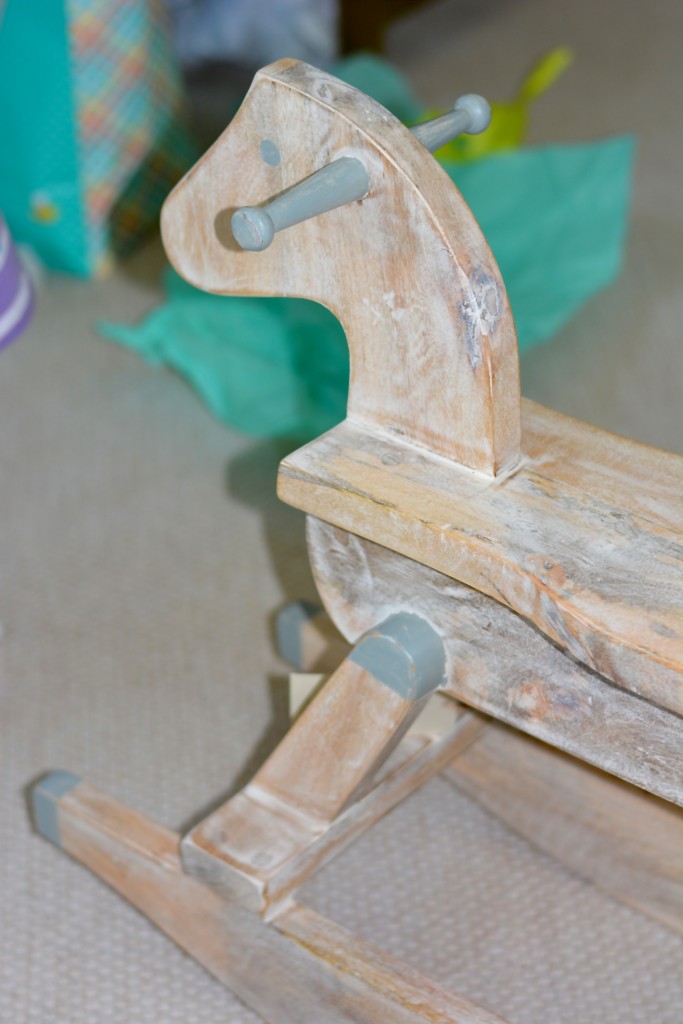 During the shower, we decided that we would play two games.  I'm sure you all have heard of the game where you can't say "baby" during the shower.  This game is typically played with a clothes pin, however we exchanged the clothes pins for cute bow tie bracelets.  We will blog how to make these at a later time but they were a huge hit.
How cute are these??
By the end of the shower, Becca had collected 5 bow tie bracelets, which made her our winner!!
Here are a few more pics of the mom-to-be with friends and family.
Lindsey's friend, Candice is also pregnant so we had to get a pic of them together.  How cute are they?!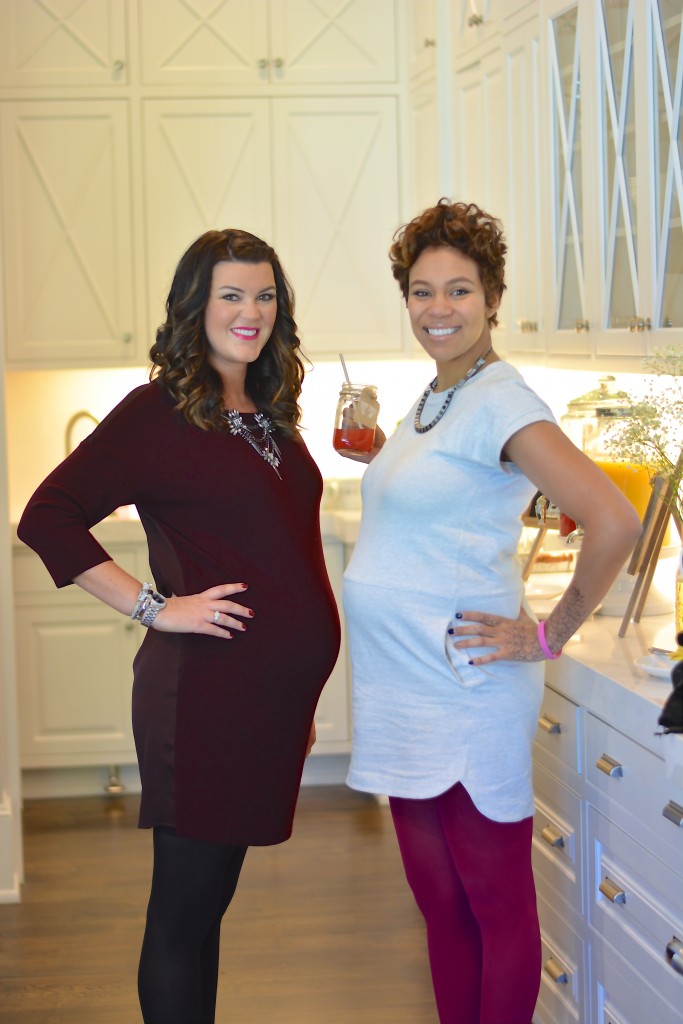 As guests left, they were given these cute favors topped with bow ties, clothes pins and twine.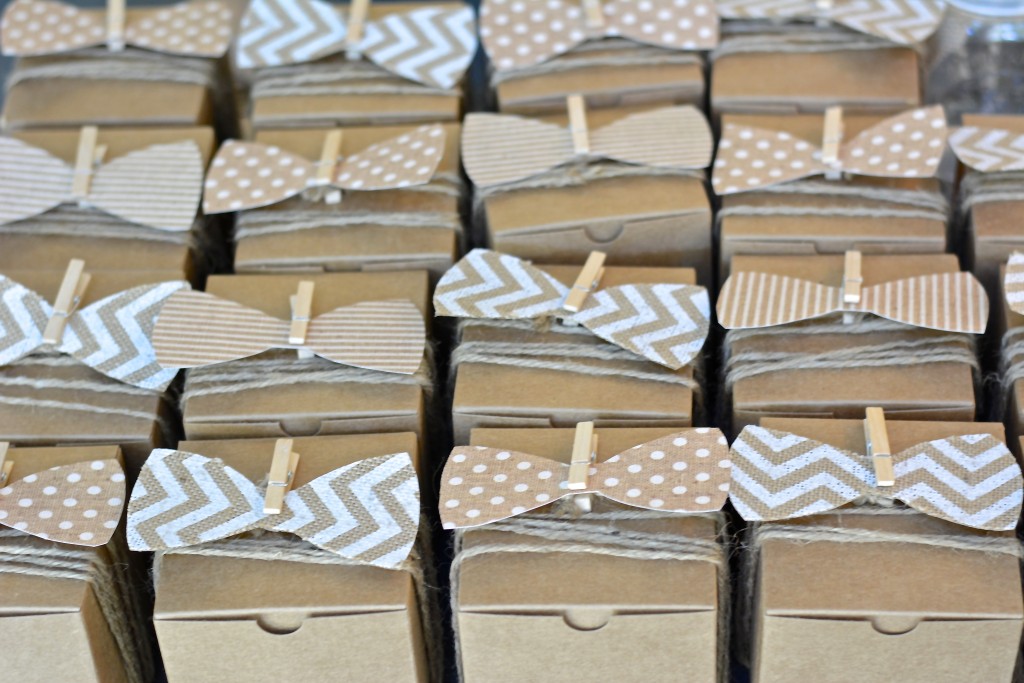 The great part of the favors was the cookies inside.  Not only were they the most adorable onesies and bow ties, they were a little taste of heaven.  As mentioned previously, they were provided by Southern Sugar Bakery.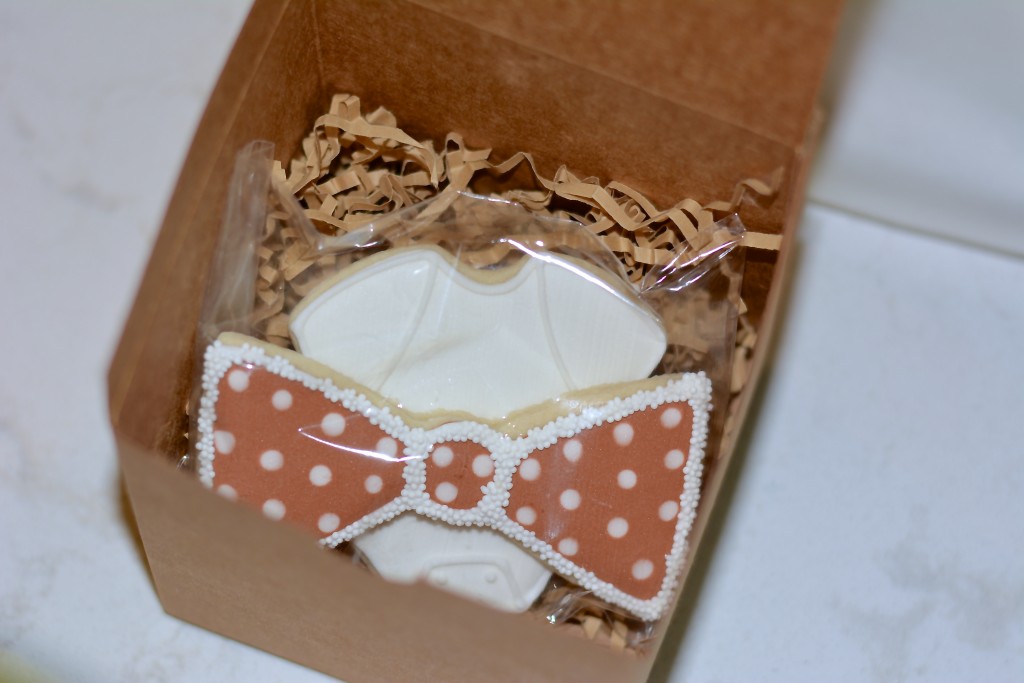 The shower was a huge success.  Lindsey was surrounded by family, friends and lots of love.
Lindsey, you are one of the most caring, thoughtful, courageous, strongest women I know.  You have a heart of gold and I can't imagine the love that your baby boy will feel when you meet for the first time.  I think I can speak for everyone at the shower when I say:  Thank you for allowing us to be a part of this special time in your life.  We are all honored to celebrate with you.
With lots of love,
Tiffany