We attended Parlor's grand opening party last Thursday night.  The stunning space is located at 402 Oberlin Road, Suite 116, in Cameron Village.  We were driving up to the event when we noticed the massive amount of people already lining up outside the salon.  It was evident in that moment that Parlor owners, Emily Cutts and Allison Rohde Conley, have a tremendous amount of support.  It also became clear that locals have been anxiously awaiting the opening of the dry bar's doors.   The turnout was INCREDIBLE.
The event featured a raffle that included items ranging from local business, Raleigh Denim Workshop to New York-based scarf necklace designer Mignonne Gavigan.  Proceeds from the sale of raffle tickets were donated to the charity "Dress for Success", a wonderful organization which promotes the "economic independence of disadvantaged women".  They assist women by providing professional attire as well as offering tools for career development.
Here are some of the amazing raffle items…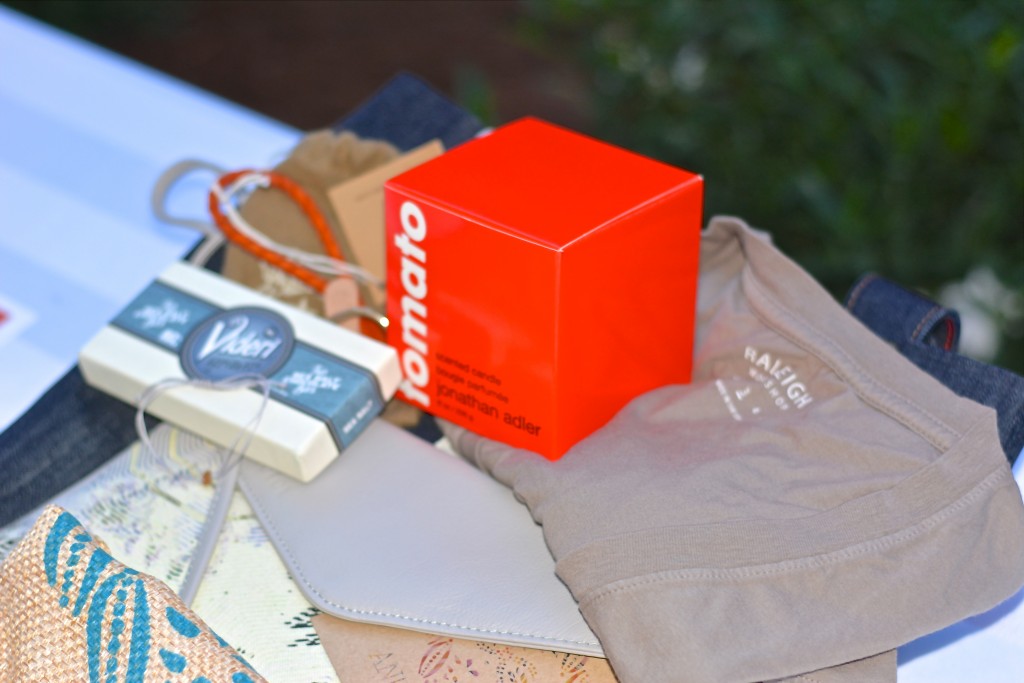 When the raffle was beginning, Tiffany turned to me and said, "I never win anything at raffles" to which I replied, "I have never won anything in my whole life."  Just a few minutes later, raffle numbers were called and I could feel Tiffany nudging me and she exclaimed, "That's you!"  I had won!
Once we stepped inside the space, we were blown away by the beautiful navy and white aesthetics.  There were so many people inside that it proved difficult to take a picture that illustrates the crisp clean feel of the salon but you can click here for professional photographs on the Parlor website.
We had such a great time and were able to meet so many new people.  In fact, we posted a picture on Instagram and just a few minutes later the DJ (Joe Bunn) turned to us and showed us his phone and there was our picture!  Apparently, he follows our account…too funny!
Thank you to Emily and Allison for hosting such a fantastic event!  Your space is absolutely beautiful…we hope see you soon!
xoxo,
Tiffany and Lindsey