The past Sunday, we ventured out with our husbands to explore our local farmers' market, located just off Lake Wheeler Road.  We began our morning with breakfast at the State Farmer's Market Restaurant.  We happily gorged ourselves on omelettes, pancakes and biscuits.  After filling our bellies, we strolled over to the Farmers' Building.
The first vendor we visited was La Farm Bakery, located in Cary, NC.  They specialize in artisan bread, pastries, granola and sandwiches.   Lindsey could not resist a bag of the Pain Au Chocolat and a loaf of bread….yummmmm!
As we continued our journey, we perused the multitude of produce and plants.   As usual, the vendors were incredibly sweet and many were offering free samples.  We headed up the hill to the indoor marketplace, The Market Shoppes, which is filled with dry goods, homemade soaps, pies, and other various foods.
Of course, we had to stop and snap a quick picture of us with our hubbies! 🙂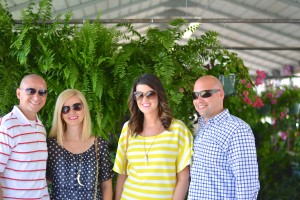 After wandering the main market place, we headed up the hill up to Market Imports, an antique furniture store.  They offer a multitude of home and garden accessories from around the world…many of them being extremely unique in nature.  If you are on the hunt for a special one-of-a-kind piece for your home, we definitely recommend checking them out!
We ended our morning by loading up on flowers.  Tiffany has family coming into town and thought that fresh flowers would be a perfect touch.  All in all, it was a lovely morning.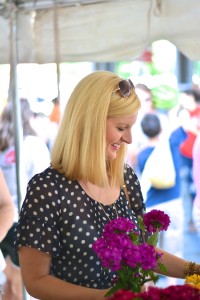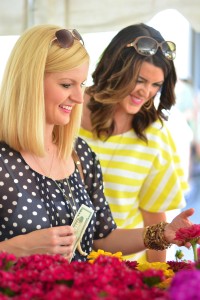 xoxo
Tiffany & Lindsey